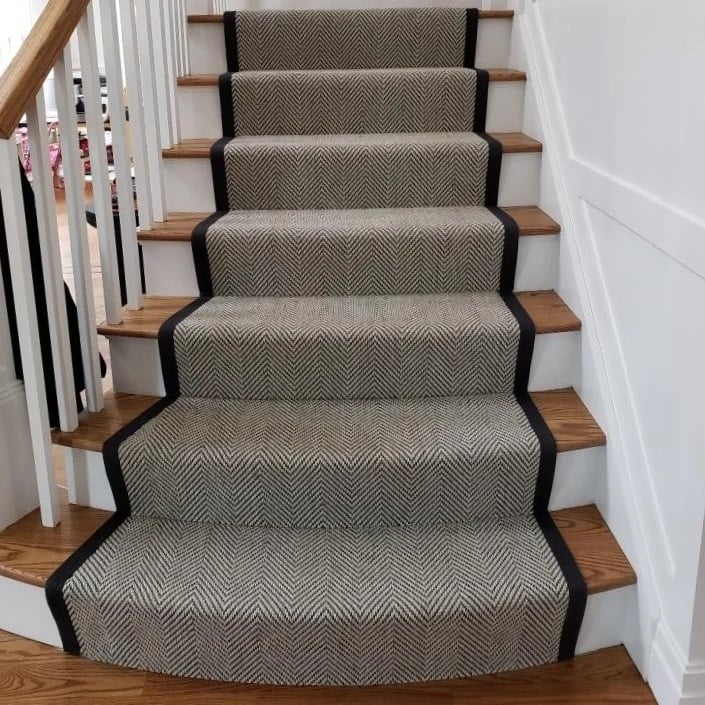 If you're wondering how to elevate your staircase, consider herringbone carpet patterns. That's what our customer in Manhasset, NY. chose to do for her home.
Herringbone Patterns
Herringbone patterns are classic! You may have noticed them as hardwood parquet floors, in a brick or tile installation, or even in clothing. They make for stunning visual effects that can look both contemporary and traditional depending on the setting.
Interestingly, according to Wikipedia, the pattern gets its name for its resemblance to the layout of herring fish bones in a repeating V-shape. That shape repeats in alternating directions, creating a visually appealing zigzag effect.
As appealing as the pattern looks on wood floors, masonry, and tilework, it looks particularly attention-grabbing in carpet.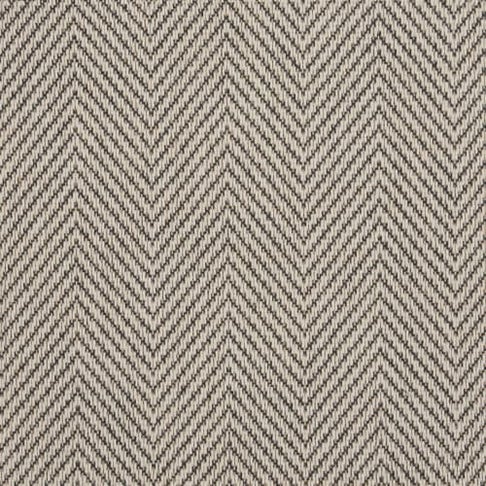 Paradiso Negril carpet in color Gull
Herringbone Carpet Runner for Stairs
Why, though, would you choose such a bold carpet pattern for a staircase?
In most homes, staircases represent an important visual structure. Yes, it's practical. It's also a design element that connects two floors, draws the eye, and breaks up the monotony of regularly shaped rectangular spaces. Often, staircases occupy a prominent role in the home's overall layout.
By installing herringbone carpet patterns as stair runners, you can effortlessly infuse your space with a touch of timeless style, and stunning visual interest. You can also subtly reinforce a sense of direction (think wayfinding) and tie the design elements of both floors together.
Here are a few reasons why herringbone carpet patterns are a fantastic choice for your stair runners:
1. Herringbone Patterns Have Visual Appeal:
The unique V-shaped pattern of herringbone adds depth and visual interest to your staircase. It creates a sense of movement and geometry that can elevate any space, making it a striking focal point.
2. The Versatility of the Herringbone Pattern:
Herringbone carpet patterns come in a wide range of colors, materials, and textures, allowing you to choose the perfect design to complement your existing decor. From classic neutrals to bold hues, the options are nearly endless!
Unlike a solid carpet, a herringbone pattern tends to be more forgiving of wear.
3. Timeless Herringbone Elegance:
Herringbone patterns have stood the test of time and are unlikely to go out of style anytime soon. By choosing this classic pattern, you can be confident that you are creating a look that will remain chic and sophisticated, regardless of changing trends.
>> Explore Floor Decor Design Center herringbone carpet patterns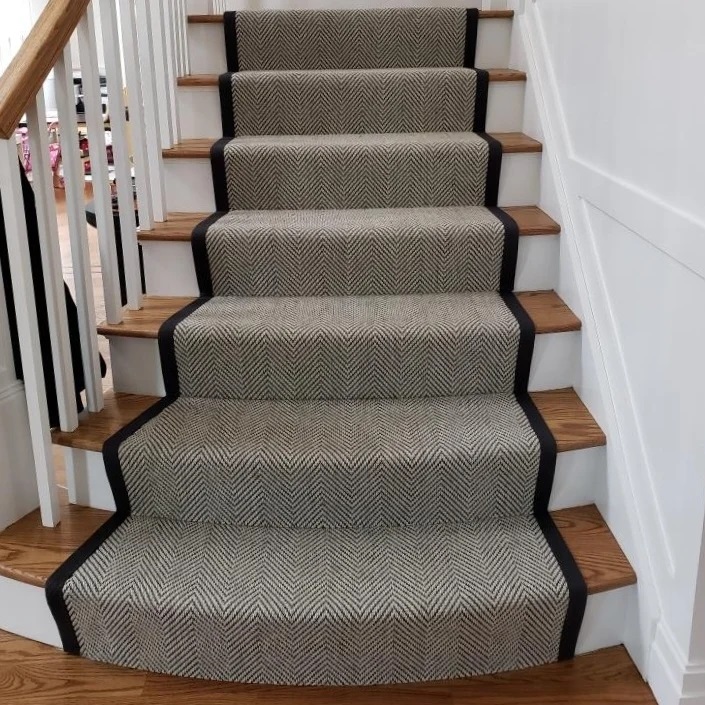 There's more, though, that is specific to choosing carpet for your stairs.
Why Carpet For Your Stair Runners
Safer Stairs
Carpet makes stairs safer. Not only does it add cushion to each step but it also adds friction so that a socked foot can't slip off a step. It's better for children, and adults, not to mention pets.
Durability
From a durability perspective, carpet is ideal since staircases tend to see regular heavy foot traffic. Carpet protects the wooden surface below from wear and tear.
Stairs in Paradiso Negril Herringbone Carpet Pattern
This particular client found Floor Decor Design Center online while searching for a herringbone stair runner for her home in Manhasset, NY.
>> See A Stair Runner Pricing Guide
>> And Waterfall vs. Hollywood Stair Runners
>> Also, Installing Carpeted Stair Runners DIY or With Your Own Installer
She fell in love with Paradiso Negril in Gull but unfortunately, it was on backorder for 3 months. We searched for alternatives but nothing came close to her original selection since the color and feel were what she fell in love with. She waited patiently. Three months later, we got to see the results and they are amazing as you can see from the photos! Our team in NY, Mertz Flooring, assisted with the measurement, fabrication, and installation of this project.
Paradiso Negril Carpet
This gorgeous carpet is 10% wool and 90% polypropylene which ensures it will be a durable, stain-resistant option for many years to come.
The Negril collection offers a stunning pattern befitting modern and traditional decor styles in an array of charming, calming desert hues. Each carpet is made in Belgium and woven, rather than tufted-and-glued, for comfort and quality.
It comes in three colors: Gull (above), and Tiki and Shell (below).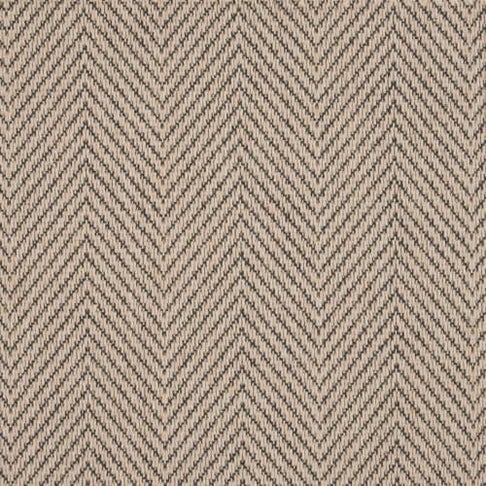 Negril Herringbone Carpet in Tiki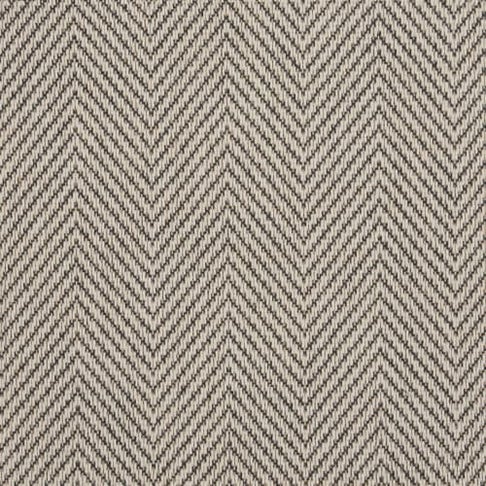 Negril Herringbone Carpet in Shell
Installing Herringbone Carpet Patterns
Herringbone patterns are directional. For that reason, they are particularly effective for stair runners. The photo below illustrates that point. Notice how the pattern flows up the staircase, and how the width of the carpet works well for the landing.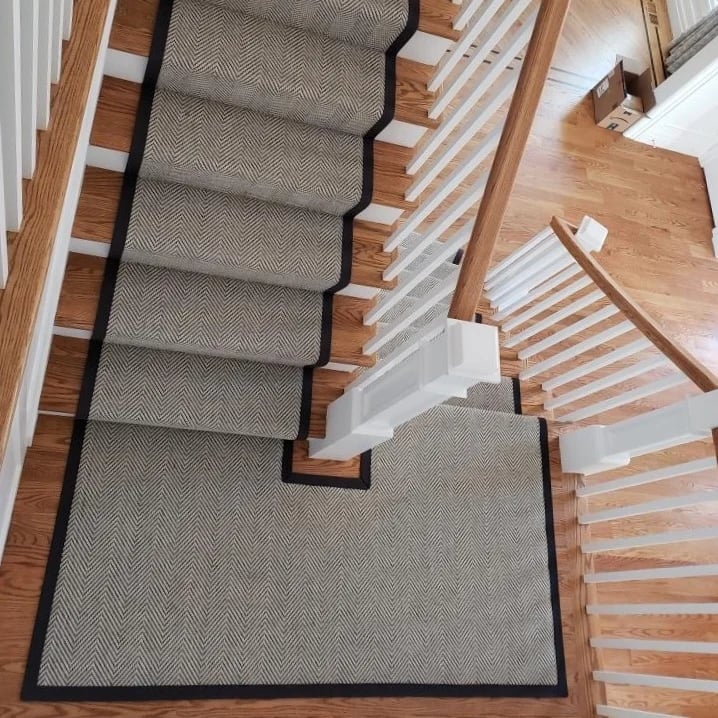 The directionality of herringbone patterns is such that it works effectively in both directions. Notice this next image where you are looking down the staircase to that same landing.

Notice, too, the attractive dark binding that finishes both ends of the stair runner.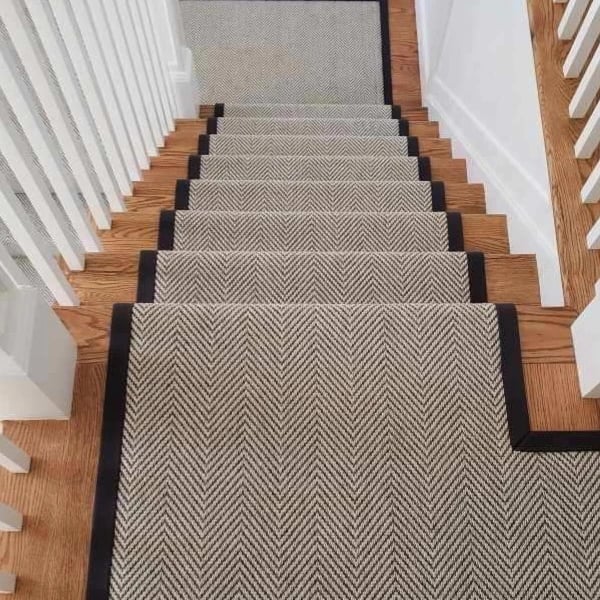 You'll want to work with a professional installer as stair runners require precise installation to achieve a seamless finish, and patterns are trickier in that you want to ensure consistency throughout the project.
Herringbone Carpet Stair Runners and Hallway Runners
One more point about this particular installation.
Carpet makes for wonderful stair runners. It's also terrific for hallway runners. You'll notice that this project combines the hallway runners and the stair runners for a continuous experience that works really well because of the herringbone pattern.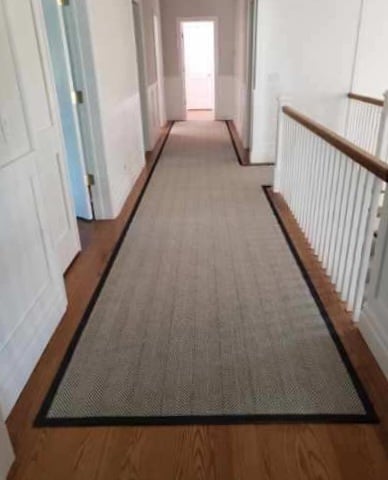 Sprucing up your staircase with herringbone carpet patterns as stair runners is a straightforward yet effective way to add elegance to your home. With their versatility, durability, and timeless aesthetic, herringbone patterns are an excellent choice for creating a visually stunning focal point. So, why not take the plunge and give your staircase the upgrade it deserves?
Ready to Bring Herringbone Carpet Patterns to Your Home?
Are you ready to explore the charm and elegance of herringbone carpet patterns as stair runners in your home? Whether you're looking to add a touch of sophistication or create a focal point in your home, herringbone carpet patterns might just be the key to transforming your staircase into a stunning visual masterpiece.
We invite you to visit Floor Decor Design Center in Orange, Connecticut for a firsthand experience.
Don't hesitate to contact us with your questions. We look forward to helping you.
Thanks for reading.
Janine & Michael