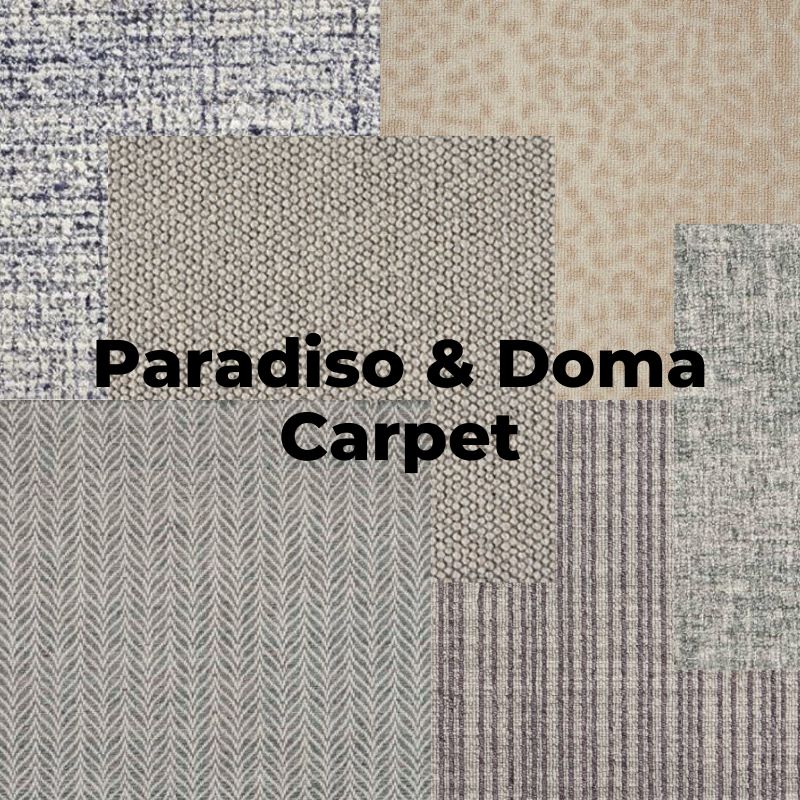 When it comes to carpet, you'll love the options available from Paradiso and DOMA at Floor Decor Design Center in Orange, Connecticut. From boldly fashionable to redefined luxury, you are sure to find carpet styles that will add elegance and beauty to every room in your house.
For more information about Paradiso and DOMA, check out:
>> Paradiso Luxury Stone, Tile, Hardwood & Carpet
>> DOMA: Where Fashion Meets Flooring
Six Best Paradiso and Doma Carpet Styles
Limiting this article to six carpet designs is not easy.
Quite the opposite when you realize that the impressive Paradiso Carpet collection includes 54 different styles, available in a range of beautiful colors, and you have another 33 styles in abstract patterns, textural combinations, and subtle patterns, all in stunning colors with the fashionable DOMA carpet collection!
That said, these six styles give you a feel for what's available and possible. You can order samples of any of these carpet styles to view in the comfort of your home. You can also see these products in your own room using the visualizer on the online product page for that style.
Note that 100% wool carpet styles are Green Guard Plus Certified.
DOMA Carpet Cheetah
Animal prints are classics. Cheetah Luster from the DOMA carpet collection captures that classic element and adds a contemporary touch to the style with its color options. This fun, modern pattern is available in 7 colors:
Brush (pictured above)
Earth
Morning Mist
Mountain
Savannah
Stone
Waterfall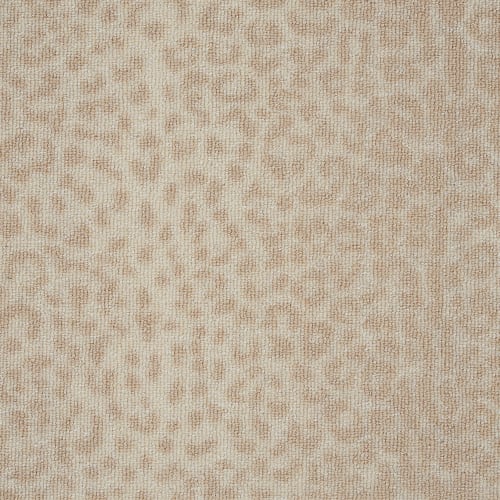 Cheetah Luster is a wool/polyester blend in a loop construction, making this carpet stain resistant and durable. Not only is this carpet style perfect for a wall-to-wall installation for a bedroom but it also makes an ideal area rug.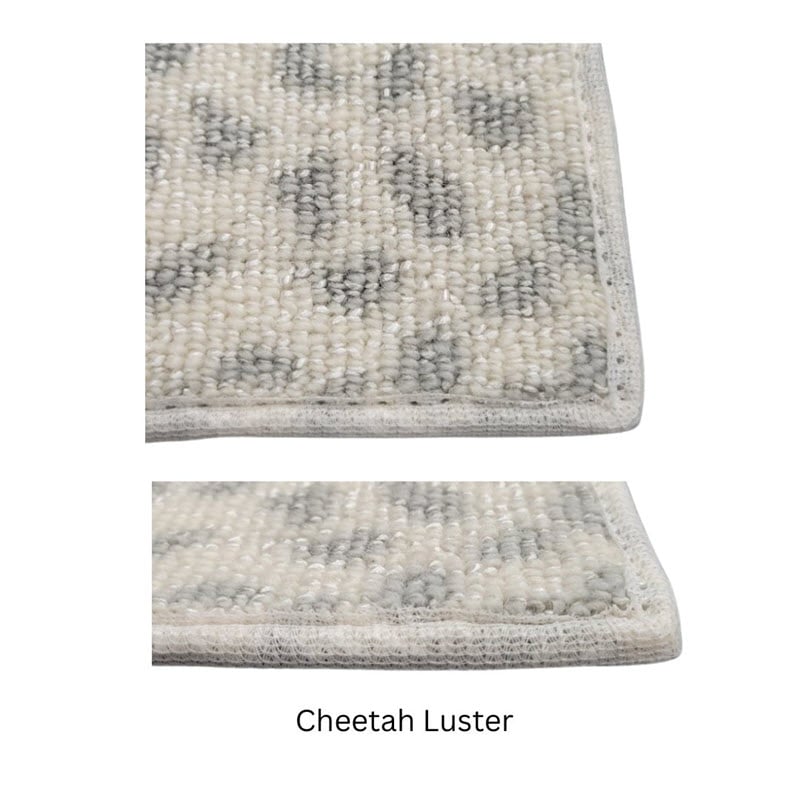 The Cheetah Luster collection leaves the runway for the living room with a fiercely bold design that's as stylish as it is classy. You might ask yourself if anything is *truly* fashionable without the timeless beauty of a cheetah print?
DOMA Renton Carpet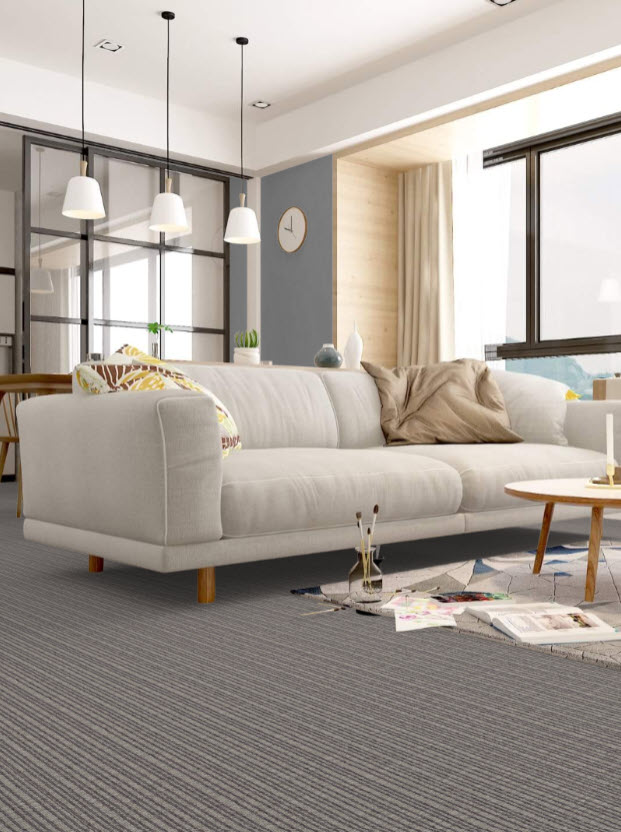 The DOMA Renton carpet collection features parallel pinstripe designs in 10 both low- and high-contrast color palettes:
Haze (pictured above)




Indigo

Mist

Onyx

Pewter

Sable

Seaport

Shadow

Slate

Willow
With Renton, you have a carpet style that offers fashion-worthy aesthetics that complement bold and trendy decor styles.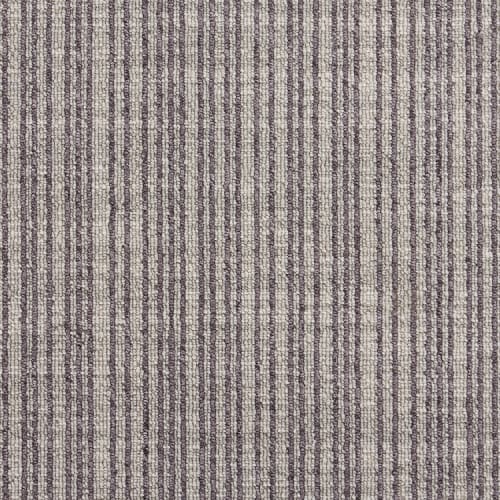 The image below gives you a feel for the eye-catching low/high carpet pile that adds dimension and warmth to this pinstripe pattern.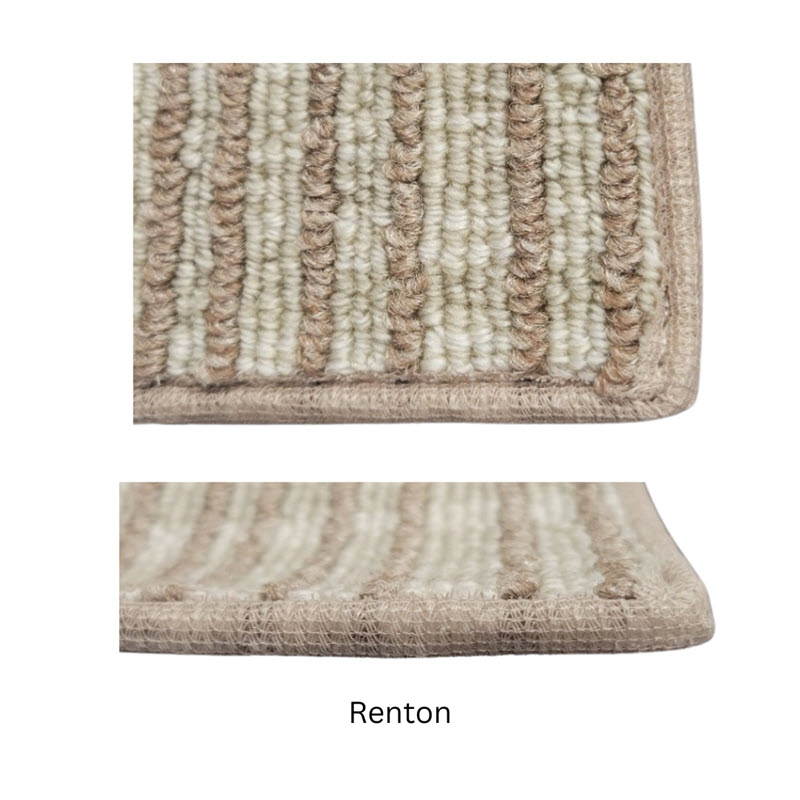 Renton consists of a poly/pet/wool blend. It looks stunning as a wall-to-wall carpet, an area rug, or a stair runner. Just look at the detail in the image below.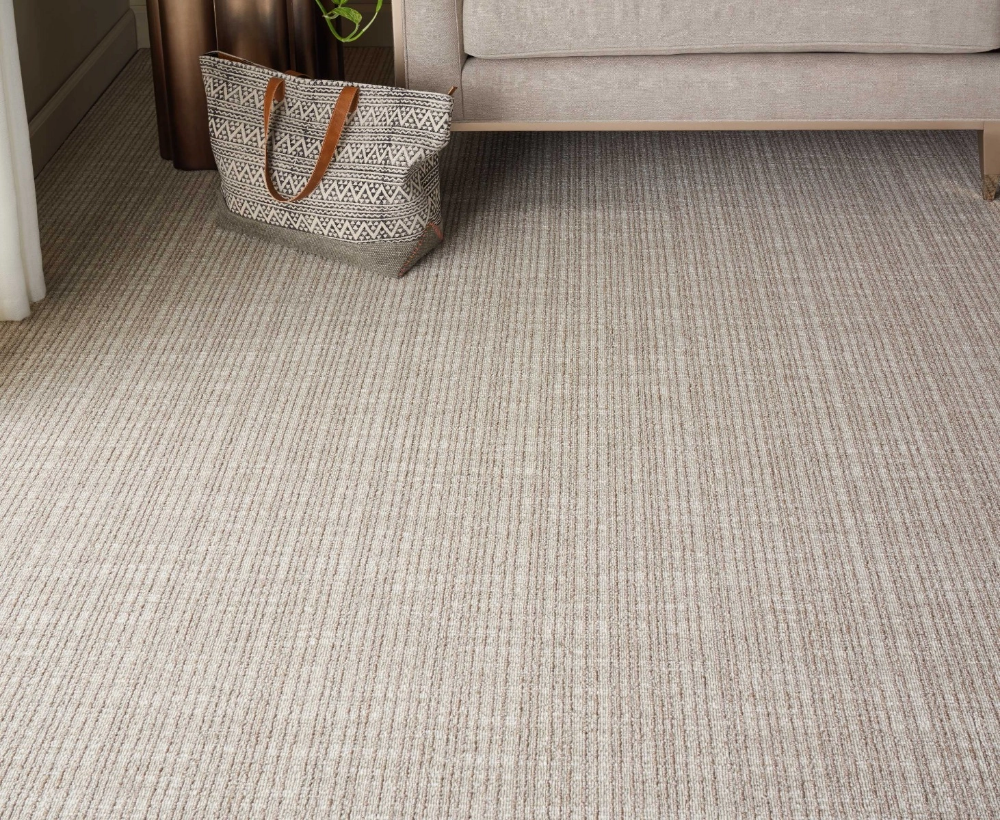 DOMA Sichuan Carpet Style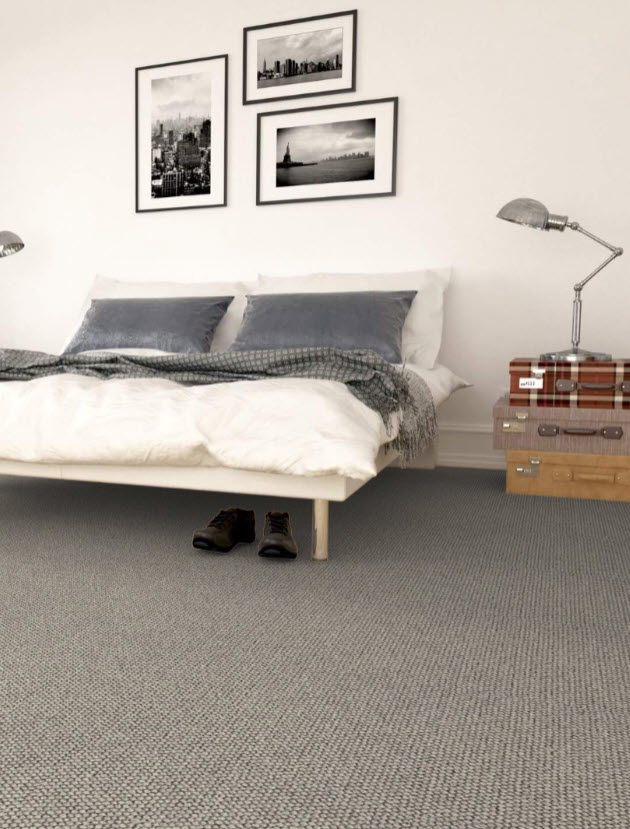 DOMA's Sichuan carpet style consists of a wool/nylon blend that holds up well to everyday traffic.
The Sichuan carpet collection is appropriately named for the peppercorns that its texture resembles. And just as those peppercorns are used to enhance the flavor of culinary dishes all around the world, the Sichuan collection adds spice to any room it inhabits.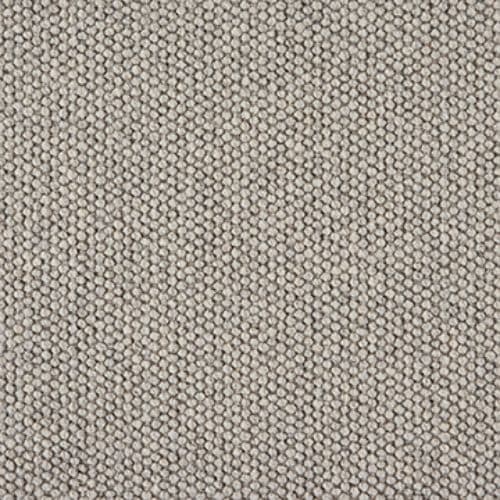 This next image captures the peppercorn quality of this carpet construction.
Every carpet in this collection is made in Belgium and approved for both residential and commercial installations.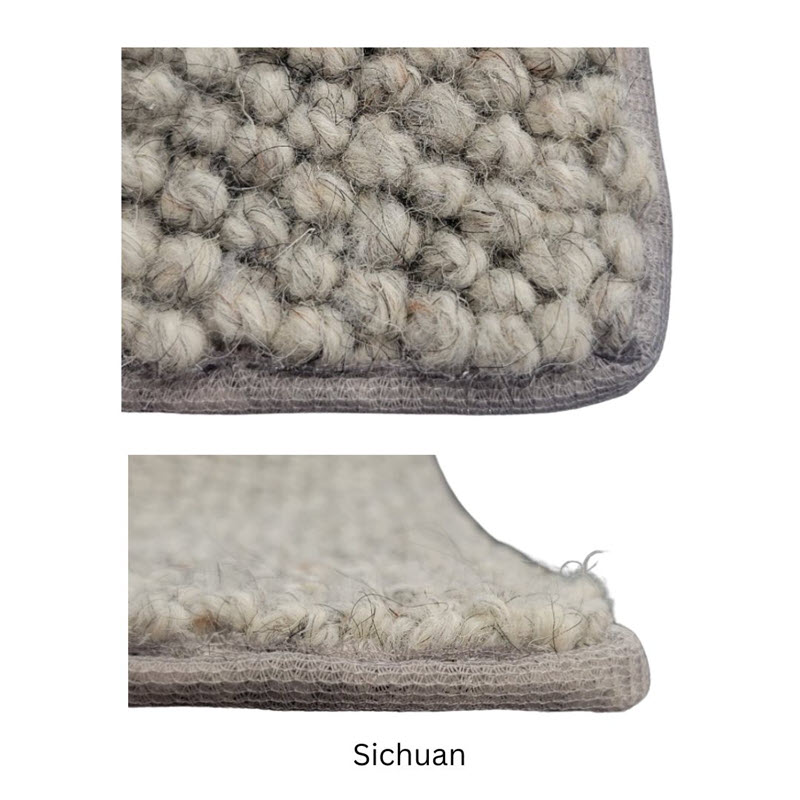 Sichuan is great for stair runners, area rugs, or wall-to-wall installations. It's available in the following 7 earthy neutral colors.:
Cobblestone (pictured above and below)

Driftwood

Graphite

Pebblestone

Prairie

Shalestone

Slate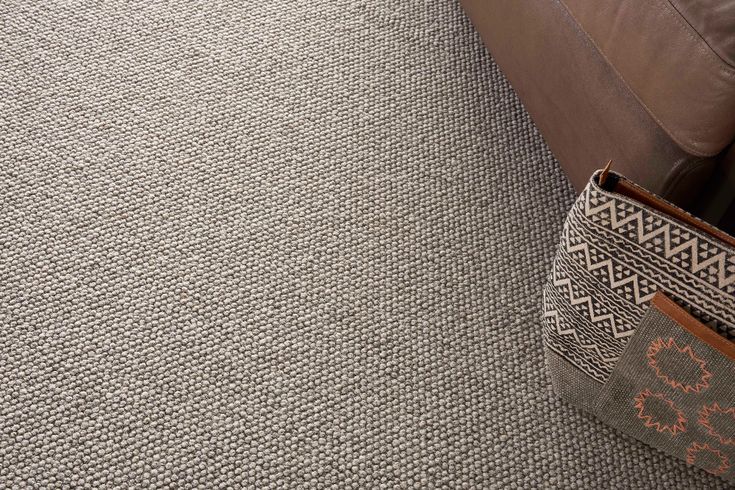 Paradiso Alaska Carpet
Paradiso Alaska features a thick and tight loop construction that adds visual interest to the room it is in. This 100% wool carpet ensures durability and stain resistance. It is also a CRI Green Label Plus Certified carpet low in VOCs.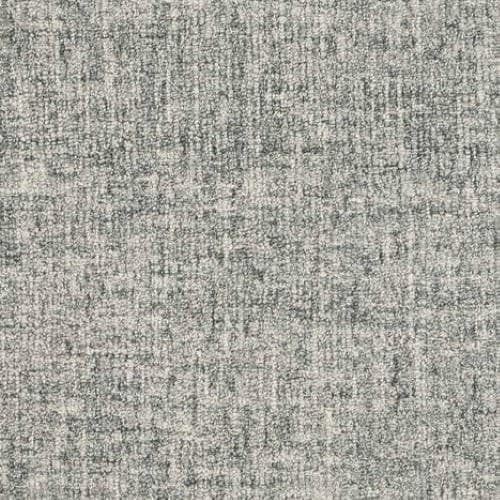 Alaska is available in 7 great colors:
Charcoal
Natural
Pacific (pictured above and below)
Quartz
Sandstone
Smoke (pictured immediately above)
Stone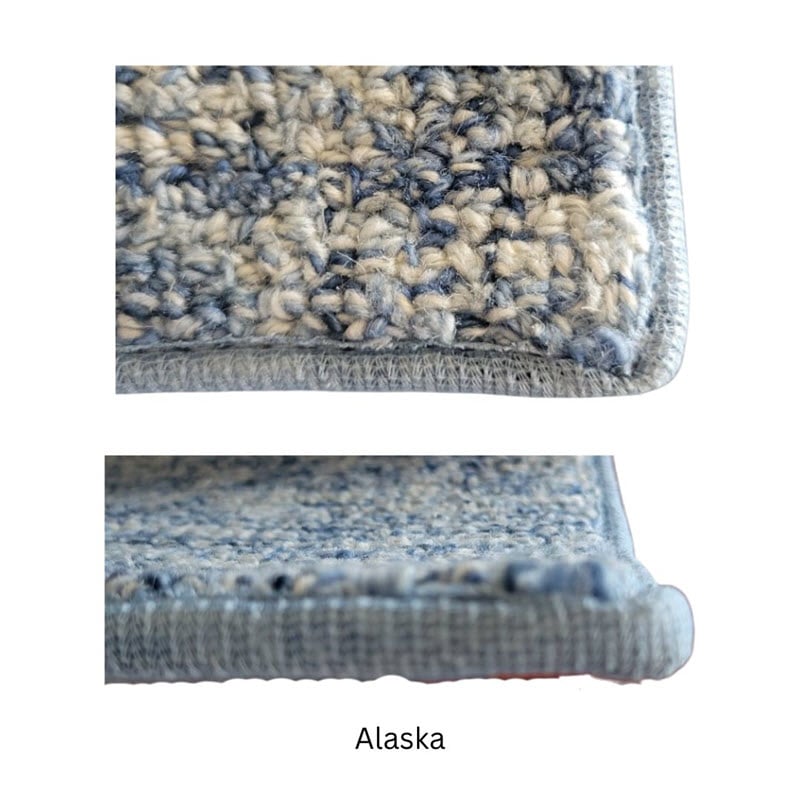 As you can see from the images, the Alaska collection boasts a simple pattern with gorgeous texturing and a lush feel. As mentioned above, each Alaska collection carpet is hand-woven from 100% wool and feels right at home with any type of decor.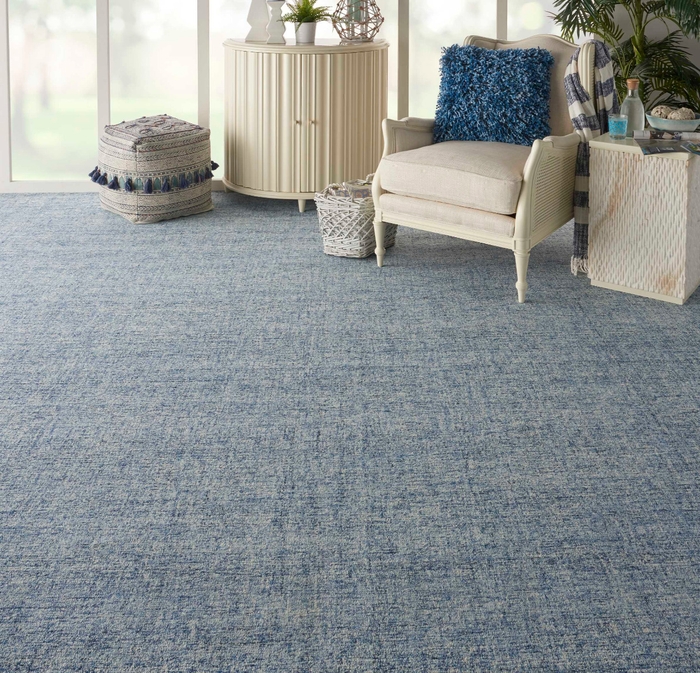 Paradiso Butte Carpet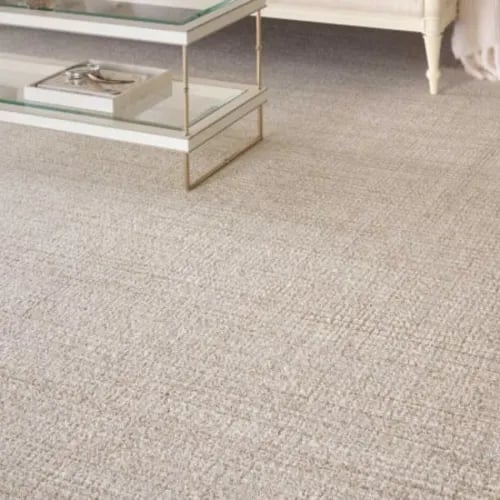 Paradiso Butte carpet is a wool/polyester blend in a tight, thick pile that is sure to withstand everyday traffic. The Butte collection boasts an intriguing one-of-a-kind pattern that fits in with any style of decor.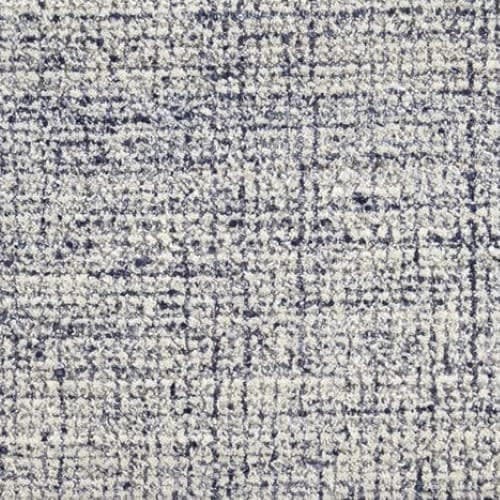 Try it as a runner for your hallways and stairs. It's elegant as an area rug and ideal for wall-to-wall installations. Butte comes in the following 5 colors:
Carmel Bay (pictured in the room scene above)

Del Ray

Pacific Grove

Pebble Beach

Seaside (pictured above and below)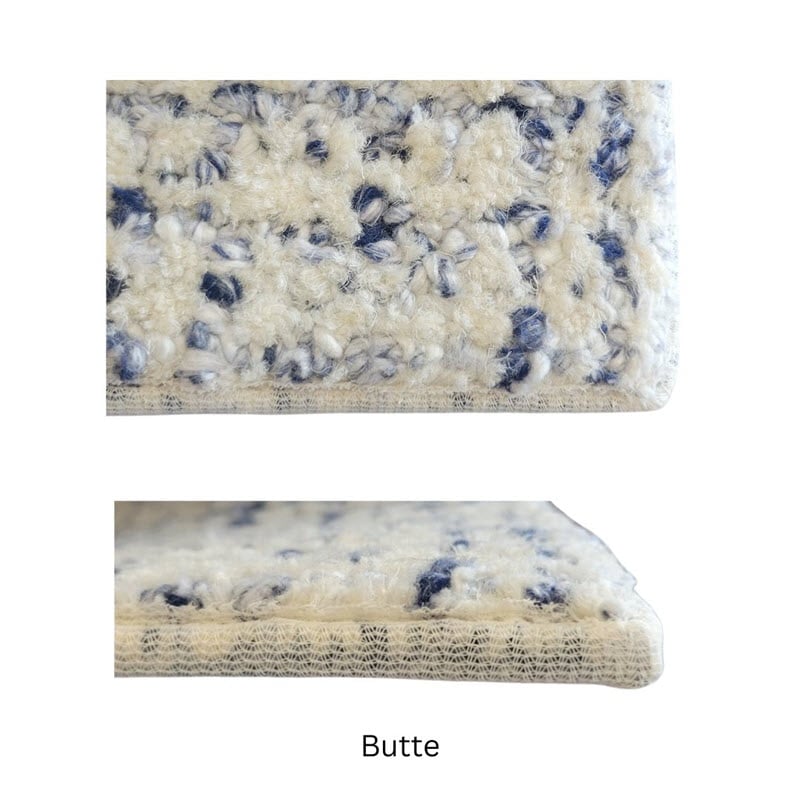 The closeup above captures the one-of-a-kind pattern of Butte. Below you see Butte as an area rug. All Butte collection carpets are woven by hand from a sustainable wool blend for superb comfort and quality.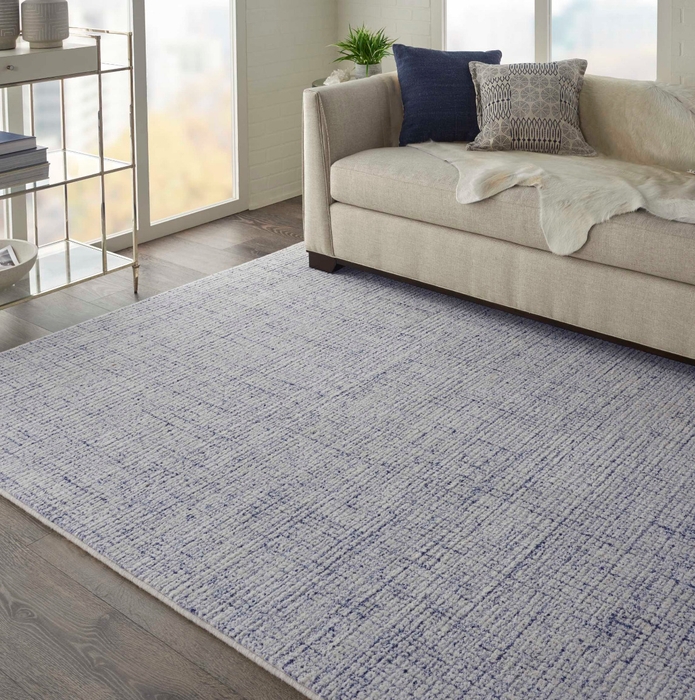 Paradiso Kahalui Wave Carpet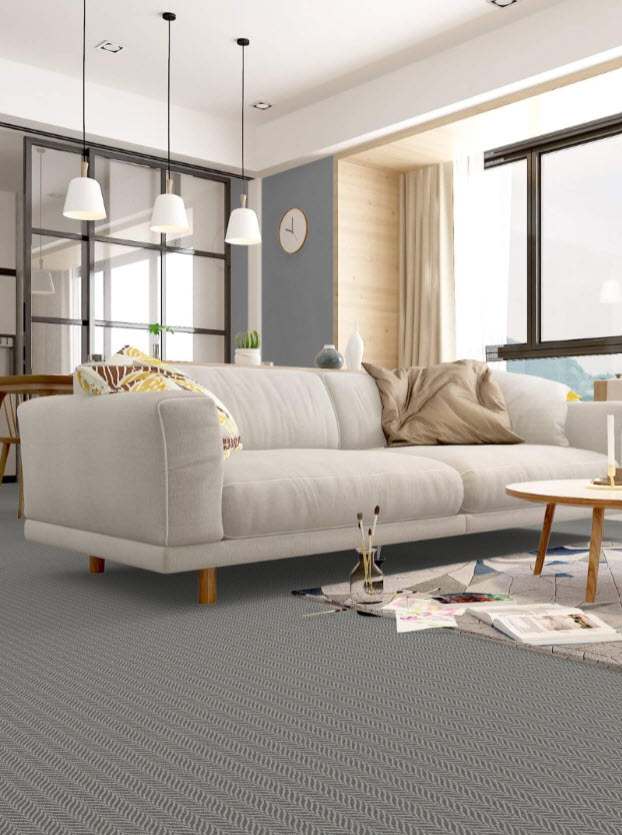 Of the different carpet styles featured in this article, Kahalui Wave may be the most striking with its flowing chevron pattern. This style is made from a durable wool/poly blend. It consists of a hand-loomed, flat-woven carpet with an upscale look.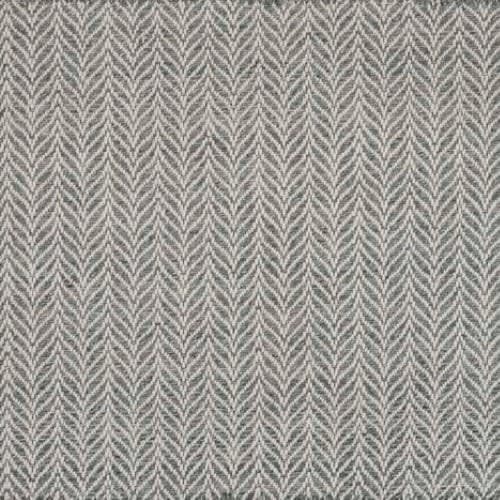 You can easily imagine it in a wall-to-wall carpet installation, as well as for an eye-catching stair runner or area rug. Notice the pattern in the closeup below.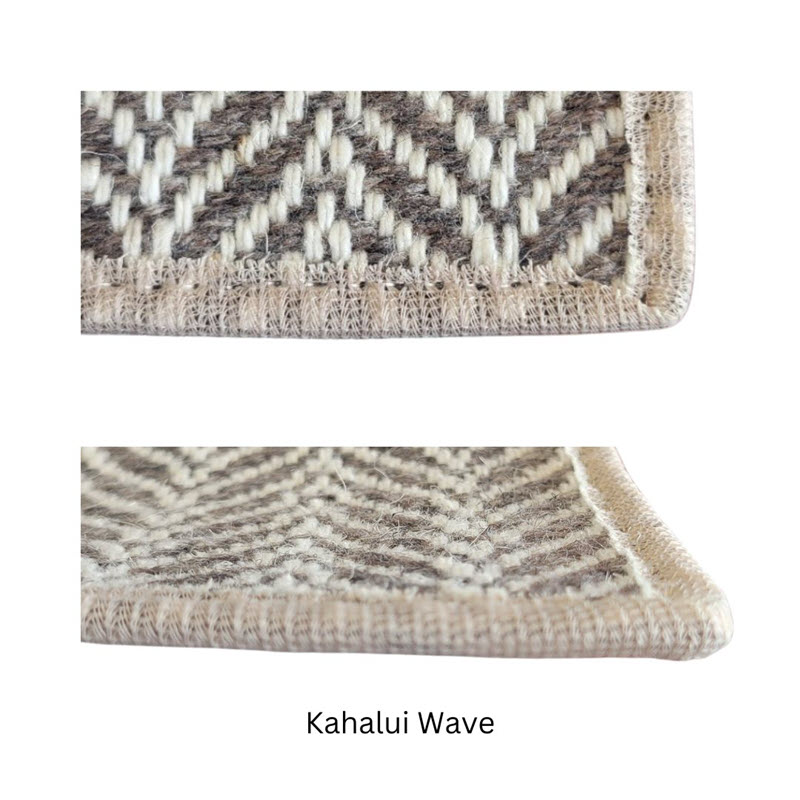 Kahalui Wave comes in seven gracefully assorted colors:
Ash (pictured below)
Celadon
Granite (pictured above)
Natural
Pewter
Sky
Stone
Every carpet in this collection is deftly hand-woven from a luxurious wool blend to offer the best in comfort and longevity.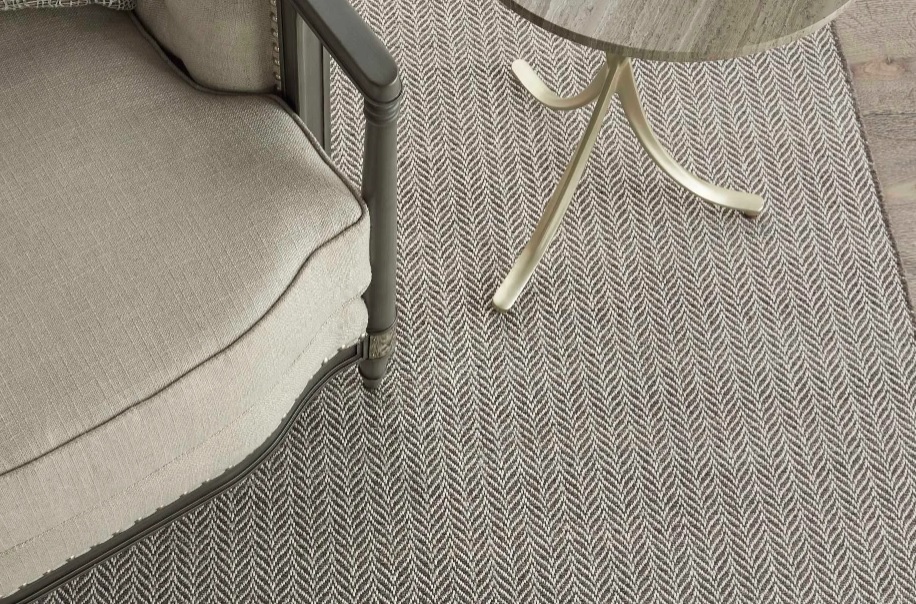 Ready to Experience Paradiso Carpet and DOMA Carpet First-Hand?
What's your reaction to these Paradiso and DOMA carpet styles?
If you are interested in experiencing them firsthand, we invite you to visit Floor Decor Design Center in Orange, Connecticut. There, you'll see not only these styles but many others including stunning 100% wool patterns.