Porcelain Wood Look Tile vs Luxury Vinyl Plank, an Honest Comparison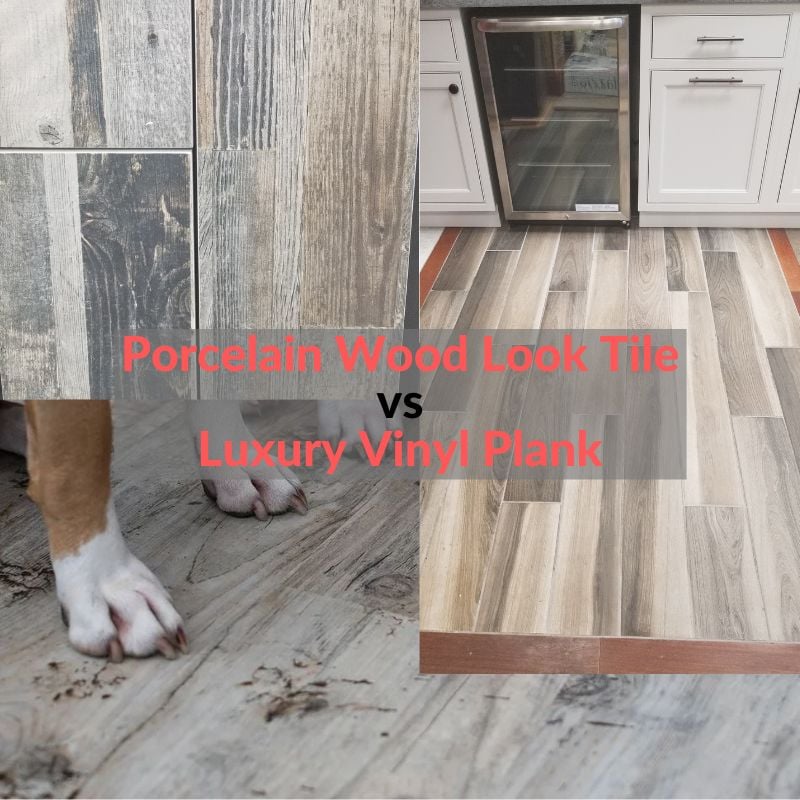 If you love the timeless look of hardwood flooring without the high upkeep and issues associated with water and moisture now have two great options. Enter luxury vinyl flooring (LVT or LVP) and porcelain plank tile. Both mimic hardwood in their look and in their long narrow plank format.

Which, though, is better? Both have their pros and cons and limitations as most flooring options do. In this article, we compare the two options so you can make the most informed purchasing decision for your personal needs.
Let's Compare Porcelain Wood Look Tile vs Luxury Vinyl Tile
Your options here consist of porcelain tile with the amazingly realistic look and feel of wood and LVT that looks equally wood-like. Both are in the shape of wood planks in a variety of widths and lengths.
Let's compare the two from the following perspectives:
Durability
Waterproof
Cleaning and Maintenance
Pet-friendly
Fade Resistance
Styles
Sizes
Colors
Installation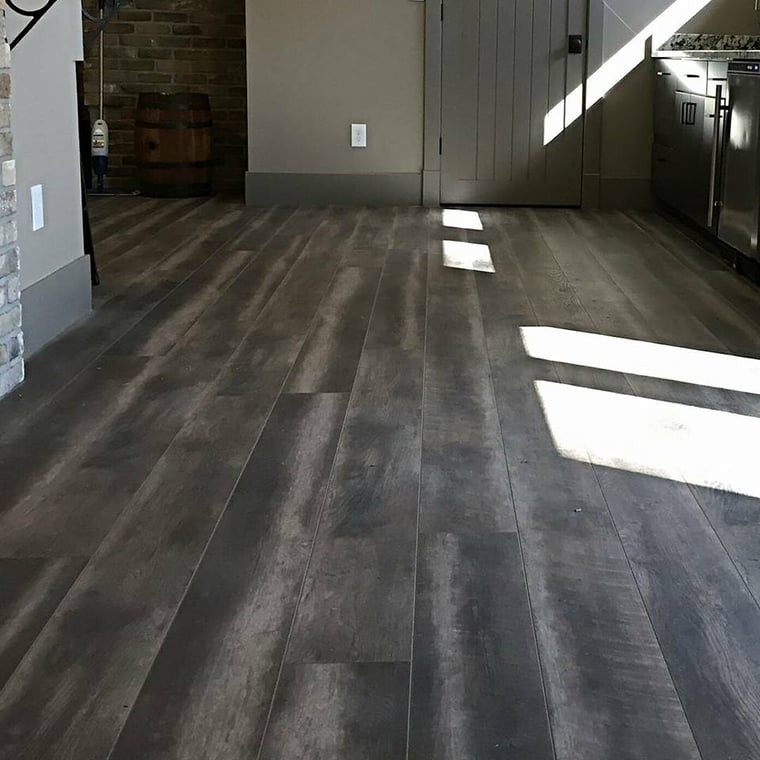 Durability
Luxury Vinyl Plank Durability
When it comes to durability, luxury vinyl tile planks offer a distinct set of benefits, including being more pet and kid-friendly than actual hardwood. However, LVT is more resistant to scratches that occur from pet claws, children, or everyday traffic.
Although vinyl plank flooring will typically not show wear from everyday use, it's not completely immune to damage. It's a softer material than tile and depending on the multilayer construction can be cut or torn, such as when a sharp object is dropped or furniture is dragged across the floor. Once ripped, the plank will need to be replaced.
Vinyl plank flooring may also fade if exposed for long periods to sunlight. For that reason, just as with wood floors, you'll want to keep blinds or curtains drawn during the day to limit exposure.
>> See Have You Considered CORETec Waterproof Flooring for Your Connecticut Home?
Wood-Look Tile Durability
Porcelain or ceramic tile flooring is extremely durable. Because tile is a harder material than wood or vinyl plank, it is more resistant to scratches, dents, fading, and other types of damage. Tile flooring is also colder and harder underfoot making it uncomfortable to some, although it lends itself well to radiant floor heating systems.
Like vinyl, it isn't completely indestructible. While wood-look tile can easily withstand everyday use, it can crack, just like any other porcelain or ceramic tile. If you drop something heavy, for example, the tile can break or chip. When this occurs, you will need to remove and replace the tile.
LVT vs Wood-look Tile: Which is Better?
When put head-to-head, wood-look tile is superior to vinyl plank when it comes to durability.
You can't scratch or otherwise damage it through daily use; it won't fade and it's one of the most resilient flooring types on the market today.


Resistance to Water
Water resistance tends to be the primary reason for considering a flooring solution other than hardwood. Water can completely ruin wood floors.
Luxury Vinyl Plank Resistance to Water
Vinyl plank flooring is completely water-resistant when installed correctly. If there are any gaps between the planks, moisture can get underneath and eventually lead to the growth of mold or mildew.
You can install it in rooms where there's moisture – such as bathrooms, kitchens, and basements – without fear of damage. Luxury vinyl flooring can get wet without warping, staining, or buckling.
>> See What Makes Stone Plastic Composite (SPC) Flooring Waterproof? Try Aquatec
Porcelain Tile Resistance to Water
Tile is also resistant to water. You can expose it to water without damaging it, making it a great choice for bathrooms, kitchens, and basements. With proper installation and grouting, moisture will never reach the subfloor underneath tile flooring.
Tile Customer Testimonial
"Great experience! I was attended to right away each time I came into the store. Michael and Janine are very professional yet personable and knowledgeable about their products. In the absence of Randy, Sandy was able to step in and help me out right away and with a smile! Thank you all. I'm very appreciative of the great service."
Areta H., Shelton, Connecticut
LVT vs Wood-look Tile: Which is Better?
Even though both types of flooring are resistant to water, wood-look tile is the superior choice. Not only won't it buckle, warp, or stain, but it doesn't have the gaping issues seen with luxury vinyl plank.

Care and Maintenance
One of the worst things about hardwood flooring is taking care of it. You already know that you can't get water on it, and then you need to clean it with special products and restore it to retain its shine. If the floor is old or damaged, you'll need to refinish it which can be costly as well as an inconvenience.
Not so with either LVT or tile.
LVT Care and Maintenance
LVT is one of the easiest flooring types to care for and maintain. It requires no special procedures or products to keep it looking fantastic.
You can perform daily vinyl plank cleaning using just a broom or dust mop. If you prefer, you can use a vacuum designed for hard surface floors to remove dirt, dust, and debris. For heavier cleaning, you can use a hardwood floor cleaner such as Shaw Hard Surface cleaner, an eco-friendly cleaner that can be used for all hard surface flooring types.
Even if a vinyl plank floor loses its shine, never use wax on it. This will cause a build-up that you will need to strip.
For marks on floors such as ink that won't come up with regular cleaners, you can use acetone or nail polish remover to remove the mark without damaging the floor.
>> See The Farmhouse Manor Rigid Core Luxury Vinyl Flooring Collection
Wood Look Tile Care and Maintenance
Wood-look porcelain tiles are equally easy to clean. Tackle daily messes using a broom, dust mop, or vacuum cleaner for bare floors. You can use a mild cleaner and warm water with a sponge, cloth, or mop to clean up bigger messes.
Tile grout lines can get quite dirty, and often, a mop just won't do the trick in getting it clean. We recommend TEC Power Grout, a highly stain-resistant grout that never needs sealing. Proper cleaning with a Ph Neutral tile and stone cleaner is recommended.
Over time, the grout may become stained and very dirty, especially when it is a lighter color. If this happens, products are available to restore the grout's original color. You can also buy grout pens to change the color of the grout.
LVT vs Wood-look Tile: Which is Better?
Although both types of flooring are easy to clean and maintain, LVT takes this round. The amount of work you need to do to clean and restore dirty grout on tile floors puts wood-look tile at a disadvantage in this category.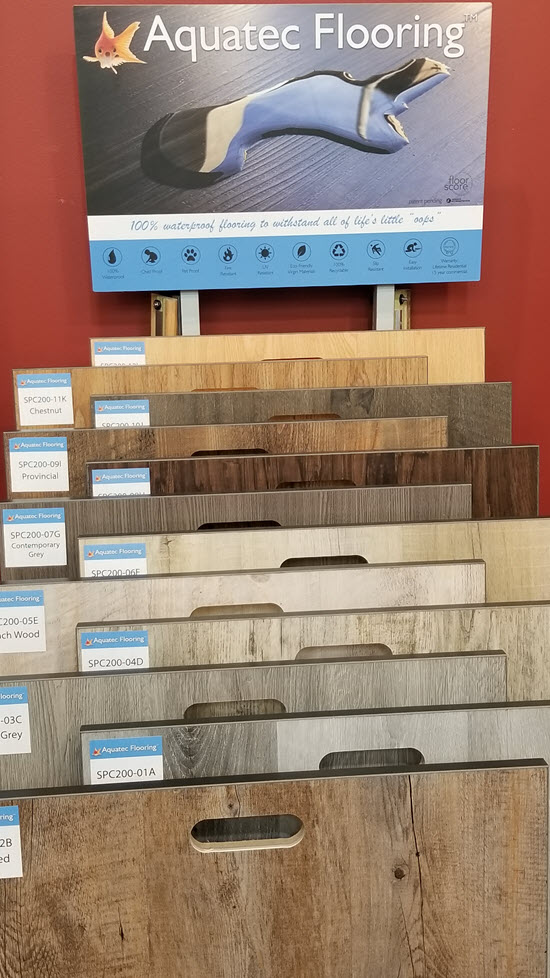 Sizes, Styles & Colors
As you already know, flooring is fashion. It's an important design element in your space. You want to be able to choose from a variety of colors, styles, and sizes. How do vinyl plank and wood-look tile stack up when compared to the seemingly infinite choices offered by hardwoods?
LVT Sizes, Styles & Colors
You'll find luxury vinyl planks in a variety of different colors and styles that mimic the most popular types of hardwood flooring. This includes barn wood oak, distressed hickory, and exotic species such as Koa, and more. You'll find traditional, rustic, and modern looks.
From a size perspective, LVT comes in multiple sizes, from widths of around 6 inches to 9 inches. Lengths vary from 36 inches to 72 or more inches depending on the brand selected.
You also have different thicknesses ranging from 4 millimeters up to 7 millimeters to choose from. Many of these planks feature patterns with variation for the most realistic look, as well as embossing that makes them feel and look like real wood.
Wood-Look Tile Sizes, Styles & Colors
Similarly, wood-look tile flooring is available in a variety of different colors. You'll find wood species represented on tile including oak, walnut, and even exotics like Brazilian pecan. The styles vary from shabby-chic and rustic to sleek and modern.
Size selections include widths from around 4 inches to 12 inches, while lengths vary from around 28 inches to 48 inches. Like vinyl, wood-look tile features 3D printing to create prints and textures similar to real wood.
>> See Designing with Wood Plank Tile
LVT vs Wood-look Tile: Which is Better?
Though it's a really close race in terms of colors, styles, and sizing, LVT has the edge as more and more options become available on a regular basis.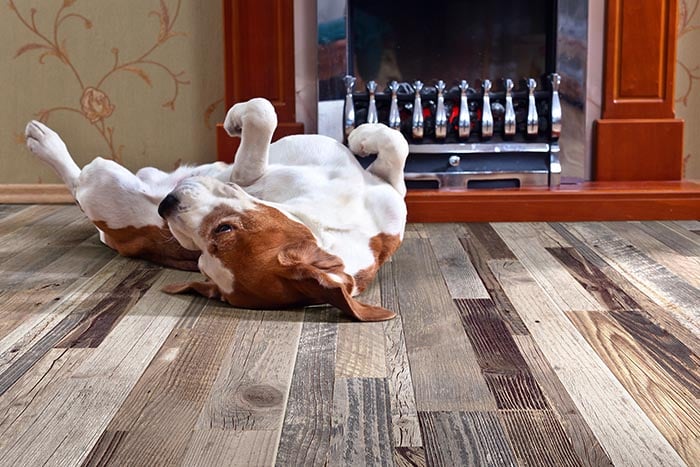 Installation
When considering the cost of flooring, you have to keep in mind the cost of installation. How does vinyl plank compare with wood-look tile?
Luxury Vinyl Tile Planks Installation
There are two different types of vinyl flooring.
The first kind is a

floating floor

which has a tongue-and-groove locking system that clicks the planks together.

Floating floors call for less floor prep to hide subfloor irregularities.

The second kind is a direct glue-down where the planks are set in an adhesive. You will need to address sub-floor irregularities.
Both types of floors can easily be cut using a utility knife.
Other than measuring and ensuring you lock the planks into place, there are a few installation steps you need to do especially with a floating floor.
Wood Look Tile Installation
On the flip side, ceramic and porcelain tile can prove difficult especially if you have no professional experience setting tile. To begin, you must properly prepare the subfloor, otherwise, the tile won't be even and may crack soon after installation.
Once the subfloor is ready, you set the tile in a thin set mortar. Spacers in between the tiles help keep the tiles in place so you can apply grout. You then clean off the grout, which can be a messy process.
Tile will have to be cut throughout the installation, generally using a wet saw. During that process, if you don't know what you're doing, you can chip, crack, or break tile, resulting in the need for more tiles to finish the job.
Installing ceramic and porcelain tile is considerably more complex and time-consuming than LVT. The cost of installation is usually double that of its LVT counterpart.
LVT vs Wood-look Tile: Which is Better?
In terms of installation, vinyl plank is the clear winner.
LVT Customer Testimonial
"I had an extraordinary experience from start to finish at Floor Decor and I could not be happier with the end result here in my home. I purchased luxury vinyl plank flooring for two renovation projects that were recently completed. From start to finish my dealings with the entire staff were beyond satisfactory. Mike came out to measure the floors, Jeanine coordinated the payment and installation details, Randi, and Sandy were very helpful in finalizing my flooring choices, and Fabian and his crew installed the flooring with care and attention to detail. This establishment is top-notch and very customer friendly. The choices of flooring are vast and their work is impeccable. I will be calling upon them for future projects and highly recommend that you consider Floor Decor for your next project!"
Ellen M., North Haven, Connecticut
How Do Wood Look Tile and Luxury Vinyl Tile Planks Compare?
Both products are great alternatives to hardwood flooring. How do they compare, though, to one another?
For durability, ceramic and porcelain tile flooring is better.
For ease of maintenance and comfort, LVT flooring wins.
For easy installation and lower labor costs, LVT is the clear winner.
However, the ultimate determinant is what's right for your situation and what you're trying to create in your space.
Wood Look Tile
LVT Planks

Durability

Extremely durable.

May crack over time or with misuse or improper installation.

Extremely durable.

Heavy furniture can cause denting. Consider using SPC-type LVT.

Water-Resistant
Yes
Yes
Cleaning

Can be cleaned with mild cleaners. Can be mopped.

Grout may require scrubbing or restoration.

Can be cleaned using steam mops or wet mops.

Use non-abrasive, mild cleaners.

Maintenance

Grout may need to be restored over time.

Cracked tiles will need to be replaced.

Never use wax. Instead, use no-wax polishes to restore shine.

Pet Friendly
Yes
Yes
Fade Resistant

Will not fade

More prone to fading

Styles

Available in a variety of wood styles, including oak, pine, walnut, and many exotic wood styles.

Available in a variety of wood styles, including oak, mahogany, and cherry.

Sizes

Widths start at 4" and up to 12".

Lengths range from 24 to 60".

Must be cut using a tile saw.

Typically, 6" to 8" wide.

Lengths, typically, 48" to 72".

Can be cut to size using a utility knife.

Colors

Available in many colors including white, gray, light, and dark wood finishes, and black

Available in many colors including white, gray, light and dark wood finishes, and black

Installation

Traditional installation with mortar and grout

Floating or direct glue down
>> See The Lowdown on Multilayer Flooring: LVT, WPC, SPC, and More
READY TO CHECK OUT Wood Plank Tile and LVT AT FLOOR DECOR?
We invite you to visit one of our two showroom locations in Middletown or Orange, where you can ask more questions about these two flooring choices.
Or, you can let me know of any questions in the comments or contact us.
We look forward to helping you.
Thanks for reading,
Janine & Michael
Note: We originally published this article on 08/21/2019, and have updated it.