Which is a Better Hardwood Floor Finish: Oil-Based or Water-Based?

Which is better: an oil-based or a water-based hardwood floor finish?
Many of our customers frequently ask us this question when they buy hardwood flooring and the answer is it depends. Both have their pros and cons, as we detail in this article.
Both oil and water-based polyurethanes are like a coat of armor for the hardwood floor below, protecting the wood from damage. Each type of polyurethane is a protective layer that will show scratches and wear marks over time, and both oil and water-based polyurethane have their strengths!
DURABILITY: If each product is applied properly using quality products, the difference in durability is indiscernible. A lot of clients think that water-based poly is not as durable as an oil-based poly, but a quality water-based poly will last just as long if it is well taken care of!
For water-based polys, we recommend and use only Bona products, as we feel they are the highest quality water-based polys on the market.
7 Questions to determine which Hardwood Floor Finish is Better for You
1. Where do you live?
The type of hardwood floor finish that's better for you depends on where you live.
In some areas, like California, oil-based hardwood floor finish is no longer allowed due to government regulations.
In the Northeast where, for years, most consumers believed that only solid hardwood was "real" hardwood, most also believed that oil-based was the preferred hardwood floor finish.
Truth be told solid hardwood is seeing a dramatic reduction in sales compared to engineered growth increasing in sales due to the popularity of wide-width boards.
Engineered hardwood is more dimensionally stable than solid wood and therefore resists cupping or crowning of wide plank floors. In humid climates such as the Southeast and Southwest, the majority of hardwood installed is engineered due to its stability.
>> See Solid vs. Engineered Hardwood: Which is Better?
Generally speaking, most rural markets tend to use more oil-based while urban markets use more water-based with the Northeast being an exception.
2. How does pricing differ between oil-based and water-based finishes?
In terms of your budget, you'll need to take into account the difference in pricing between the two finishes.
Oil-based hardwood floor finish costs less, whereas single-component water-based is going to cost significantly more and two-component water-based (which includes an added hardener) is going to cost even more.
Often a water-based finish will require "popping the grain". Popping is a process used to open up the grain of wood flooring. Opening the grain makes the hardwood floor porous again, allowing for much better results with the staining procedure.
3. What about floor finish drying time?
Oil-based finishes generally dry overnight, so the second and third coats require coming back the next day.
With water-based floor finishes, you can do a second coat the same day which can reduce the number of days required to complete the project.
If you have a tight window for completing your flooring project, you'll need to consider drying time.
4. How does the appearance of oil- and water-based hardwood finishes differ?
Which appearance do you prefer for your hardwood floors?
Oil-based finishes have a warm amber tone and more depth in appearance, yielding a richer color. An oil-based polyurethane will continue to amber and darken over time
On the other hand, most water-based finishes dry clear. A water-based poly will remain clear for the lifetime of the hardwood floor. This color difference is less noticeable over a stained hardwood floor
We prefer the richness of an oil-based look for specific wood species, such as Walnut and Brazilian Cherry which will bring out the natural beauty and the color of the wood.
5. How sensitive are you to odors and solvents?
When a customer is sensitive to smells or is concerned about solvent-based finishes we suggest a water-based finish.
6. How do you balance thickness and hardness?
Oil-based poly is a thicker poly, but it is also softer.
Water-based poly, an acrylic product, forms a thinner, but harder coating.
Oil poly can be more susceptible to dents, while water-based poly can be more susceptible to surface scratching.
Because water-based is a thinner product, we recommend 3 coats of water-based poly as a minimum, whereas with oil 2 coats are sufficient as a minimum.
For people with large pets, we recommend either 3 coats of an oil-based poly or 3 coats of Bona Traffic High Durability water-based poly.
7. When should you go with a water-based finish?
If you are going for a gray-stained, white stained or a white-washed hardwood floor, you must use a water-based poly, because an oil-based poly will make those floors look yellow. Over time, they will continue to look more and more yellowish.
Also, certain very light species of wood, such as Maple, look best with a water-based poly for the same reasons. Beautiful light-colored Maple turns yellow with an application of an oil-based poly.
We also recommend a water-based poly for hardwoods that have a very yellow-ish tone to them naturally, such as Ash, Pine, or Fir, because the application of an oil-based poly only brings out the yellow tones even more!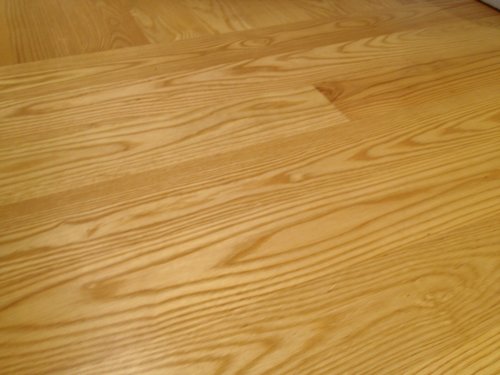 Ash with Oil Finish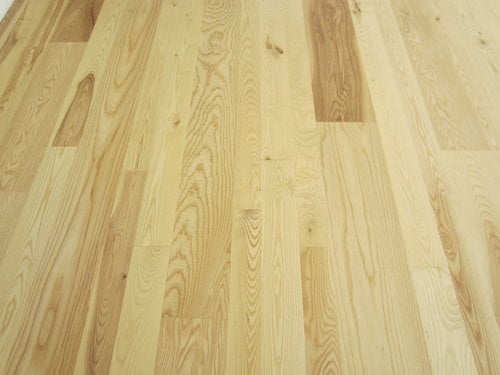 Ash with Water Base Finish
This is a matter of taste, however, all of our clients with the aforementioned hardwood species have been very happy with the application of a clear water-based poly.
Which Finish do you prefer for your hardwood floors: Oil or Water-Based?
I hope with these seven questions you have a better feel for the facts that make oil-based and water-based floor finishes unique so you can decide what's best for you. Understanding the pros and cons of these types of finishes can help in making informed decisions. In turn, it can help you to give your floors the best protection that will help maintain your floor's beauty for years to come.
When you're ready to explore hardwood floor finishes for your home, we invite you to visit one of our two showroom locations in Middletown or Orange where you'll find a rich assortment of hardwood and engineered hardwood options to choose from.
Or, you can let me know of any questions in the comments or contact us.
We look forward to helping you.
Thanks for reading,
Janine & Michael
Note: We originally published this article on 12/04/2019 and have updated it.