Many times, it's hard to visualize how your kitchen or bath remodel will look like. After all, you're reviewing small sample pieces of tile to commit to something big - a remodel - and you don't want to make a mistake. Luckily, there's a solution: a visualizer.
And, at Floor Decor Design Center, you have several options to work with.
1. Visualize New Products in Your Own Room
When you visit floordecorct.com, you can link directly to our Roomvo Product Catalog or explore specific product categories and click on See in my room under a specific product to experience the visualizer.
In either case, you can use one of the images that the visualizer offers you, or upload your own photos.
That's true whether you use your mobile device or your desktop.
Really cool, no?
Be on the lookout, too, for the cell phone icon below that you may notice in the bottom right-hand corner of the site. When you click on it, it offers you another access point to the Floor Decor visualizer.

Visualize New Floors in 3 Easy Steps
It's essentially a three-step process.
Step 1 - Select a product from the Floor Decor Design Center product catalog.
Step 2 - Upload the photo of your room.
Step 3 - See how the product looks in your room.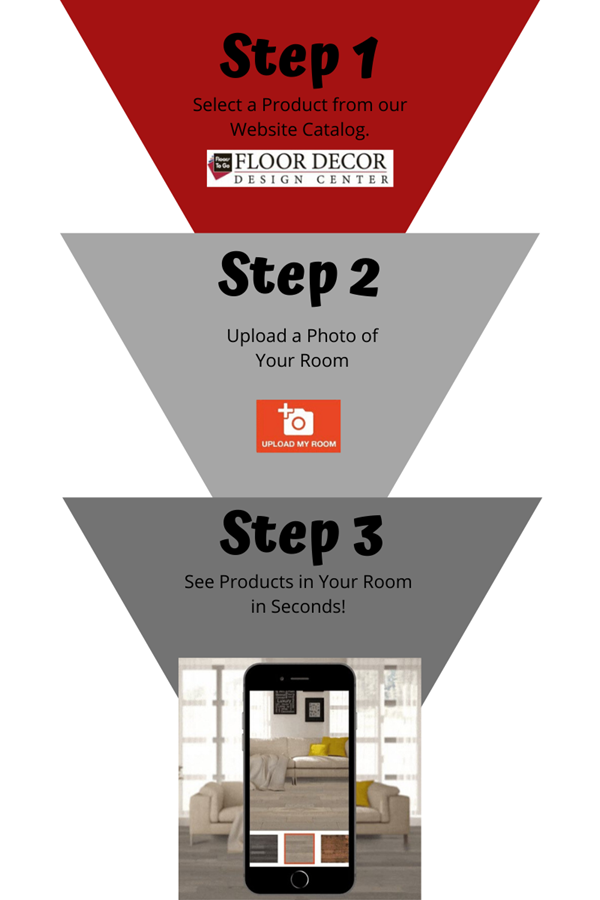 2. For Your Bathroom and Kitchen Remodel, Here's How to Visualize It!
In addition, when you visit FloorDecorCT.com, you'll discover four visualizer tools on Design Tools (in the top header), one for bathrooms, kitchens, countertops, and wood-look tile. Let's explore each one.
>> Read New Year, New Home Remodel Project?
The Bathroom Visualizer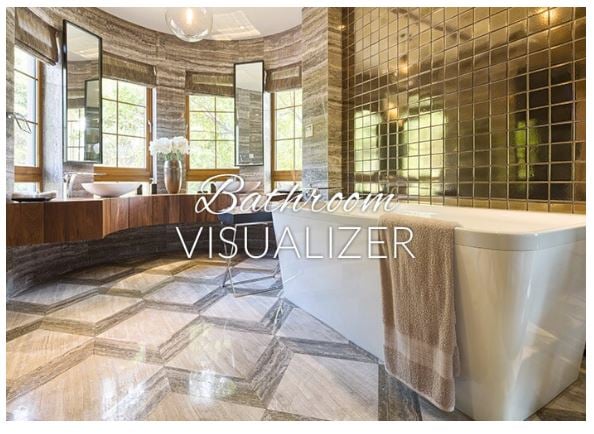 With the bathroom visualizer, you can visualize different cabinet, countertop, floor tile, and wall tile options.
This virtual tool offers you two layouts to experiment with:
One with a mosaic focal wall inset in the shower
One with a mosaic band from the floor to hip height and again from the shower nozzle to the ceiling.
Both feature a vanity and mirror so you can get a feel for how all of the bathroom elements work together. Based on these two different bathroom settings, you can use the tool to mix and match your choice of colors to help you visualize the ideal bathroom. More specifically, you can select options for:
Mosaic details in the shower. These range from octagon, basketweave, rhomboid, interlocking strips, split face, and more traditional mosaics.
Base floor tile choices include square and rectangular-shaped tile.
Cabinet colors include black, cherry, espresso, grey, maple, and off-white
You can also customize the countertop to be as exotic or muted as possible.
Below, you see a black vanity cabinet with a white Carrara marble countertop. On the floor and walls, a square-shaped Arabescato Carrara polished tile. And, in the shower, a wall feature with Arabescato Carrara polished mosaics.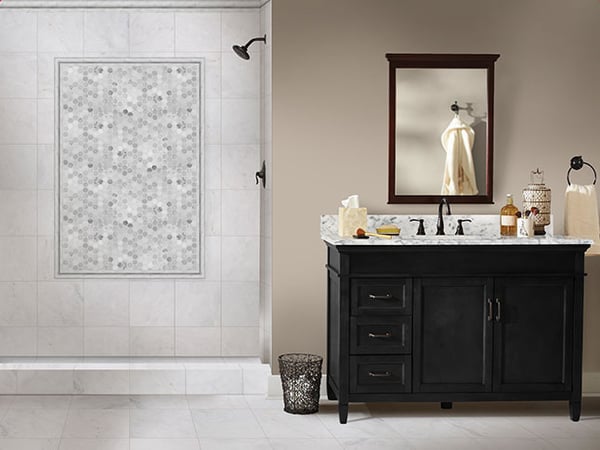 >> See Feast Your Eyes on Marble Look Porcelain Tile
Once you've created your dream combination, you can easily email, print, or save your favorites to help in making your final selections.
The Kitchen Visualizer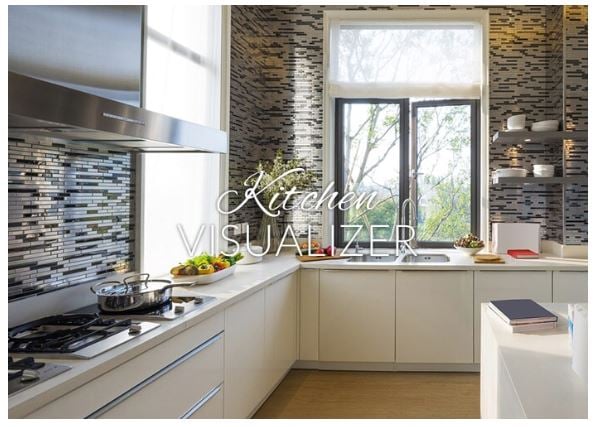 The kitchen visualizer includes two kitchens, each with two views - one being a close-up of the backsplash since that is such a strong design element for a kitchen. One kitchen is traditional the other modern. Both default to the same choices: Alaska White countertop with a Bergamo Herringbone polished mosaic for the backsplash, coffee-colored cabinets, and a rectangular-shaped Aria Bianco tile on the floors.
You can see the traditional kitchen below.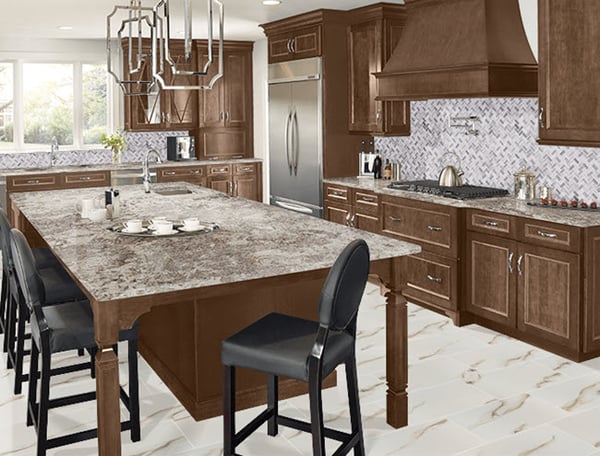 What this highlights is how you can mix different patterns yet make them work based on a similarity of color family, or a related pattern, or with your choice of cabinets.
If you need help with your kitchen redesign and how best to configure the layout and choice of cabinetry, be sure to work with Floor Decor Design Center's partner, J&J Complete Home.
>> See Meet the J&J Complete Home Team: John and Jennifer Manzione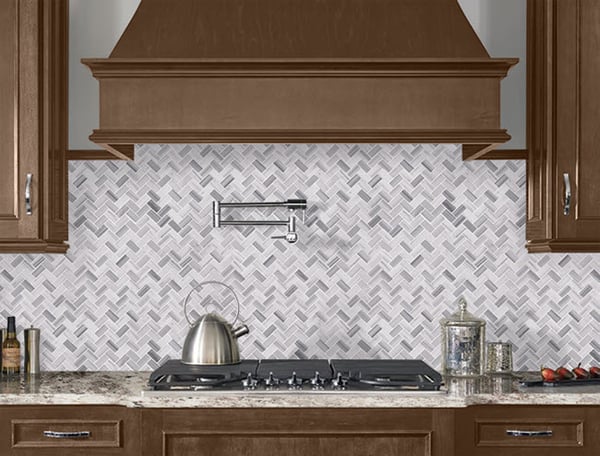 Backsplashes play a particularly important role in the kitchen where they can add considerable visual interest. Who doesn't want a fun, visually inspiring kitchen when you think how much time is spent there socializing and interacting with friends and family?
That doesn't even take into account how an arabesque, zigzag, or herringbone mosaic pattern can completely transform the look and feel of a kitchen! We documented that in See How New Flooring Transforms 1980s Connecticut Condo where you'll see arabesque tile in the kitchen and a fabulous zigzag mosaic in a niche in the bathroom.
If you'd like additional backsplash ideas, be sure to check out:
>> Three Tile Backsplash Trends for Your Connecticut Home
>> 9 Kitchen Backsplash Ideas to Inspire Your Next Remodel (Video)
Once you've created your dream combination, you can easily email, print, or save your favorites to help in making your final selections.
The Countertop Visualizer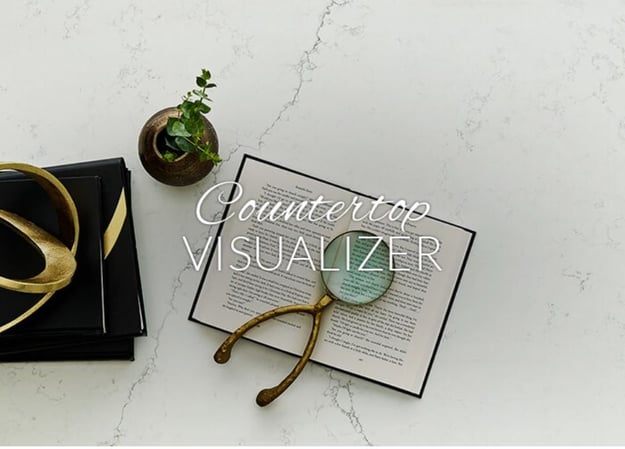 The countertop visualizer allows you to explore up-close the stunning details of individual Quartz counter options. Realize that premium Quartz Countertops are available in a wide range of patterns, including realistic marble looks, modern concrete looks, and nature-inspired looks.
You'll discover a range of colors from icy white tones to midnight black tones. And, then, select the perfect decorative wall tile and mosaic to complete the look.
By the way, when it comes to Quartz countertops, you can also make use of the Cambria virtual design tool on your mobile device. It allows you to see how your very own countertops look in different styles.
>> See The Ultimate Guide to Quartz Countertops
The Wood Look Tile Visualizer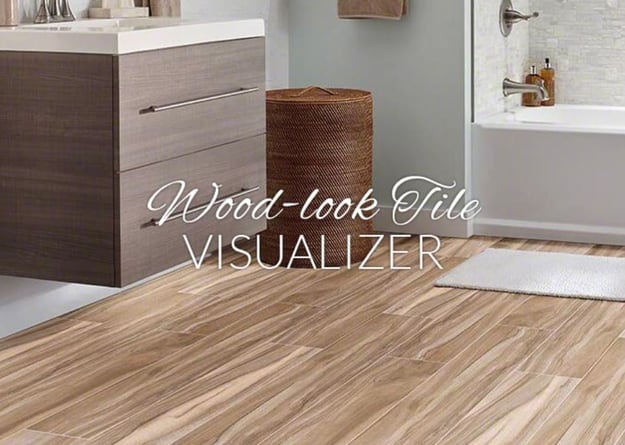 What makes wood look tile so appealing is how the width and length vary depending on the style. And, then, of course, you have an extensive range of rich colors and patterns to select from.
The wood-look tile visualizer helps you quickly assess which styles appeal to you so you can explore them in more detail.
>> See DESIGNING WITH WOOD PLANK TILE
Once You've Visualized Your Remodel, What's Next?
A visualizer represents the first step to getting started on your remodel. After all, it helps you gain clarity over some of your tile preferences and allows you to move forward. Plus, you can do so from the privacy of your computer without having to interact with others.
Once you've gained that clarity, you'll want to connect with professionals who can help design your kitchen or bath and finalize your flooring decisions, advise you on the benefits of different material choices and complete the installation of the different kitchen and bath products and materials you've selected.
>> See Five Steps for Completing a Home Remodel Checklist
We hope you'll consider Floor Decor Design Center for your remodel. When you visit one of our two showroom locations in Middletown or Orange, you'll find a rich selection of tile, countertops, and even cabinets through J&J Complete Home.
>> See Open for Business While Respecting Social Distancing
And, if you'd prefer to work with a designer, we can help you with that, too, via our Shop at Home Design service.
Let us know of any questions in the comments or contact us.
We look forward to helping you.
Thanks for reading,
Janine & Michael
Note: We originally published this article on 03/06/2019, updated it on 06/17/2020, and are now further bringing it up to date.