Meet the J&J Complete Home Team: John and Jennifer Manzione

When you visit Floor Decor Design Center, you can expect a full-service flooring fashion experience which even includes kitchen, bath and home remodeling. That's because you'll find Orange's own 'Fixer Upper' team of John and Jennifer Manzione from J&J Complete Home ready to help you.
We caught up with Jennifer to learn more about J&J Complete Home.
J&J Complete Home's Jennifer Manzione Talks About Home Remodeling and Being a 'Fixer Upper' in Orange, Connecticut
FDDC: Jennifer, tell us about your background. Are you and John both from Connecticut?
JM: John and I both grew up in Stratford, Connecticut. He attended Stratford High school and I went to Bunnell. We were archrivals (when it came to sports, at least). We were friends with the same people and we actually met at a friend's house party.
FDDC: How did you get started with J&J Complete Home?
JM: John was a teenager when he began to work in the construction field.
He was very interested in creating and building as well as the design aspect of the profession. He worked for his cousin Steve, a well-known builder at the time. John knew then that this was the profession for him.
While learning the trade John has had many mentors. His grandfather was a big influence for him as well. He believed in hard work and was never afraid to get his hands dirty.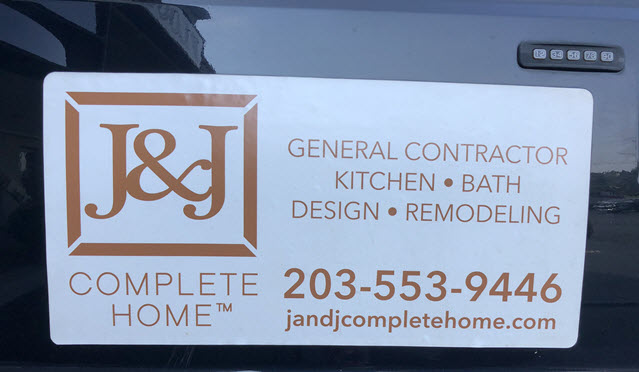 FDDC: What is your specialty?
JM: We really do not have one specialty since we are a full-service construction company. We provide services such as remodeling - basements, kitchens, bathrooms, new build and decks. However, when it comes to kitchen and bathroom design, we work off of a program called Pro Kitchen that allows us to provide our clients with a 3-D version of how there new space will look.
We sit with our clients and have a discussion about their current space and how they want to change it, and offer our expert advice.
We work with them through the entire process from start to finish.
FDDC: What cabinetry lines do you work with?
JM: We work with Fabuwood (a company that believes that the kitchen cabinets should create a sanctuary offering a seamless balance of functionality and ambiance. Fabuwood makes building a luxury kitchen affordable without compromising on comfort, quality and efficiency.
We are also a dealer for Merillat - "America's Cabinetmaker" - a cabinet manufacturer that offers products that are built exceptionally well.
With this combination of style and functionality, our clients have a lot of options to choose from.
FDDC: How did you get to be known as "Orange's Fixer Upper team"?
JM: Home design television shows have been such a hit lately with television shows such as Property Brothers and the most popular show, Fixer Upper. Home design has become all the rage.
As John and I worked with clients from start to finish with their projects, people would often say to us "You're the next Fixer Upper team" and "You should have your own show."
Note: John and Jennifer were recently featured in Orange Magazine in an article titled "Meet Orange's own "Fixer Upper" Team".
FDDC: How did you connect with Floor Décor Design Center?
JM: John and Mike met in a leads group.
John was working with a kitchen design center installing kitchens and in conversation Mike asked if John would be interested in partnering with him.
FDDC: What are some noteworthy installations you've completed? Why do they stand out?
JM: We have created so many new spaces for people that it's really hard to say.
From beautiful luxury bathrooms to modernized functional kitchens all of them are noteworthy to mention because we have created a new space for our clients to enjoy.
You'll find examples on the JandJCompleteHome.com website in the projects section and I've included two before-and-after examples here.
In this first kitchen remodel, we transformed a dark, dated space into a beautiful light and welcoming one.
When we work with clients to redesign their kitchens, we spend time understanding work flows, so we can recommend lighting solutions and appliance locations.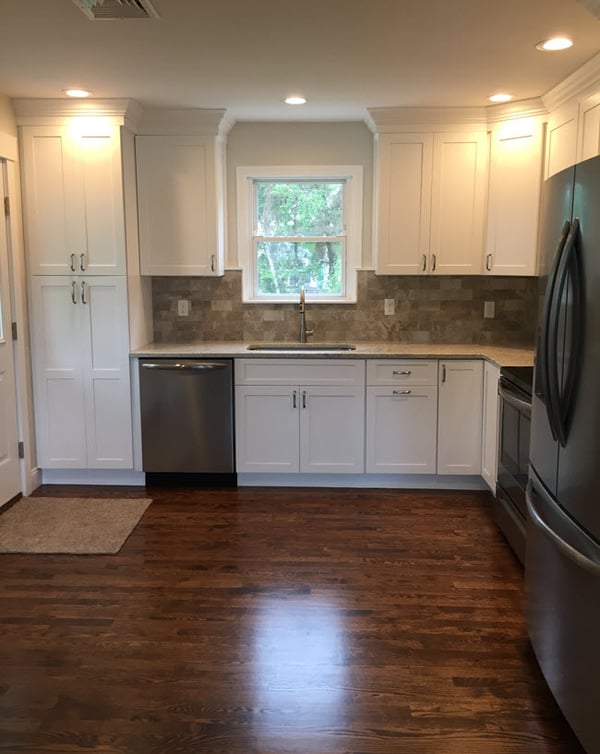 FDDC: What are some interesting cabinetry trends?
JM: People are looking for simple, easy to clean and not too much detail in the cabinet.
Very popular right now are the shaker style cabinets which can add style to traditional or modern homes. The new saying in the cabinet business is "Modern traditional". This style is what most people want these days.
FDDC: Which flooring, tile and countertop products are most popular?
JM: Some of the most popular products in flooring are hardwood and tile in a 12x24.
Also very popular are encaustic tile.
While black and white (and gray) are still popular around the world, other colors are resonating with designers and homeowners.
The same tile that goes from floor to ceiling, say in a master bathroom is very popular. A wood look tile on the floor extending up the walls to the ceiling to create a spa like retreat is ever so popular.
There are so many options to choose from in color and design.
FDDC: How do you suggest that someone prepare for a remodel project with you?
JM: I often say it takes just the one phone call.
There are many distractions in today's society. How will I have the time, how will I have the money. Where do I begin. They begin by making the first phone call and from there we help guide them through the entire process from start to finish.
We have all the Ts crossed and Is dotted to alleviate the stresses of any remodeling project.
Below you see another before-and-after example.
Here, too, the original kitchen was dated, dark and cluttered.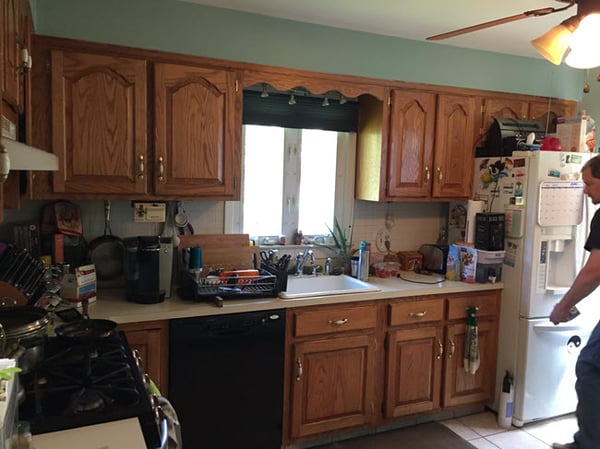 The remodel included opening up the space, adding more cabinetry storage and generally creating a space that the homeowners enjoy spending a great deal of time in.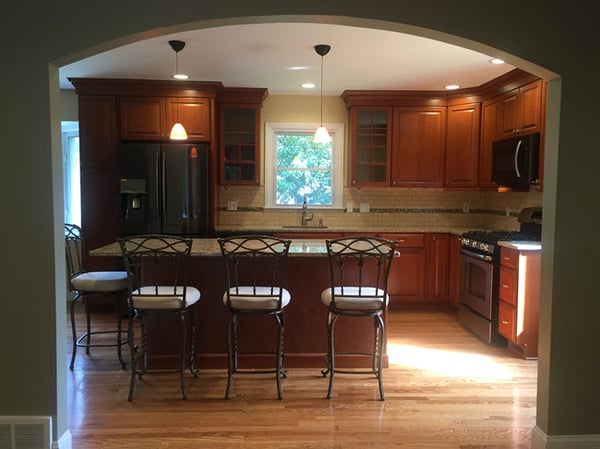 FDDC: What are the top questions people ask you?
JM: Some of the most common questions people ask us are:
Where do we begin?
How long will it take?
Explain the step by step process
How long do the cabinets take to order?
What are the differences between the two cabinet lines?
How many people will be onsite?
The list goes on and on and we have an answer for every question.

FDDC: What is the best way to reach you?
JM: The best way to reach us is to call our showroom at 203-553-9446.
Someone can also email us through our website which is jandjcompletehome.com.
On our website people can navigate through and learn about all that we do. We also have many photographs of different projects we've completed.

FDDC: Thank you, Jennifer!
Are You in the Market for a Kitchen or Bathroom Remodel?
If you are, we hope you'll consider working with J&J Complete Home.
Visit with them when you are next in the Floor Decor Design Center showroom in Orange. You'll find them not only hugely talented, but also ready to listen and help you bring to life your dream space.
We look forward to helping you find the floor, tile and countertop that coordinates perfectly with your remodel.
Thanks for reading,
Michael