If you're planning a kitchen remodel, have you considered quartz countertops? As a material, quartz is versatile, available in a wide range of beautiful styles, and easy to care for. Although it has the look of natural stone, it has none of the headaches.
Whereas it was once reserved for high-end homes, quartz countertops are finding their way into more kitchens and bathrooms, replacing granite. As brands proliferate, quartz becomes more accessible and prices more affordable.
Explore Floor Decor's Ultimate Guide to Quartz Countertops
In this ultimate guide, we'll explore the following topics associated with quartz so that you feel comfortable making the right countertop decision for your home:
What constitutes a quartz countertop?
What are the benefits of having quartz countertops?
What is the downside of quartz?
Which quartz brands will you find at Floor Decor Design Center?
What to expect when you select a quartz countertop?
How to care for your countertop?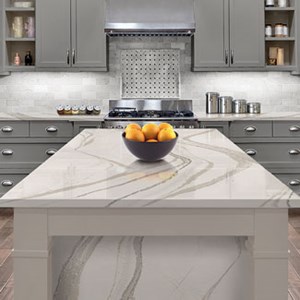 What constitutes a quartz countertop?
Quartz countertops consist of 93-95% ground quartz minerals, combined with resin binders and pigments for color under intense heat and pressure to form a solid slab. The resulting product is not only low-maintenance, non-porous, uniform, hard and stain and scratch-resistant, but also available in a wide range of natural-looking patterns and colors.
You may also find quartz referred to as engineered stone.
A favored premium countertop material of kitchen and bathroom designers and architects, quartz is often confused with natural stone and solid surface countertop materials (e.g., Corian).
Natural stone (e.g., granite) typically requires sealing of the surface at least once a year.

Solid surface materials consist of 66% minerals and

33% binding resins; that's what gives solid surface its silky, soapy feeling.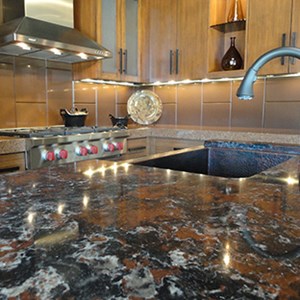 What are the benefits of having quartz countertops?
The benefits of having quartz countertops fall into two categories: performance/maintenance and design options.
Performance/maintenance benefits of quartz
Unlike natural stone (or even wood), quartz will never need to be sealed. Neither will it need to be polished.
Quartz counters are harder and more durable than natural slab granite.
Quartz has a water absorption rate comparable to that of porcelain at 0.5%. That makes it non-porous and very easy to maintain (just wipe with soapy water once a day).
Furthermore, stain, odor-causing bacteria, mold and mildew won't affect your counters - an ideal situation for a kitchen.
Quartz' design benefits
"Designs" is the industry shorthand for several qualities of the slab's visual appearance: overall color, size and shape of minerals, streaks, and striations. The range of designs is the single biggest difference between quartz brands.
Surface finishes range from matte to high gloss.
You'll find a range, too, of edges just like natural stone. Cambria, for example, offers 19 different edging options!
Furthermore, unlike natural stone, seams are often invisible. Resins make quartz more flexible and the cuts cleaner.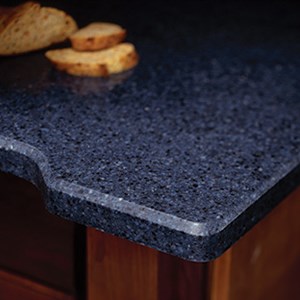 What's the downside of quartz?
Although the quartz minerals are impervious to heat (typically up to 360 degrees F but only for a short duration), the binding materials are not. They will be damaged at high temperatures. Always use a trivet or hot pad.
Quartz countertops are heavy so be sure, before installing them in your home, to evaluate structural issues.
Finally, quartz is not meant for use outdoors.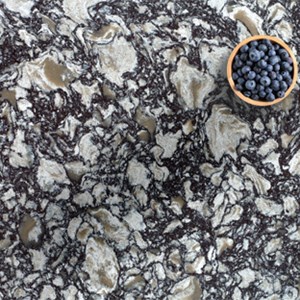 Large Quartz Countertop Brands That Dominate the Market
You'll find several large brands in the quartz countertop market. All of them offer warranties on their products; these differ in the length, limitations, and transferability. As can be expected, prices differ between brands.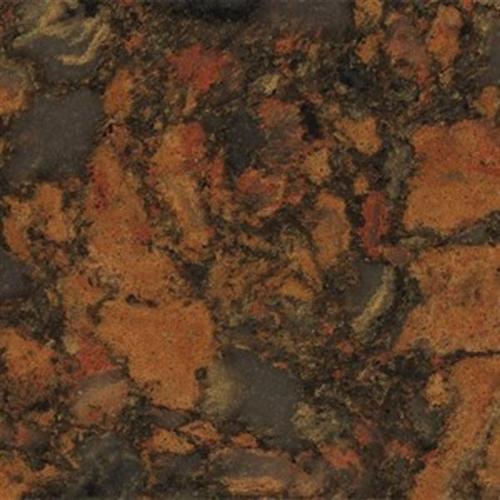 Cambria Quartz Countertops
Cambria is one of our go-to quartz countertop resources at Floor Decor Design Center for its wide range of designs, colors, edges and slab sizes. It is the only American company in the quartz surface business.
Interestingly, Cambria, a privately held Minnesota-based company, began as a dairy business in 1936. Having entered the quartz countertop industry in 2000, Cambria is a relative newcomer. However, within one year, Cambria had opened a 150,000 square foot factory in Le Sueur, MN, and within five years it had already tripled the size of that plant.
Cambria has a limited lifetime warranty to the original owner.
Cambria at last count has 133 designs
Cambria slabs are 55.5" x 122" and are available in jumbo slabs for large projects.
Dennis Allen of Southern California's Allen Construction says that he prefers Cambria for several reasons:
"Their patterns are the most natural looking, the majority of their selections fall under one price group, they offer jumbo sized slabs which can be economical for a large project, and the hand of their finish is the smoothest and best polished."
Cambria is unusual in that it cannot be purchased at big box home improvement stores. It can only be found at kitchen and bath dealers or purchased through builders, architects, and designers.
It also offers a versatile app - Cambria AR - for visualizing your countertop in different quartz surfaces. Try it!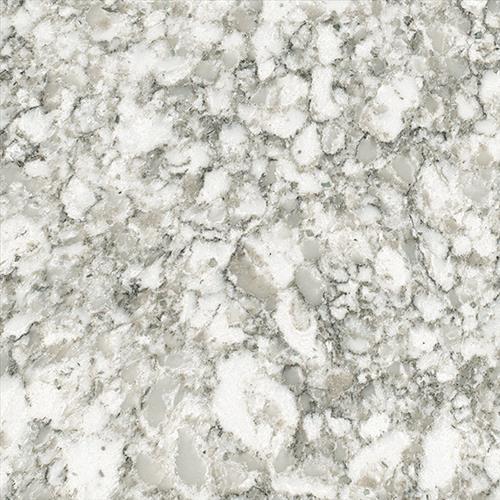 LG Viatera Quartz Countertops
LG Viatera is our second go-to quartz countertop resource with a collection of 57 designs dispersed among beiges, tans, and grays.
Originally a division of South Korean company LG, which produces everything from electronics and chemicals to solar energy equipment, LG Hausys is well-known in the countertop industry for its HI-MACS acrylic solid surface product.
Caesarstone Quartz Countertops
Formed in 1987, Caesarstone calls itself "the original quartz surface manufacturer."
A publicly traded company headquartered in Israel, Caesarstone was developed by the kibbutz as a way to replace its failing terrazzo tile industry. It is known for pushing the design envelope.
Summer Thornton of Summer Thornton Design likes,
"Caesarstone's Pure White for a clean and modern look. It doesn't try to replicate a faux-stone appearance but instead leans-in to a look that's simple and sharp."
Caesarstone has a limited lifetime warranty to the original owner along with a 10-year pro- rated transferable warranty to the next owner.
Caesarstone has 53 designs.
Caesarstone slabs are 56.5" x 120"
Silestone Quartz Countertops
Based in Almeria, Spain, Silestone is the flagship quartz brand of Spanish company Cosentino. Silestone's distinguishing factor is its vibrant solid colors. Its Life!, Stellar, Mythology, and Zen series offer bold, bright oranges, greens, reds, and blues that are not found with other brands.
Of the three leading quartz brands, Silestone offers the most robust warranty: 25 years (limited), transferable to subsequent owners, and with no pro-rata limitations.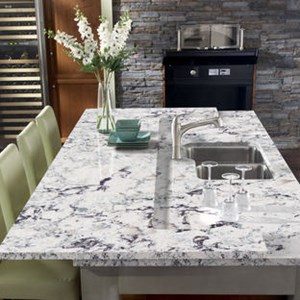 What to expect when you select a quartz countertop?
As with natural stone, you will want a professional installer involved for your quartz countertop. That's what you'll experience when you purchase from Floor Decor Design Center in Connecticut.
These are the steps you can expect when you make your purchase decision.
Step 1: Select your quartz design and decide on your preferred edge profile.
Step 2: Obtain an estimate
Your selection triggers your design consultant to do a drawing which enable him or her to then create an estimate for you.
Step 3: Schedule templating
Your countertop fabricator will need to carefully measure your existing countertop and create a template indicating where base cabinets are, where your sink, faucets and cooktop go.
Step 4: Schedule Countertop Installation
Once your countertops are ready, you can schedule installation. Soon thereafter, you'll be ready to enjoy your beautiful new countertops!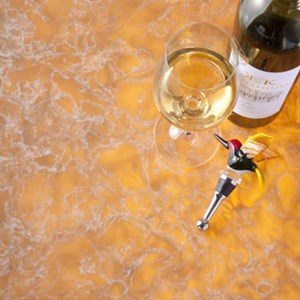 How to care for your quartz countertop?
Caring for and maintaining your quartz countertops is wonderfully simple! Simply remove surface stains a gentle cleansing scrub.
Avoid scouring pads as they can dull the surface, and harsh chemicals that could break down the bonds between the quartz and resins.
From the Cambria site:
"Cambria is maintenance free and requires no sealing or polishing. Simply wipe the surface with a soft cloth and warm water, and mild soap if desired, to keep your Cambria spotless.
Never use bleach and abrasive powders or scrubs like Comet®, Soft Scrub®, or S.O.S.® pads. In addition, never apply any sealers, penetrants, or topical treatments to Cambria. Such products will cause the surface to appear dull or inconsistent."
It truly doesn't get much easier than that!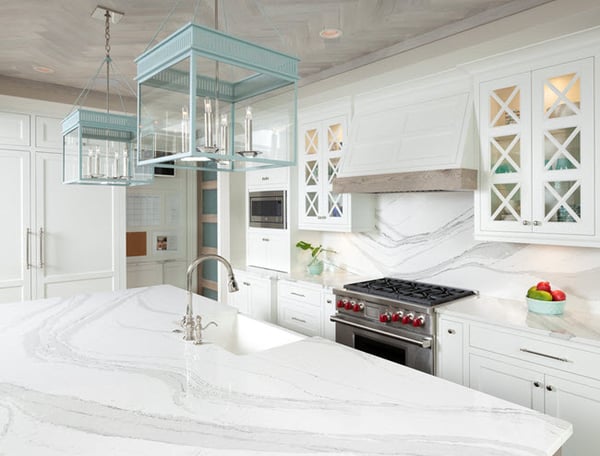 Ready to Explore Quartz Countertops?
We would love to help you explore quartz countertops for your Connecticut home. Visit one of our two showroom locations in Middletown or Orange, Connecticut where you can explore samples and designs as well as tile and flooring options.
Or, contact us with your questions.
Be sure to read How Much Do New Countertops Cost?
We look forward to helping you.
Thanks for reading,
Michael
Note: We originally published this article in July 2018 and have updated it.