Are you considering new countertops for your kitchen? If yes, we've gathered images of recent installations that Floor Decor Design Center has completed to inspire you.
Countertops combine beauty and function, and can radically transform the experience of using a kitchen space both for preparing and consuming food and entertaining.
You'll also notice how the beauty of the countertop works hand-in-hand with the tile backsplash and kitchen cabinetry.
Nine Stunning Countertop Installations
You have several different types of products to select from for countertops. These primarily include granite, solid surface, and quartz as these are the products best able to perform in a working kitchen environment while creating a stunning space.
>> How Much Do New Countertops Cost?
Below, you'll see three granite examples, one Corian solid surface, and five Quartz countertops. These are all installations that Floor Decor Design Center has completed for customers.
Two White Nebula Suede Granite Countertop Installations
The White Nebula Suede Granite has a beautiful pattern where predominantly light tones mix with dark brownish tones. That means that you can combine it successfully with dark cabinets as well as light ones.
1. Dark Kitchen Cabinets With
White Nebula Suede Granite II
Notice in this first installation how the dark cabinets pull out the dark brown tones of the granite. The gray floor tile works well with the stainless steel refrigerator, stove, and drawer handles while also tying into the granite countertop.
The backsplash tile has warm brown tones, bridging between the dark wood cabinets and the darker countertop tones.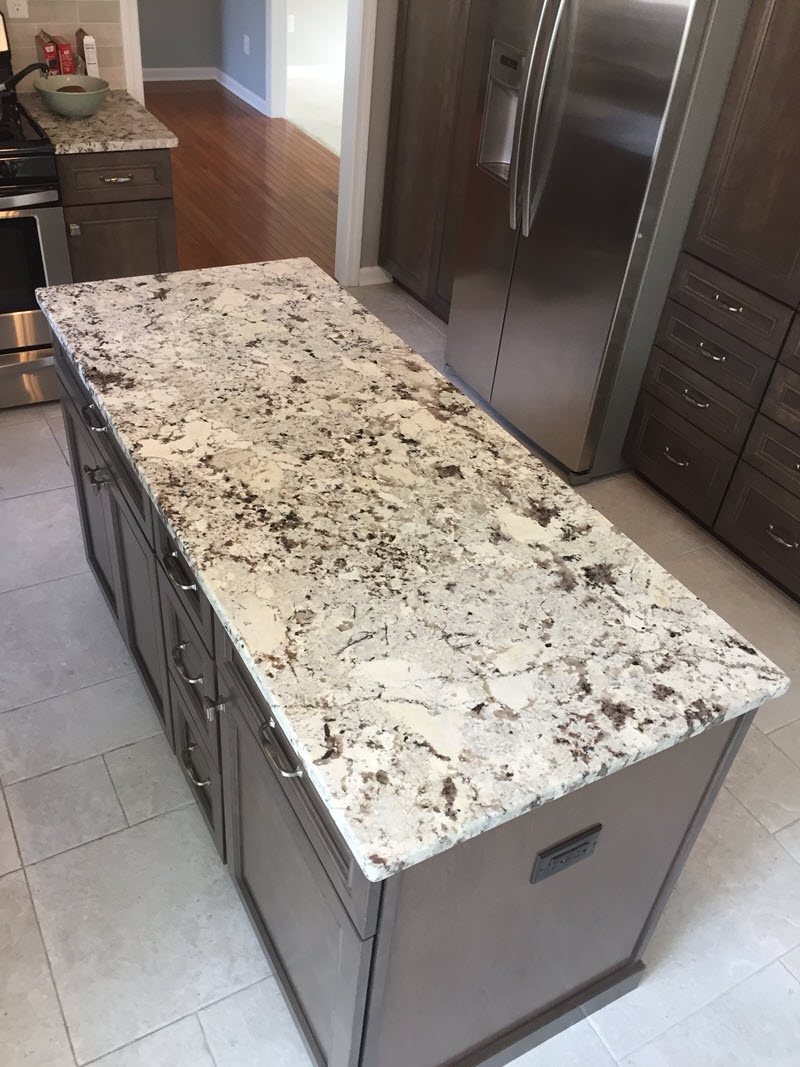 2. White Kitchen Cabinets With
White Nebula Suede Granite II
In this next installation, not only are the cabinets white but also the subway tile backsplash. The darker cabinet knobs and drawer handles nicely coordinate with the darker elements of the granite countertop.
Notice the warm wood tones of the floor. Although they don't relate as directly to the countertop as the other kitchen elements do, the darker border against the lighter wood has a similar effect.

Santa Sicilia Light Granite Countertop
The next granite countertop shows off the beauty of a countertop made from Santa Sicilia Light granite.
This classic granite combines black flecks, spots, and veins against a light, creamy background. As you can see from the images below, this countertop looks beautiful when combined with warm wood-toned cabinetry, and a variated light grey subway tile pattern.

>> How to Care for Granite Countertop Installations
Granite countertops are a luxurious and desirable addition to any kitchen, and like any other surface, they require care and maintenance.
Once Installed, Seal Your Granite Countertop!
To keep your granite countertop looking its best and ensure it has excellent stain resistance, it is important to seal it. Sealing your granite countertop ensures that its natural beauty lasts for years to come.
Additionally, make sure to clean spills as soon as possible to avoid staining the granite, and periodically clean the surface with mild dish soap and warm water.
Following these simple steps will help you maintain your beautiful granite countertop.
Corian Solid Surface Countertop Installation
Corian is Dupont's brand of solid surface countertop material. It's made from a combination of 1/3 resins and 2/3 minerals and is available in many colors.
Below you see an installation with Corian in color Raincloud which coordinates beautifully with grey cabinets, stainless steel appliances and fixtures, and the grey-ish subway tile backsplash.
The honey-toned wood floors counter the cool grey surfaces making for a well-balanced kitchen space.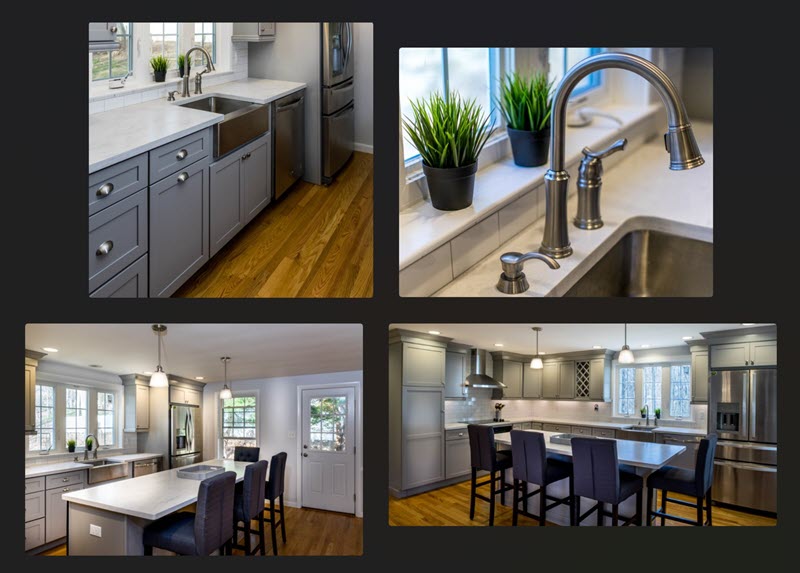 Five Quartz Countertop Installations
Next are five Quartz countertop installations. Unlike Corian, Quartz is a combination of 10% resin and 90% minerals. In this section, you'll see Viatera, Q Premium, and Cambria Quartz installations.
If you haven't already, do check out The Ultimate Guide to Quartz Countertops.
3 Quartz Viatera Countertop Installations
The next three installations feature Viatera Quartz countertops.
1. Quartz -
Viatera
Everest Polished
Here, the grey cabinets and white subway tile backsplash capture the different tones of the Viatera Everest polished countertop pattern.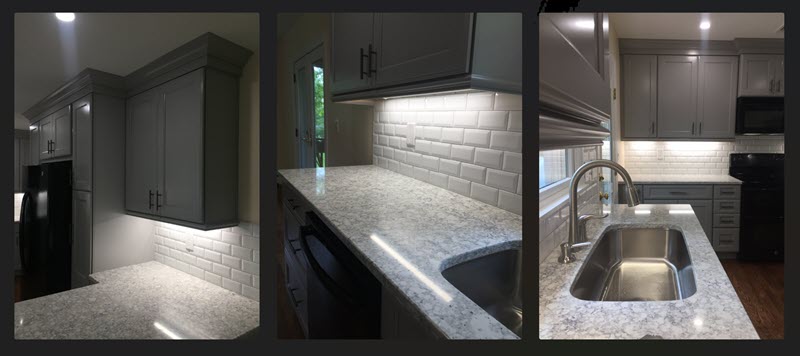 2. Viatera
Karis Polished
Both the cabinetry and the backsplash are white and highlight the white Viatera Karis Polished countertop pattern. At the same time, the countertop striations, the backsplash grout lines, and the cabinetry panel shadows reinforce one another banishing any concern about eye blindness.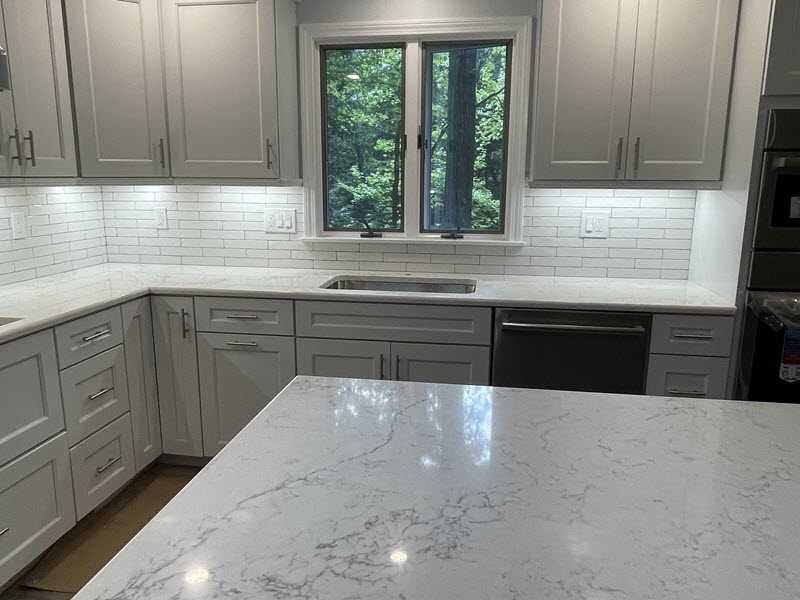 3. Viatera
Rococo Polished
The glass tile in this backsplash dramatically ties together the white cabinets and the white Viatera Rococo polished countertop pattern.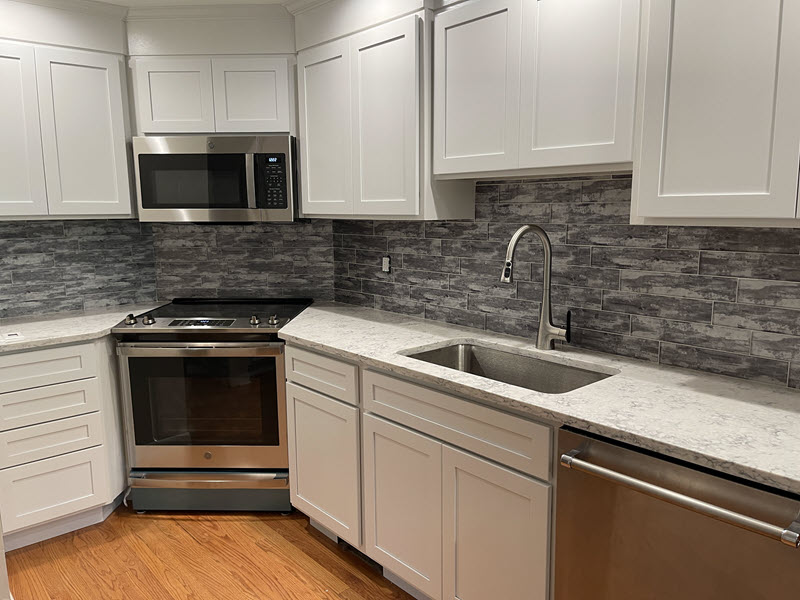 Quartz Q Premium Countertop Installation
This installation of Q Premium Blanca Arabescato countertop with the white subway tile herringbone pattern and the fanciful cabinetry details make this space sing!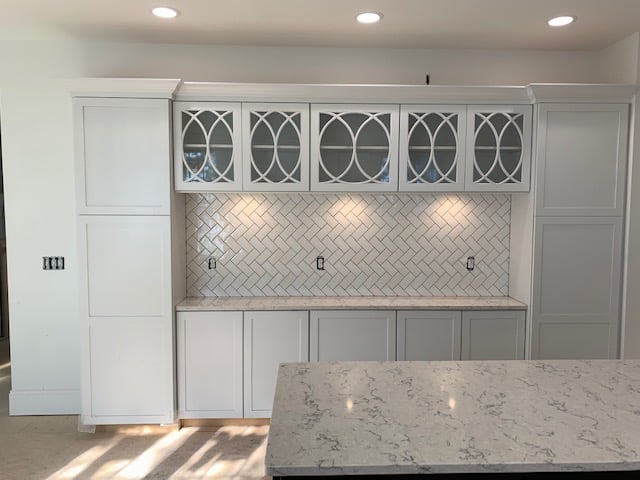 Cambria
Nevern
Polished Countertop
In this installation, the pink subway tile backsplash brings to life the Cambria Nevern polished countertop. The cabinets coordinate with the countertop's lighter swirls. The overall effect is stunning!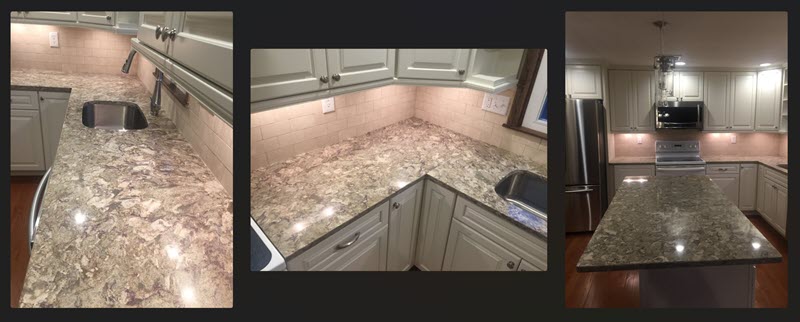 >> How to Care for Quartz Countertop Installations
Quartz Countertops are non-porous and resist staining.
You should do routine cleaning with warm water and a sponge or dish towel. This also helps prevent the buildup of mineral deposits from "hard water".
Using a little dishwashing liquid, a microfiber cloth, or a textured sponge that's suitable for non-stick cookware can help remove spills or splashes.
For best results

wipe, don't scrub

, rinse with clear water, and buff dry so the finish looks its best.
Splashes, spills, and watermarks can also be cleaned with household cleaning products such as Formula 409® Multi-Surface Cleaner, Formula 409® Natural Stone & Steel Cleaner, Greased Lightning®, Simple Green®, & Windex® Disinfectant Cleaner Multi-Surface.
Another thing to keep in mind is if you select a brushed finish, you may need to pay closer attention than to a polished finish. This is normal for any material with a matte finish compared to a polished finish since smudges, fingerprints, and water spots are more visible.
Important factors to keep in mind for quartz:

Use a trivet or hot pad under hot cookware and any heat-generating appliance such as slow cookers and toaster ovens.

Use a cutting board. Cutting or chopping directly on a quartz surface will dull the knife and may scratch the surface finish.

Be careful with earthenware and ceramics because rough edges may harm the finish.

Bleach and products containing bleach should not be used. However, for some persistent stains (dried red wine, inks, etc.) it may be appropriate. If so, it should be diluted, used sparingly, and for less than three minutes. Then immediately rinse the area and buff it dry.

Don't let harsh chemicals such as oven cleaner and drain cleaner come in contact with any quartz surface. Contact can result in permanent damage that cannot be remedied.

Nail polish can be removed with nail polish remover (acetone), but it's important to limit the area of contact and immediately rinse the surface and buff dry.
Perspective on Countertop Installations
Here is some perspective on the countertop ordering and installation process to keep in mind.
How Long Does it Generally Take to Get New Countertops Installed?
As long as the countertop material is locally stocked, the process from arranging a template date to having the countertop installed is approximately 2-4 weeks so it just depends on the fabricator's schedule at the time.
Once the template has been completed and confirmed, it typically takes 5-10 days to fabricate for installation.
Why is a Template Appointment Important?
The template appointment can be arranged anywhere from 2-10 days out. It's a critical part of the process. At the time of your countertop template appointment, you can expect a precise and accurate measurement of your countertop. The measurements will be used for the fabrication and installation process.
During this process, you have the opportunity to discuss any customization requirements with our professional staff in order to ensure that the countertop reaches your expectations.
Faucet and Sink Details

For example, it's important to make sure that the necessary faucets and sink (if you are supplying them) are on site. This will help us accurately create the template for your countertop, determine the exact measurements for fabrication and ensure the countertop fabrication and installation go as smoothly as possible.

Sinks are now available in a variety of sizes and formats as you can see in the image below.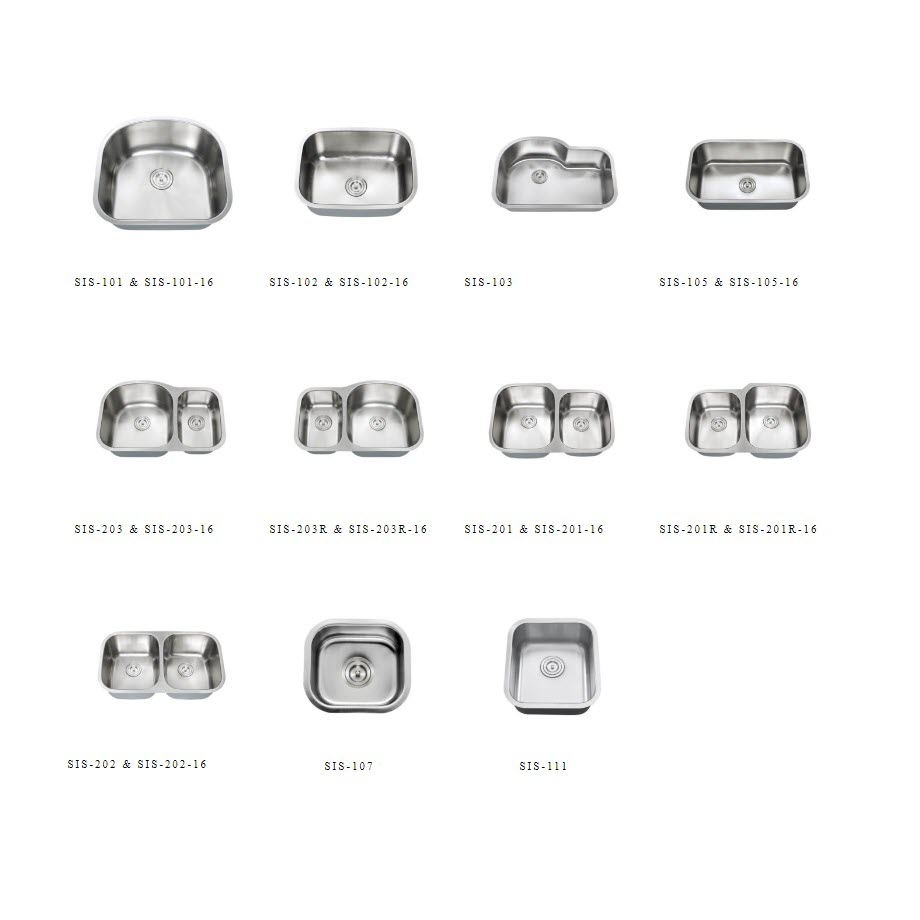 Countertop Edge Options
You have other options available. More specifically, you can decide on different edges for your countertops.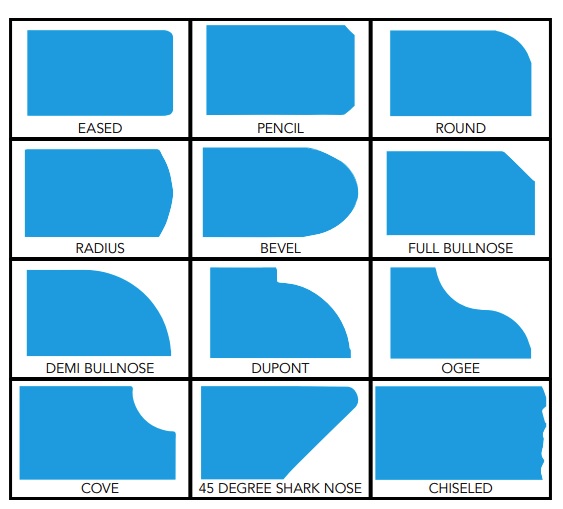 You might even want to consider a waterfall edge whereby the countertop material continues down the side of the counter down to the floor.
Don't Forget About the Backsplash!
By the way, if you do plan to redo your countertops, consider updating your kitchen backsplash at the same time. As you can see from the images in this article, backsplashes are an important design element to consider.
>> See 9 Kitchen Backsplash Ideas To Inspire Your Next Remodel (Video)
READY TO Install NEW COUNTERTOPS In YOUR kitchen?
Let us know if you're ready to transform your kitchen with new countertops.
Be assured that Floor Decor Design Center is committed to providing you with top-notch quality service. We are dedicated to providing you with a perfect countertop that meets all of your needs. Keep in mind, the template is an important step in the overall process, so it's important that you are comfortable with the measurements and design being proposed.
You can visit one of our two showroom locations in Middletown or Orange to experience for yourself a beautiful range of countertop options.
Let us know of any questions in the comments or contact us.
We look forward to helping you.
Thanks for reading,
Janine & Michael