Possibly one of the most versatile of materials to use in your home is wood plank tile. Not only is it durable and easy to care for, but it comes in a fabulous range of styles, can be used in any room of the house since it is impervious to water, and you aren't limited to floors. That's right, why not consider wood plank tile on your walls?
In this article, we'll provide you with an overview of the range of wood plank tile you will find available at Floor Decor Design Center in Orange, Connecticut.
Designing with Wood Plank Tile on Floors and Walls
Wood grain tile is a relatively new development resulting from advances in inkjet printing technology combined with new tile manufacturing and installation techniques. The printing advances make unbelievably realistic patterns - often with texture - possible. Sometimes, it's really hard to tell the difference between real wood and tile planks!
Combine that with manufacturing advances that enable long and narrow plank-like tiles, in sizes ranging from 8x48, 6x36 inches, and 6x40 inches to smaller sizes - 4x12 - and wider ones, too, such as 12x24 and 12x48.
The end result is seemingly infinite design versatility so you can create a traditional-looking space, a rustic one, or even a contemporary one depending on the wood plank tile pattern you select for the floor as well as the walls.
Wood Plank Tile Designs Perfect for Floors
Take the cozy, sophisticatedly rustic living space in the image below which captures Cabin Timber from Millworks, a 12x48 rectified porcelain wood plank tile.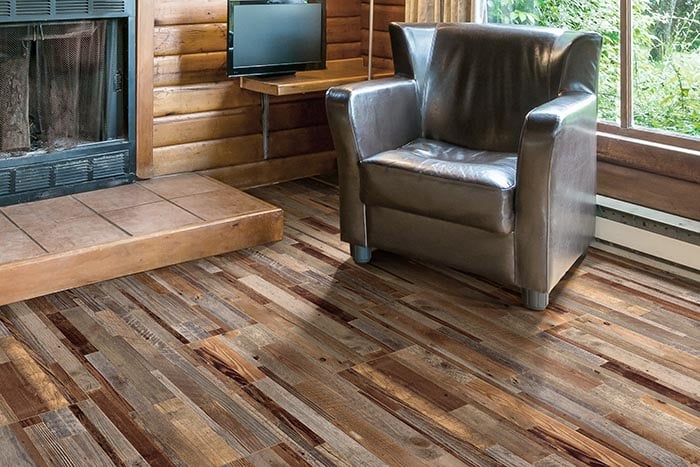 This all-new, innovative concept in wood-look tile flooring leverages the advantage of a large-format porcelain tile plank-like never before. This intricate wood design results from an exclusive Dynamic HD Imaging inkjet technology. It precisely imprints a medley of rustic wood grains in various sizes on each piece of the tile plank.
When installed, Millworks tiles combine to create an amazing and intricate wood flooring look. Each tile features precision-cut rectified edges, so grout joints can be kept to a minimum. The finished product has the appearance of a prized and perfectly preserved wood floor while featuring the ease of maintenance that only a porcelain tile can offer.
Below, you see Wine Barrel from the same collection. The pattern similarly features significant shade variation.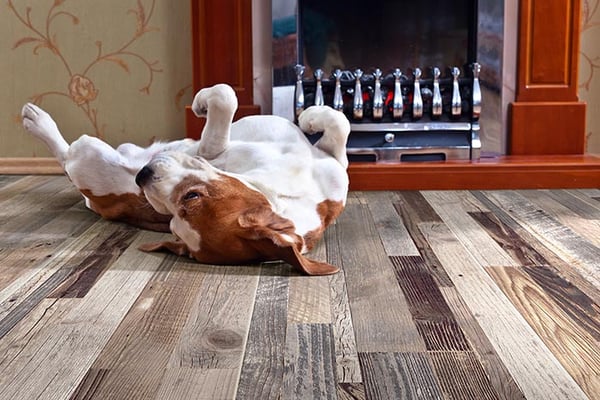 Here's a closeup of another 6x24 inch tile product: Dekora Porcelain Panels in Keywood Multicolor. Each plank features four smaller planks in different lengths, colors, and levels of shade variation. It's exhiliarating!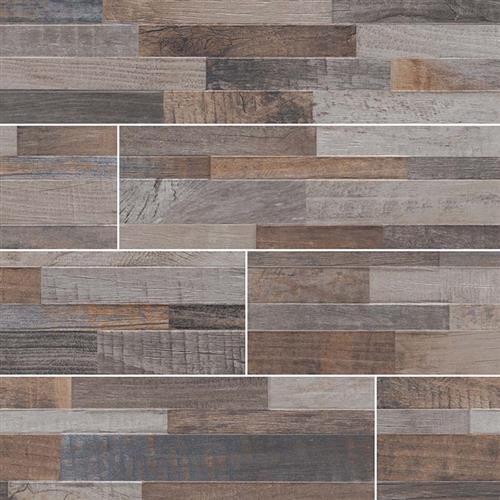 The Boardwalk Collection seen below in color Forest is a particularly long plank, measuring 8x48 inches.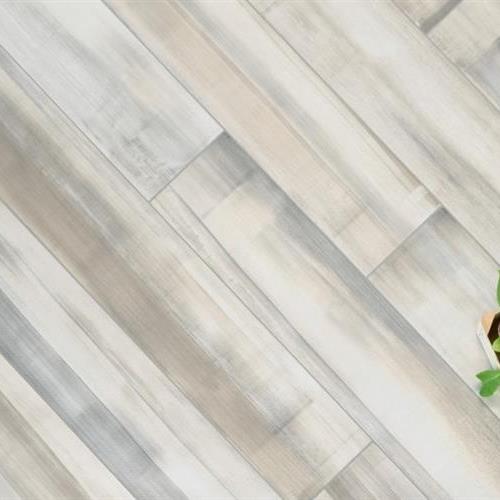 You'll love the Amaya porcelain tile collection! It consists of five colors: Ash, Blend, Natural, Tobacco, and Walnut all available in the following plank sizes:
8" x 48"
6" x 36"
6" x 24"
As you can see from the samples above, the collection brings together a stunning assortment of natural weathered wood looks, in highly contrasting earth tones.
Thanks to the versatility of tile technology, you'll notice a highly realistic wood finish with detailed knots and prevalent wood grain. In fact, you may find it hard to tell whether this is tile or wood!
>> See Discover the Amaya Wood Tile Collection
Designing with Wood Plank Tile on the Walls
Just because we're discussing wood planks doesn't mean that they belong solely on floors. Wood plank tile is a natural for walls, too, including backsplashes and shower wall installations.
Below you see Wine Barrel from the Millworks Collection mentioned earlier in the article in a 4x12 inch wall tile.
Or, check out Driftwood in an all-over wall tile installation.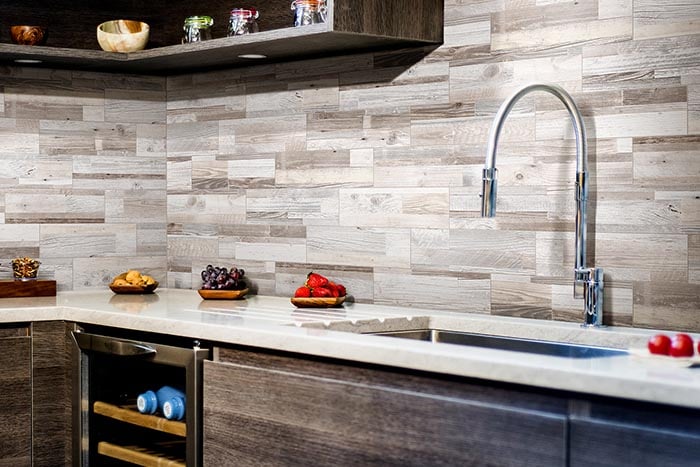 Traditional Wood Look Tile Designs
We've shown you mostly designs with considerable shade variation. However, you'll find plenty of low variation designs, some with traditional looks and others that look contemporary.
Take Plank Nebbia, seen below. It's a 6x36 inch porcelain wood-look plank in a soft tone that mingles classic with hip. Offered in either a 6x36 (a.k.a. classic) or 3x12 (a.k.a. hip) format, this series mixes mainstream with mini to breed all of today's trendiest patterns.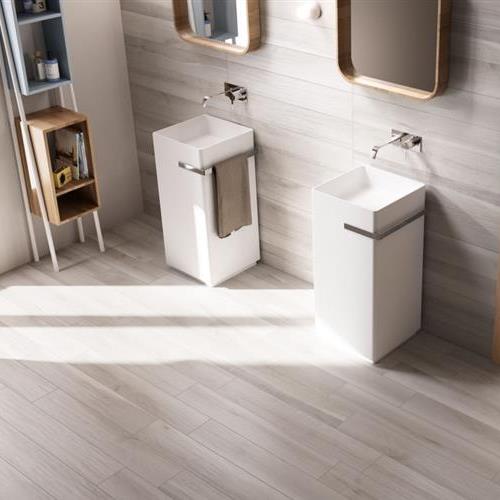 Available in four natural hues, Plank can easily stand alone or be combined with other materials to create a visually inspiring design.
To highlight how versatile not only Plank but also other wood look tile products are, take a look at the combination below. It combines mosaics with a quartz countertop and a wall tile.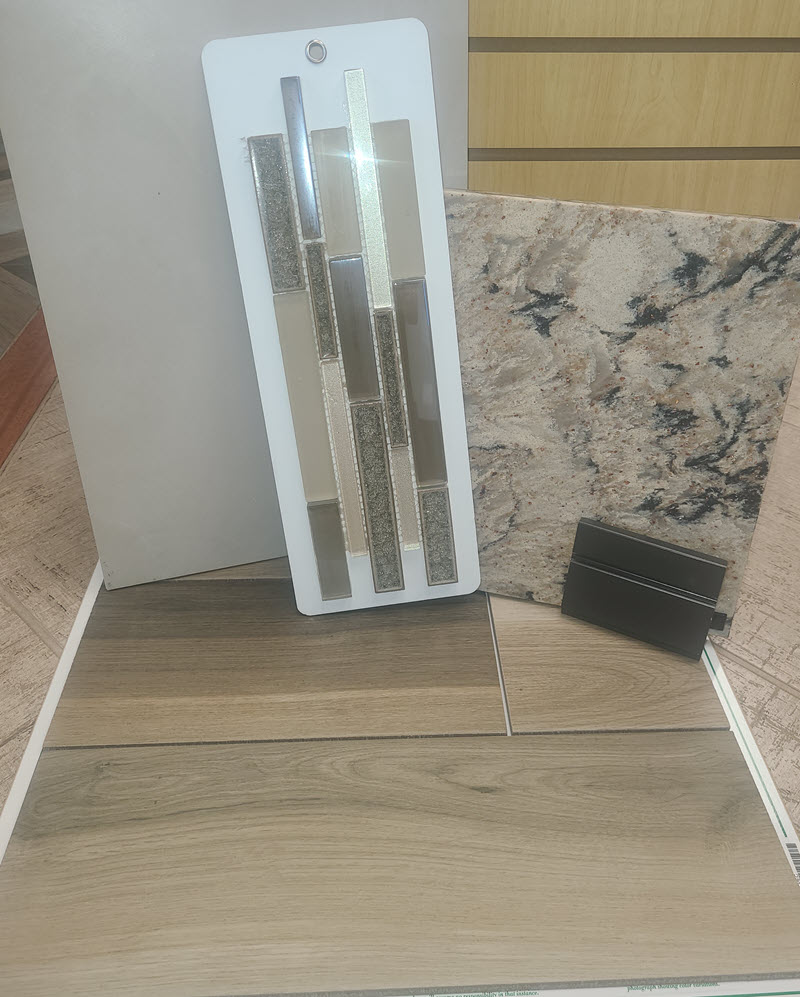 Ready-Made Wood Plank Patterns in Tile
We've not really discussed patterns with wood plank tile. As with wood, you can install planks in a variety of ways including herringbone patterns.
You can also purchase wood plank tile ready-made patterns, as you see with Berkshire. This is a 6x24 inch glazed porcelain tile available in five unique patterns as you see below.

Ready to Start Designing with Wood Plank Tile?
When you're ready to start designing with wood plank tile for your floors as well as your walls, we invite you to explore Floor Decor Design Center so you can experience for yourself the latest in trends in tile. While you're there, you can also admire real wood, not to mention other categories such as luxury vinyl products and carpet.
Let us know of any questions in the comments or contact us.
We look forward to helping you.
Thanks for reading,
Janine & Michael
Note: We originally published this article on 03/27/2019, and have updated it.