If you love the richly variated patterns of natural wood, you'll love the Amaya Wood Tile Collection and how it accessorizes with stone-inspired wall tile, glass mosaics, and quartz countertops to transform your home.
Discover the Stunning Amaya Wood Tile Collection
The Amaya porcelain tile collection consists of five colors: Ash, Blend, Natural, Tobacco, and Walnut all available in the following plank sizes:
8" x 48"
6" x 36"
6" x 24"
This collection features a stunning assortment of natural weathered wood looks, in highly contrasting earth tones. Each style brings to mind the look and feel of various types of wood thanks to a realistic finish with detailed knots and prevalent wood grain.
These textured patterns capture wood's natural beauty, meshing the outdoors with a socially responsible solution that is easy to care for and can easily handle areas such as kitchens, bathrooms, and basement areas where wood isn't recommended.
Quick Ship Delivery Product
Another valuable aspect of this tile collection is that the 6x36 size of Amaya Wood is part of Floor Decor Design Center's Quick Ship program. That means that we receive weekly deliveries so your order is guaranteed to be here when you need it.
If your remodel project is time-sensitive, you will appreciate the Quick Ship convenience.
Versatile Tile Combinations with Amaya Wood Styles
These combinations with Amaya Wood styles can inspire both kitchen and bath remodel projects. Imagine the mosaic as a kitchen backsplash or decorative insert with matching niche in a shower area.
The Cambria countertops pair beautifully as the color ranges and quartz swirls pull tones from the Amaya Wood styles and the glass mosaics.
>> See THE ULTIMATE GUIDE TO QUARTZ COUNTERTOPS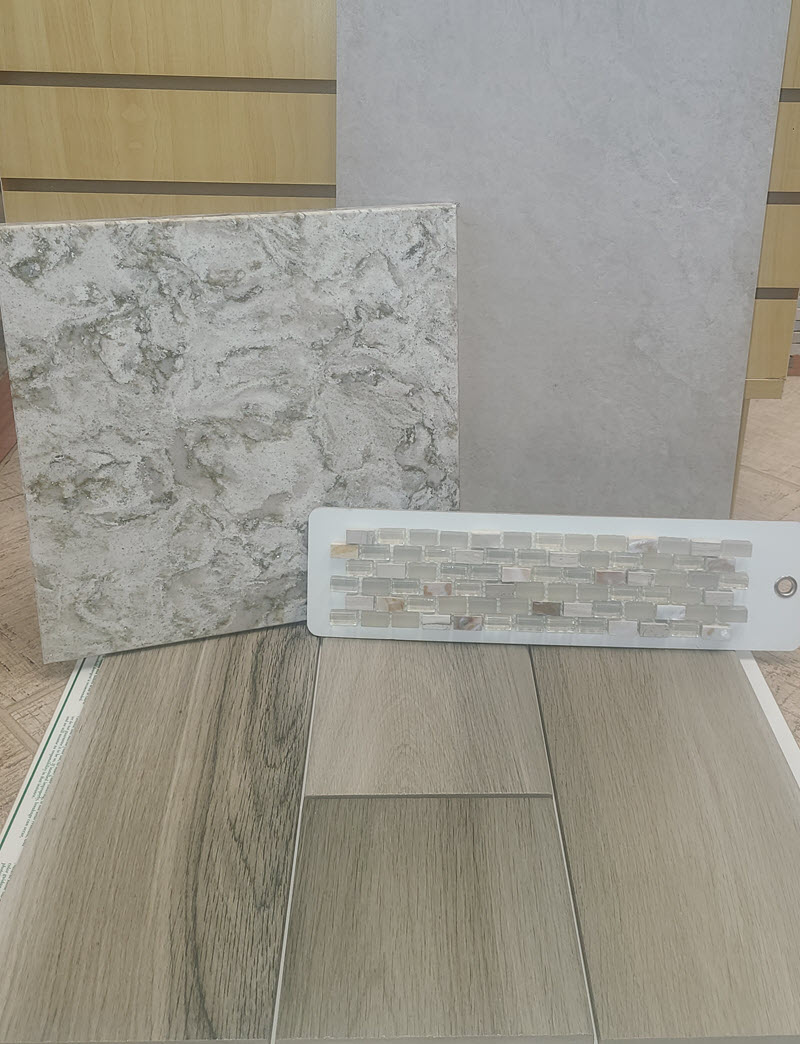 Amaya Wood Ash
Amaya Wood Ash is the lightest toned style in the collection with its warm light grey tones. In the image above, we've paired it with a light-toned countertop and a neutral stone-inspired wall tile. The swirls in the stone echo the wood grain patterns of the floor tile. The beautiful glass and stone mosaic tie the three surfaces together.
Wall Tile: REX Aspire 12 x 24 Matte in Ivory
Insert Strip / Niche Insert: GLZ Americana Mini Brick in Drive In
Countertop: Cambria Berwyn Polished
By the way, there's no reason you can't install Amaya Wood on the walls as well as the floor.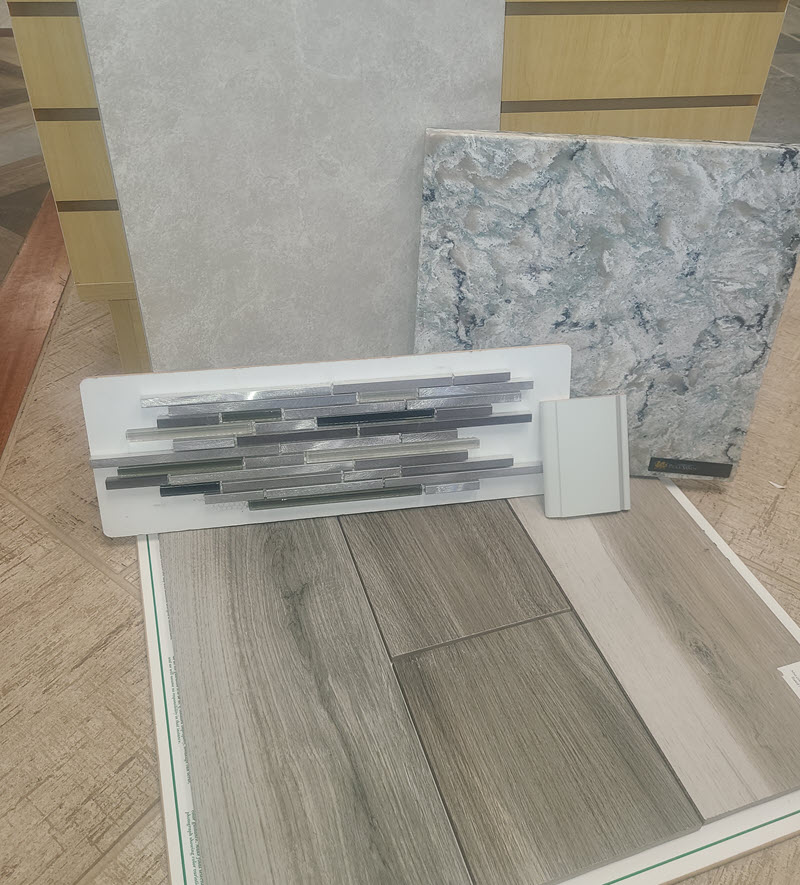 Amaya Wood Blend
Next is Amaya Wood Blend which melds the grey Ash tones with the warmer wood tones of Natural.
In Blend, you see more contrast in pattern and in lights and darks. Notice how the wall tile echoes different parts of the wood grain. Pair it with a higher contrast countertop with blue tones and stick mosaics with glass and metal and you have a completely different look for your kitchen or bathroom.
Shower Walls: CPG Atrium 12 x 24 Matte in Avorio
Insert Strip / Niche Insert: GLZ Orbit Series Strip Mosaic in Metallic Weather
Countertop: Cambria Praa Sands Polished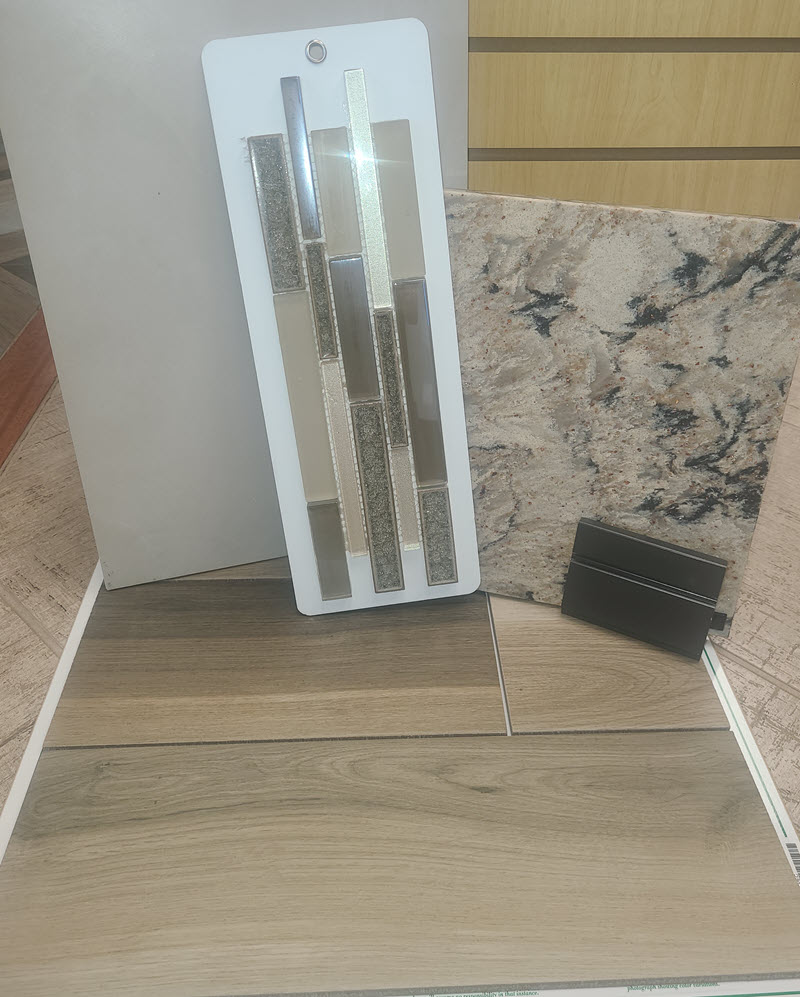 Amaya Wood Natural
With Amaya Wood Natural, you have warm, golden wood tones. Imagine it combined with a matte ivory wall tile and a countertop that blends those warm ivory tones with a dash of dark drama, and then add a random crackle jewel glass mosaic in rich beige tones.
Shower Walls: FLM Grace 12 x 24 Matte in Ivory
Insert Strip / Niche Insert: GLZ Bella Muro Random Brick Mosaic in Harbour Beige
Countertop: Cambria Bradshaw Polished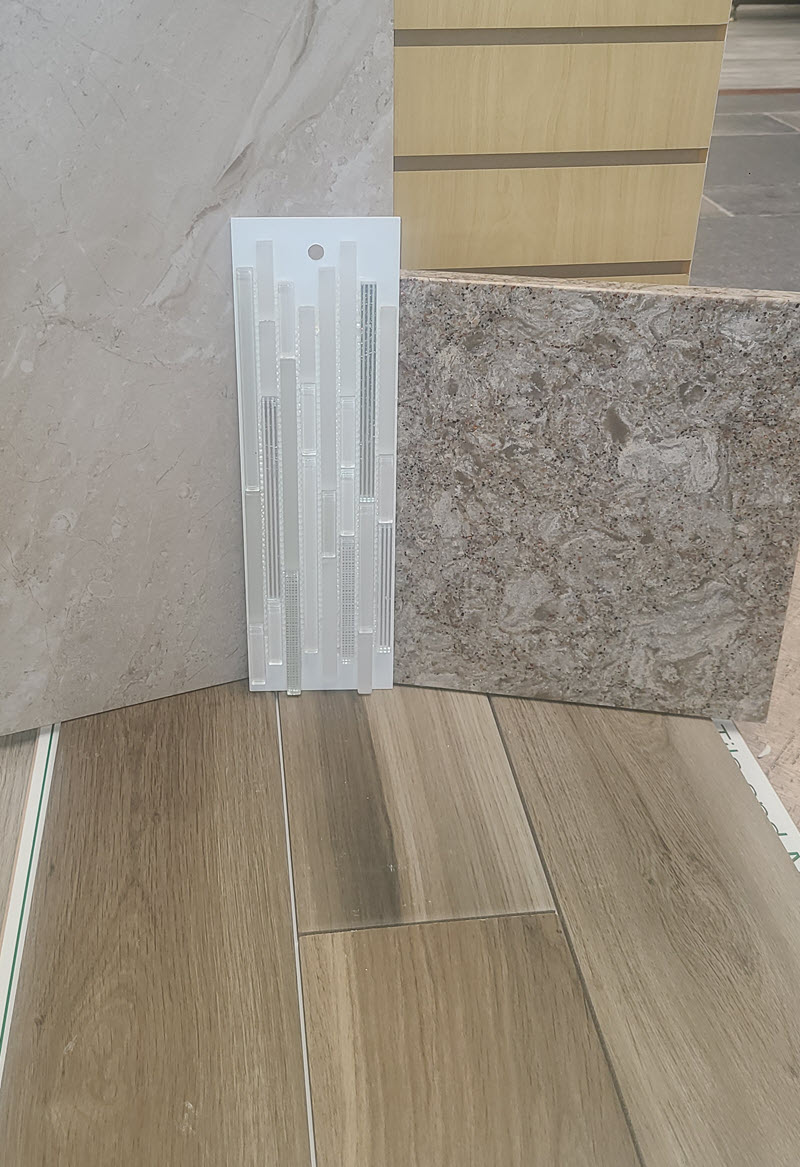 Amaya Wood Walnut
Walnut offers you a darker take on natural, with more browns and reddish tones.
Here's we've paired it with a rich red-brown-toned countertop that brings out pink and red tones in the wall tile. The white textured glass mosaics add light and pull together the lightest tones in all three tiles.
Shower Walls: SER Mansion12 x 24 Matte in Daino
Insert Strip / Niche Insert: GLT Lightstream Random Strip Mosaic in Haze
Countertop: Cambria Berkley Polished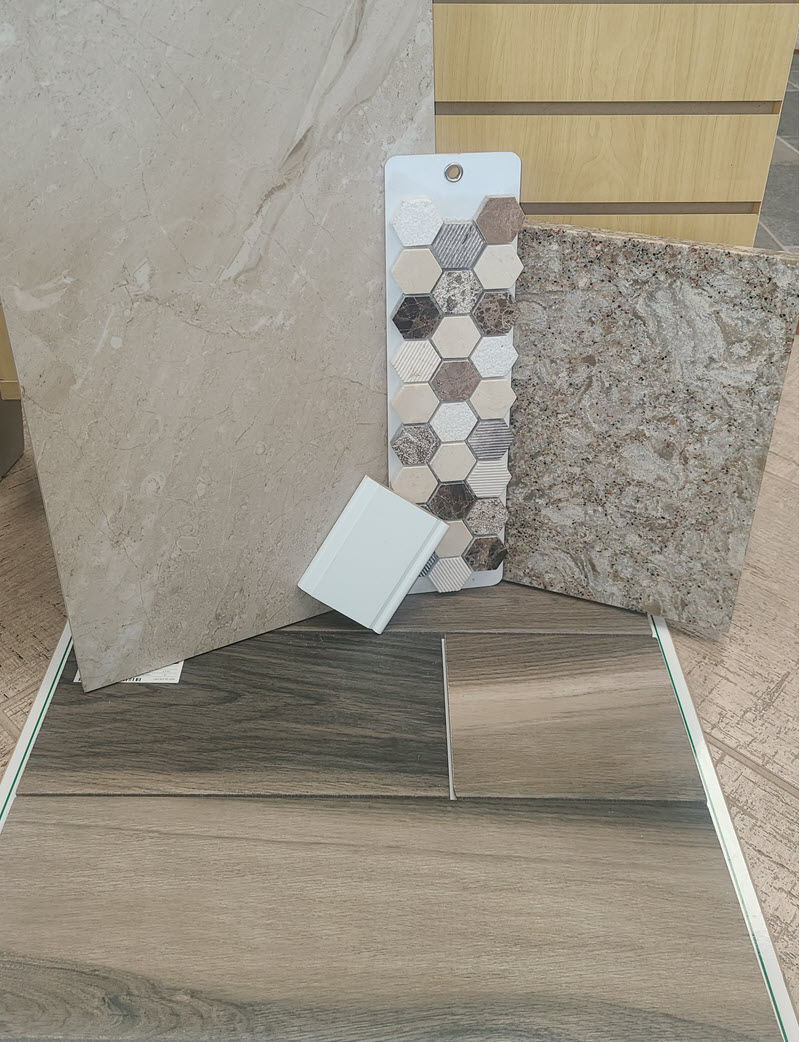 Amaya Wood Tobacco
Last, but not least is Amaya Wood Tobacco, the darkest of the five colors.
We've paired this color with a swirly polished quartz in light to dark tones, a hexagon mosaic blend of natural stone consisting of textured & polished botticino, crema marfil, and emperador dark.
Shower Walls: SER Mansion12 x 24 Matte in Daino
Insert Strip / Niche Insert: GLZ Excalibur Hexagon Mosaics in Dream Gallery
Countertop: Cambria Berkley Polished
>> You can explore the entire collection with this Amaya Collection brochure (pdf).
Come See the Amaya Wood Tile Collection!
What's your reaction to this wood tile collection? How would you combine these colors with wall tile and mosaics?
We have two showroom locations in Middletown or Orange, Connecticut where you can discover how Amaya Wood Tile can transform your space.
We look forward to helping you. You can leave questions in the comments below or contact us.
Thanks for reading,
Janine & Michael