Waterproof flooring solves many problems. How much does it cost?
As you might imagine, you'll find several different types of waterproof flooring available. For this article, we'll focus on a category that has become known as luxury vinyl plank (LVP) or luxury vinyl tile (LVT).
>> See The Lowdown on Multilayer Flooring: LVT, WPC, SPC, and More
What Goes Into the Cost of Waterproof Flooring?
First, let's look at the cost of luxury vinyl planks. Then, we'll focus on installation costs.
#1 - The Cost for the Planks
Vinyl planks can cost as little as $2 a square foot. But, as with anything, you tend to get what you pay for. You may find the least expensive options won't meet your needs, and you might have to replace them sooner than you'd expect. Even a $2.00 s/f plank looks nice in the box or on display but it is not designed to perform like a $4 s/f or $6 s/f plank.
If you are renting and want to keep costs down, a less expensive plank may be a good option for you.
But if you are a homeowner, you will be better served spending a more for a quality product.
What to Look For With Waterproof Flooring
Your local big box store might offer cheaper solutions, but you'll run the risk of lower quality and less support.
To help illustrate this point, look at the schematic below for Aquatec, an LVP product you'll find at Floor Decor Design Center. Higher-priced planks feature better padding, thicker top coats, and longer warranties than do cheaper products.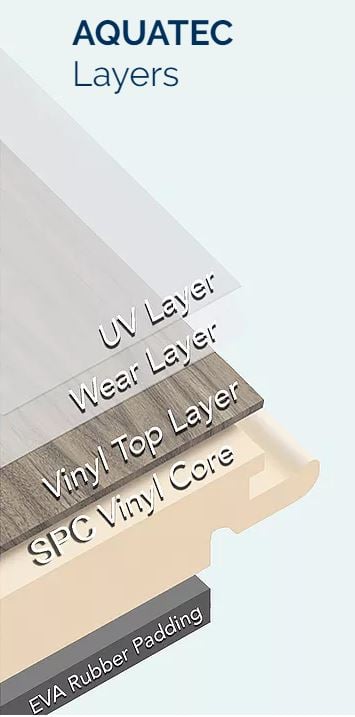 A quality mid-range LVT will have a minimum overall thickness of 4.5 millimeters and a top coat wear surface of 12 mils.
A high-quality LVT will have an overall thickness of up to 6.5 millimeters and a top coat wear surface of 20 mils.
Waterproof Flooring Pricing Range
You will want to budget $3 s/f to $4 s/f for mid-range quality vinyl planks and $5 s/f to $7 s/f for luxury brands.
>> See The Farmhouse Manor Rigid Core Luxury Vinyl Flooring Collection
>> See Have You Considered CORETec Waterproof Flooring For Your Connecticut Home?
How to Save Money on Luxury Vinyl Flooring
LVT can be categorized into Good - Better - Best options.
The more expensive floors are wider and longer planks with thicker cores and protective wear surfaces.
As you evaluate your options, make sure that you are comparing apples to apples. Look carefully at the overall thickness, the wear surface, and whether the product comes with a pad or not.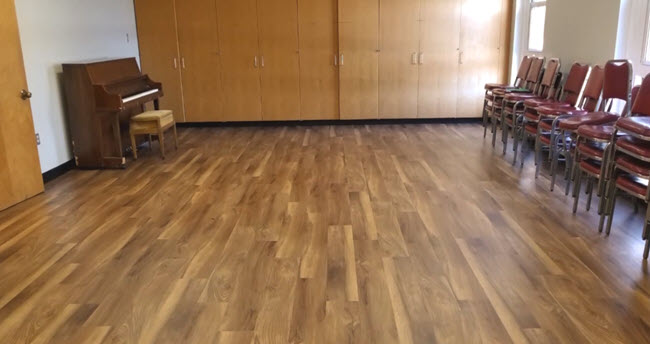 #2 - The Cost of Waterproof Flooring Installation
Save Money and Do It Yourself?
Waterproof flooring products such as luxury vinyl planks have a reputation for being easy to install.
That said, in many cases, a DIY installation can cost more than hiring a professional especially once you add up the tools and time needed for the job. Once into it, you might realize you're saving less than you thought, while also having a bigger project than you anticipated.
It all depends on your experience level. If you are handy and have time to install yourself, an average basement may take you two weekends whereas a professional can probably do it in a day.
Depending upon your skill set and available free time, you may save yourself several hundred dollars by doing it yourself.
Hire an Installation Professional for your Waterproof Flooring
A flooring installation professional will not only have the necessary tools available to properly install your luxury vinyl planks but will also get the job done faster. That's while taking care of floor preparation and the other aspects of the job.
Definitely hire an installer who guarantees his or her work from start to finish. Although the up-front expenses might seem discouraging, hiring an installer can work to your advantage.
Hiring a pro means never having to worry that you don't have the skills to install your planks or that you'll run out of time to complete the job.
LVT Customer Testimonial
"We bought LVT & rugs too! It was so easy working with Floor Decor and the install looks AMAZING!"
Caitlin B., Avon, CT
#3 - Don't Forget About the Flooring Prep Work
There's more to a new floor than just placing the product on your floors. Pre-work and post-work are both important parts of the project.
Demolition and Disposal Costs
In many cases, you'll need to plan for demolition time to remove the existing flooring as well as for the disposal of that material.
If you're trying to save money by removing carpet or resilient floors yourself, you might need an extra pair of hands. Depending on how much help you have, demo and disposal can take an entire weekend. You will also need to make arrangements to dispose of your existing flooring.
If you're removing floors with mold or asbestos, you'll need a certified expert to do the job. It's mandatory to handle these materials carefully to avoid exposure to harmful toxins. You might be tempted to remove it yourself but don't, the health risks aren't worth it.
Preparing Ceramic Tile for LVT
When installing vinyl planks over ceramic tile, you'll need to skim coat with a cement patch any deep grout lines in the flooring.
The subfloor has to be level as per the manufacturer's specifications. LVT usually requires no more than a 3/16" dip over a 10' radius. If the subfloor isn't adequately level, be prepared for your planks to buckle and shift.
Waterproof Flooring Preparation Costs
Expect to pay $.75 s/f to $1.50 s/f for prep work.
If you need a new subfloor added, you'll want to add additional costs for that.
#4 - Don't Forget the Necessary Extras that Finish the Project
To finish the project, you will need to budget for additional moldings and door transitions when calculating your cost.
Luxury vinyl flooring is considered a floating floor.
Base Moldings
Because floating floors require an expansion joint around the perimeter and around all stationary items (e.g., a kitchen island), you will need to either remove your existing base moldings (not a good idea) or purchase shoe or quarter-round moldings that coordinate with your base moldings.
We aren't fans of shoe or quarter-round moldings that match the flooring and not the base molding. We prefer when the moldings all coordinate.
Primed white shoe or quarter-round moldings will run about $3 - 4 l/f installed.
Transition Strips
In your doorways, you will require a transition to finish off your flooring.
Transitions are available in coordinating colors to match your floor and have different profiles depending upon your needs.
Expect to pay $50 or so for coordinating transitions. Transitions usually will do 2 - 3' doorways. There is usually no additional cost to install transitions.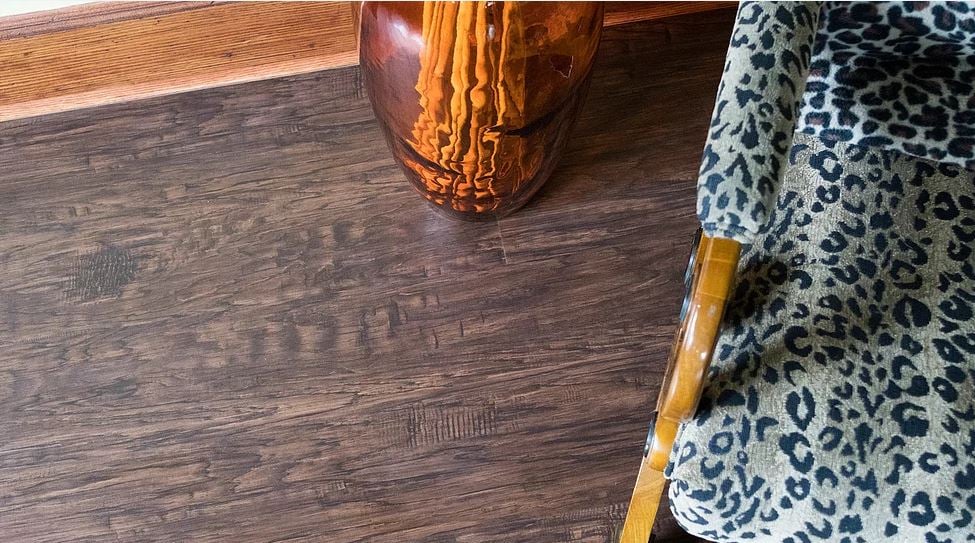 LET'S RECAP: HOW MUCH DOES Waterproof Flooring COST?
You will want to budget $4 s/f to $6 s/f for mid-range quality vinyl planks and $6 s/f to $8 s/f for luxury LVT brands.
Based on a ready-to-go area with no floor prep needed or furniture or appliance moving, you can expect to pay for a good mid-range LVT flooring with quality installation as follows:
One Average Bedroom 12 x 15: $2000
One Larger Room (Master Bedroom or Living Room) 14 x 18: $2700
Typical Home of 5 Rooms 1200 s/f: $11900
Larger Home of 7 Rooms 2000 s/f: $19,900
READY TO EXPLORE Luxury Vinyl Flooring FOR YOUR HOME?
When you're ready to explore different styles of LVT waterproof flooring for your home, we invite you to visit one of our two showroom locations in Middletown or Orange.
Or, you can let us know of any questions in the comments or contact us.
We look forward to helping you.
Thanks for reading,
Janine & Michael
Note: We originally published this article on 10/02/2019, and have updated it.