Laminate Flooring: Is It Still a Good Choice?

Are you curious about laminate flooring and how good a choice it is for your home? This pricing guide article offers you an overview of this product category and a perspective on how much it costs.
An Overview of Laminate Flooring
In this overview, let's explore how laminate is made, what its benefits are, and whether it's a good flooring choice for your home.
The second section of this article will focus on cost.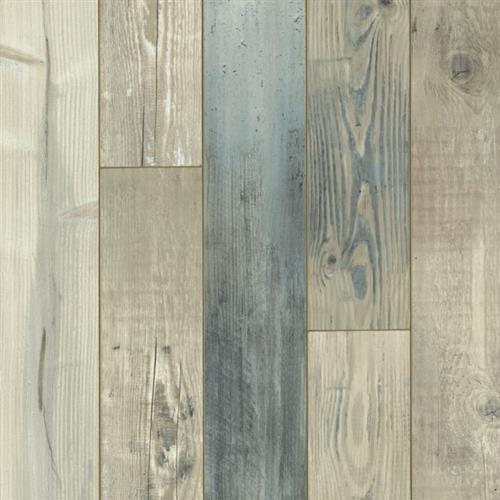 How is Laminate Flooring Made?
Laminate flooring is available in planks that look and feel like wood. It consists of four layers as follows that are fused together for durability:
The top layer or Wear Layer (1) provides strong protection against scratches, stains, and fading.

Next is the Design Layer (2) which is a high-resolution detailed photographic image of specific wood styles.

The Inner Core (3) provides stability, sound absorption, durability, and even moisture resistance. It is made of high-density pressed wood fiberboard.
The bottom layer (4) is the Backing. It offers a moisture barrier to protect the floor from warping.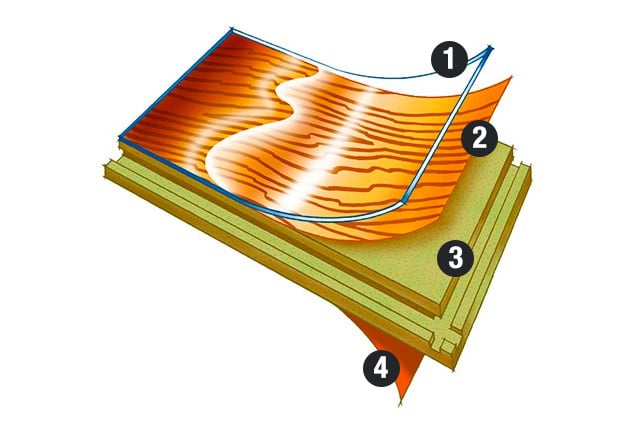 What Are the Benefits of Laminate Flooring?
Layered construction offers many benefits.
Durability
In the case of laminate, you'll find that the top wear layer makes this flooring category durable and scratch-resistant, making it less susceptible to the wear and tear associated with pets and foot traffic. Furthermore, that top coat means that laminate flooring typically doesn't from sunlight as quickly and noticeably as hardwood flooring.
It can be used safely in rooms with large windows.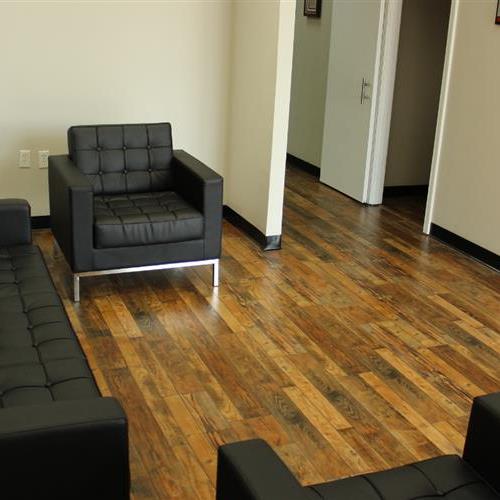 Easy Installation
Laminate flooring comes with a click-installation system, making it very easy to install. Simply insert one plank into the next — no glue or nails are required. The end result is a floating floor installation.
>> See What is a Floating Floor?
Easy Maintenance
It's also easy to care for.
As with all flooring categories, though, you'll want to have welcome mats at your doors to prevent abrasive particles from scratching your floors.
>> See Top Flooring Maintenance Tips for Carpet and Hardwood
Stunning Visuals
Thanks to advances in image technology, laminate flooring visuals have become even more realistic.
The exception is with a lower quality product where you'll notice artificial-looking wood grain textures.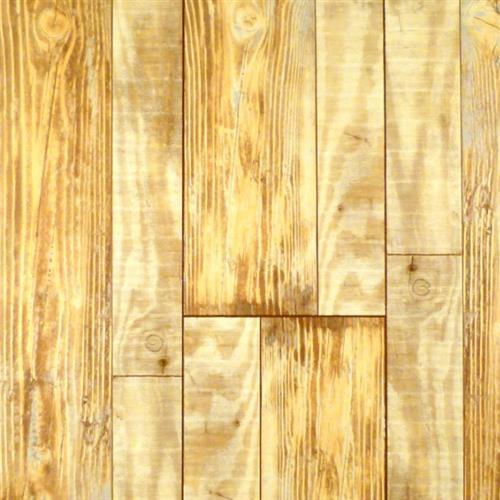 You'll particularly want to explore the Newton Collection.
>> See Newton Flooring Offers Brilliant Floors at Intelligent Prices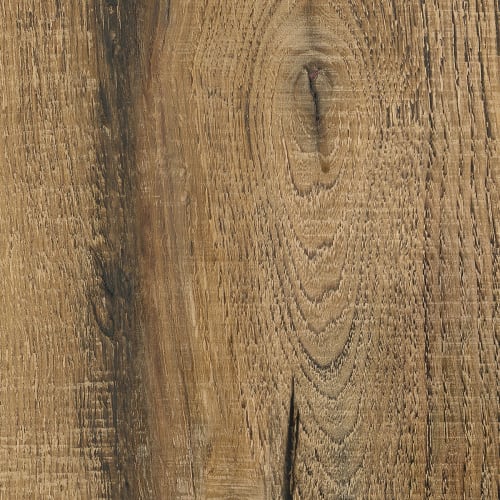 Is Laminate Flooring Still a Good Choice?
Laminate floors were first introduced in the late 1990s and exploded on the market much like today's luxury vinyl floors have revolutionized the flooring industry.
>> See THE LOWDOWN ON MULTILAYER FLOORING: LVT, WPC, SPC, AND MORE
Names like Pergo, Wilsonart, and Formica were household names back then. Though laminate flooring's appeal has faded it may still be a good option for some homeowners.
The bad rap associated with laminate floors was that they did not perform well with moisture and generated a hollow sound when walked on.
Today, most laminate floors are water-resistant from topical spills and carry somewhat limited warranties against water damage. To minimize the hollow sound, you'll find available sound-deadening underlayments that will greatly reduce the clicking sound.
>> See How to Prevent Flooring Problems Prior to Installation
Durable Hardwood Looks
Laminate flooring is a great choice if you want a high-end hardwood look but need something more durable for pets and kids. Laminate is a much better choice against scratches and dents. It is also much more affordable than hardwood.
Laminate Can't Be Refinished Like Hardwood
The drawbacks of laminate are that it can not be refinished like hardwood nor do they increase the value of your home.
But if you are looking for a low-cost alternative to luxury vinyl or hardwood, a laminate floor may be just right for you.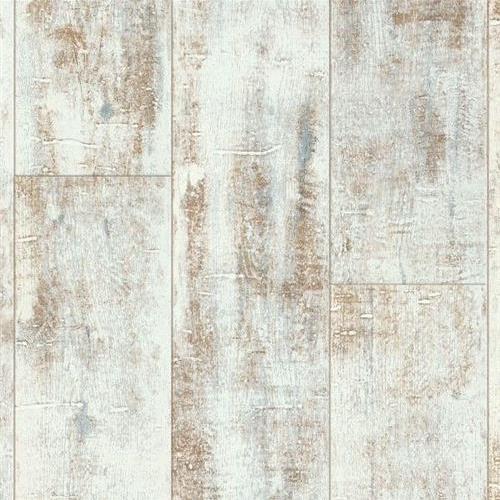 How Much Does Laminate Flooring Cost?
Great Looking Floors at a Low Cost
The great thing about laminate flooring is that, in most cases, you can get a great-looking floor at a fraction of the cost of real hardwood.
The average cost of laminate flooring will start at $3.99 s/f and ranges up to $6.49 s/f.
A quality sound-deadening moisture-resistant underlayment will add $.65 s/f to $1.50 s/f.
The basic installation price is $3.50 s/f with a $375 minimum installation fee.

Other Costs to Consider with Laminate Flooring
Because laminate flooring is installed as a floating floor, subfloor prep is usually minimal. Other costs to consider:
Removal of existing carpeting
Furniture moving
Baseboard or shoe moldings
Door transitions to other floorings
Delivery cost because laminate flooring needs to be acclimated in the home for 48 to 72 hours prior to installation. This is very important

Ready For Laminate Floors In your home?
Based on the performance and cost of laminate flooring, you'll find that it is a good choice if you are renting, on a limited budget, and want attractive flooring that is easy to maintain.
When you are ready to proceed, we invite you to explore by appointment one of our two showroom locations in Middletown or Orange. There, you can see product samples and we'll be happy to discuss your specific questions.
>> See Open for Business While Respecting Social Distancing
In the meantime, let us know of any questions in the comments or contact us.
We look forward to helping you.
Thanks for reading,
Janine & Michael
Note: We originally published this article on 06/10/2020, and have updated it.