Measuring, Estimating and Job Site Assessments

Why do measuring, estimating, and doing a proper job site assessment matter for new flooring? Ultimately, to avoid bad surprises and costly mistakes.
You see, there's a great deal more to new floors than simply having a sales person come to your home with a few samples and take a few measurements. That's hardly a job site assessment, and not enough to provide you with a realistic flooring project proposal.
Given the number of factors to consider, let's explore the role that measuring, estimating and assessing the job site play in providing you with a complete proposal for your flooring project.
The Importance of Measuring, Estimating and Assessing the Job Site
The level of detail required for your project to go smoothly starts with a proper walk-through of your home or business. The purpose is to determine the scope of work and materials needed to assure peace-of-mind that your job will be completed correctly the first time and eliminate the need for call-backs. Measuring, estimating, and assessing the job site is critical.
New construction is usually a simple process as the builder understands the requirements for flooring and usually, the job site is ready for new flooring.
It's when you're replacing existing flooring that the job becomes more involved and complicated.
That's what we'll focus on in this article.
Assessing the Jobsite: What To Look For When Replacing Existing Floors
Usually, when replacing existing flooring, you'll have an existing flooring in place that will need to be removed or a new flooring installed over it. If the existing flooring is still in place at the time of the assessment, your flooring professional can only assume the sub floor beneath is suitable for new flooring. Often that is not the case.
The Type of Sub Floor Will Affect Flooring Product Choices
Today, most flooring replacements consist of homeowners removing carpet and replacing it with a hard surface floor such as hardwood or luxury vinyl. It's critical at the time of the assessment to know for sure what is beneath the existing carpet. Lifting a corner of the carpet will determine what the subfloor is.
Back in the 1980s particle board was used in new home construction and additions if carpet was installed. Unfortunately, particle board isn't suitable for traditional hardwood installation.
Given how most homeowners currently prefer hardwood floors, you will either have to forgo traditional nail or glued down hardwood and opt for a floating hardwood installation or switch to other floating floor options such as luxury vinyl or laminate.
>> See WHY FLOOR PREP BEFORE INSTALLING NEW FLOORS IS IMPORTANT!

Removing Existing Flooring Could Open Pandora's Box
Removing existing flooring can create numerous challenges that need to be addressed prior to the day the installation is to begin. Some of the problems that occur when removing existing flooring include but aren't limited to:
Height differences from one room to another.

Height differences in door casement moldings that were cut to fit the original flooring.

More than one type of subfloor material. When a room was enlarged years ago part of the floor could be plywood while the new addition is either concrete or particle board or vice versa.

Removing one layer of flooring to discover still another layer of flooring that may or may not contain asbestos.
>> See HOW TO PREVENT FLOORING PROBLEMS PRIOR TO INSTALLATION
Installing New Flooring on Top of Existing Flooring
At times, the preferred installation may be to install over an existing flooring.
With many of today's flooring choices available with a floating installation option, installing your new floor over your existing floor is possible. Though it may have fewer issues than removing your existing flooring, here are the possible issues you will want to consider -- but again not limited to:
Height differences from one room to another.
Issues with existing doors not having sufficient clearance to open and close freely.
Refrigerators not having clearance to fit back under the cabinets.
>> See WHEN CAN I INSTALL A NEW FLOOR OVER AN OLD FLOOR?
Estimating and Determining the Finishing Pieces
When you install hard surface flooring, you will want to be sure all doorways have coordinated transitions from room to room when required. Luckily, today many products have coordinating stair treads and floor vents that will give your job the finishing touch.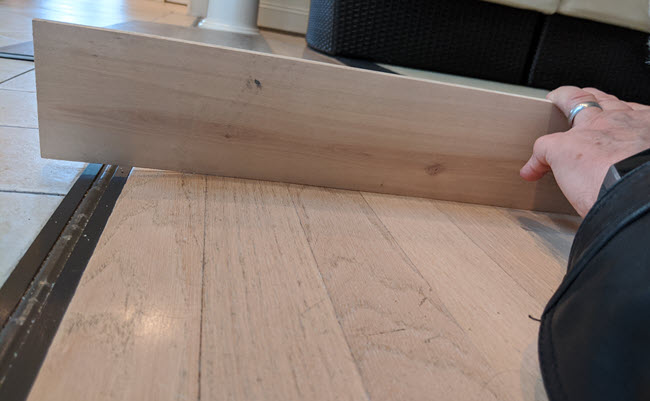 Factoring in the Basics When Evaluating Your Job Site Assessment and Flooring Proposal
Be sure to confirm that work will be done by a certified flooring installer who will use only the recommended sundries such as adhesives, and sealers, and will install according to the manufacturers' guidelines.
You'll want to be sure that the scope of work that will be done includes on your proposal items such as but not limited to:
Delivery or pick up of product.

Removing and disposing of any existing flooring.

Furniture moving.

Cutting of doors if needed.

Disconnecting appliances or plumbing fixtures.

Floor leveling.
questions about measuring, estimating, and Job Site Assessments?
Obviously, you make the final decision on who will do your flooring project. It's important that you have confidence in your flooring provider to do the best job possible and not take shortcuts just to have the lowest price.
If you have questions about measuring, estimating, and flooring project job site assessments, please don't hesitate to let us know in the comments or contact us.
When you are ready to proceed, we invite you to explore by appointment one of our two showroom locations in Middletown or Orange.
>> See Open for Business While Respecting Social Distancing
We look forward to helping you.
Thanks for reading,
Janine & Michael