Are you considering a back splash for your kitchen? If yes, you'll find this back splash tile cost guide valuable for understanding the budget implications associated with bringing your vision to life.
Back Splash Tile Cost Guide Considerations
Design and Function
We love how a tile back splash combines design with function.
Yes, backsplashes may serve a practical purpose by protecting walls from splatters, but they've become a popular way to add eye-catching style to your kitchen. A back splash can be the focal point of your kitchen remodel. It defines your style, radiates your personality and reflects the mood and feel of your kitchen.
You'll find an endless variety of materials, patterns, and colors to have fun with. From clean minimalist to chic vintage, natural stone to glass mosaics, even hand-painted or water jet styles are available.
What is most important is to choose a style that makes you happy. This is what matters most after all. Don't be afraid to test out unique and even outrageous options. Remember that this is something that will be a central defining aspect to your overall theme.
>> Check out Designing with Tile Shapes
How to Choose a Kitchen Back Splash
As we mentioned earlier, you have several tile materials to choose from; glass, ceramic, porcelain, natural stone and metal.
One big factor in deciding which tile material to go for is cost.
If you are on a budget, the best options include porcelain and ceramic.
If you are able and willing to spend a bit more, you might want to consider more expensive options such as natural stone and glass.
That said, the issue of style is not as important nowadays when choosing between various tile materials. Thanks to technology, even ceramic tiles can be designed to resemble marble or even a metal surface. This is beneficial when you want a specific look but at a lesser price.
>> In this article series, also see Ceramic and Porcelain Tile Cost and Installation Price.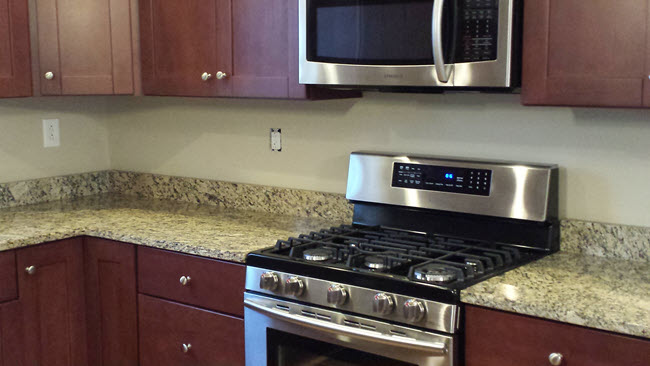 Before with a standard 4" Granite Splash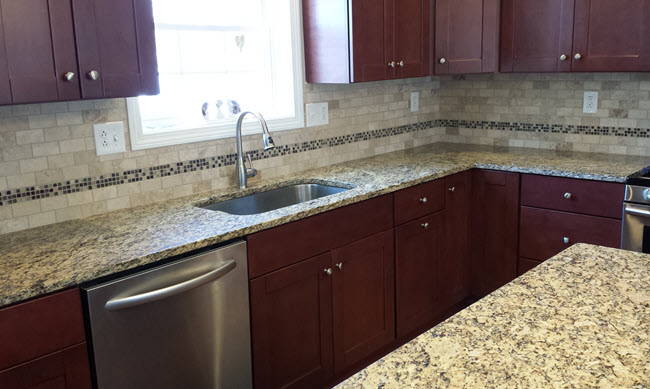 After with a Custom Subway Tile and Glass Mosaic
Cost Estimates for Back Splash Tile
In this table, you'll find an overview of backsplash cost estimates based on the type of tile you select and the size of the back splash.
To that, add the estimated installation cost and you'll have an estimated budget range for your project.
| | | | | |
| --- | --- | --- | --- | --- |
| Type of Tile | Average S/F Price | Small 20 s/f | Average 30 s/f | Large 40 s/f |
| Ceramic | $5.99 - $9.99 | $120 - $200 | $180 - $300 | $240 - $400 |
| Natural Stone | $9.99 - $19.99 | $200 - $400 | $300 - $600 | $400 - $800 |
| Glass | $19.99 - $29.99 | $400 - $600 | $600 - $900 | $800 - $1200 |
| Water Jet Marble | $29.99 - $79.99 | $600 - $1600 | $900 - $2400 | $1200 - $3200 |
| Installation | - | $400 - $600 | $600 - $1200 | $800 - $2000 |
Other Factors You'll Need to Consider
Keep in mind these additional factors for your budget.
Tile Needed:
In terms of how much tile your project requires, you will need to add 10% additional to your net measurement to allow for cuts and waste.
If you have a complex pattern in mind for your backsplash, you'll need to bump it up to 15%.
Trim Pieces:
You will need bullnose pieces, pencil liners, and various other edge options.
Setting Materials:
A tile project requires mastic, thinset, grout, caulk and silicone sealers.
Removal of Existing Back Splash:
Some granite counter tops have a 4" splash (as you can see in the 'before' image above) that should be removed for a cleaner look.
Decorative Accent Above the Stove:
The space behind and above the stove is a great place to get creative. You can use a painted tile mural to add some life to an otherwise drab area.
In the image below, you see an elegant arabesque shaped tile that adds a fun, whimsical, curvy touch to a space with lots of lines and angles.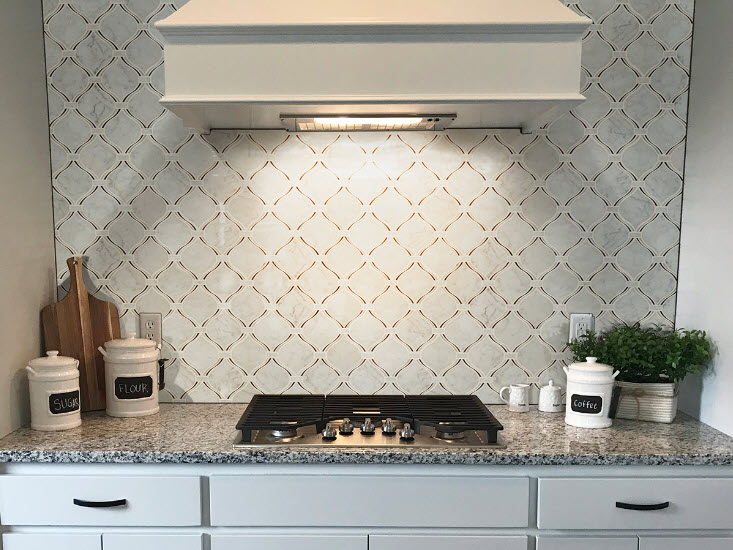 In Favor of Adding a Back Splash to Your Kitchen
If you are looking for an easy way to instantly increase the value of your home, then adding a kitchen back splash is a great idea!
A back splash will not only add character and charm to your home, it increases the value of your biggest home asset—the kitchen!
The good news is, as you've learned from the information above, the tile itself doesn't have to be expensive to create the look of your dreams.
DO YOU HAVE ADDITIONAL QUESTIONS ABOUT THE COST OF Backs plashes?
In this backsplash tile cost guide, have we addressed all of your questions? Please let us know in the comments or contact us.
When you're ready to consider tile for your kitchen backsplash, we invite you to visit our showroom location in Orange, Connecticut. You'll find a vast assortment of products to experience for yourself.
We look forward to helping you.
Thanks for reading,
Michael