Curious about what's new in the premium waterproof flooring market? Read on to discover two exciting introductions from Sono Eclipse and Armstrong Empower that take this category to entirely new, and totally innovative levels!
Waterproof Flooring AKA Luxury Vinyl Tile or Planks
The hottest product in flooring for several years now has been waterproof flooring also known as luxury vinyl. And the most popular vinyl flooring look is hardwood plank flooring. These planks typically mimic the look of high-end hardwood, offering a warm, inviting, and expensive feel to your home.
Where the hardwood-looking plank dominates the market because of its versatility to be used in rooms throughout the home, luxury vinyl tile looks that mimic stone and ceramic are popular options for kitchens, foyers, and bathrooms.
Now for the latest advancements in the waterproof flooring category....drumroll, please.
1. Introducing Sono Eclipse PVC-FREE Flooring
With its revolutionary mineral composite core, Sono Eclipse offers a whole new range of consumer benefits.
Perfect Flooring for Three-Season Spaces
From its superior stability where it can endure extreme cold (low as 40º F) and extreme heat conditions (up to 150º F), Sono Eclipse is perfect for three-season rooms or cottages.
Visuals That Look and Feel Like Wood, Stone, and Ceramic Tile
Unlike alternative floors, Sono Eclipse does not use rotogravure printed films or PVC wear layers.
The wood grain or tile visual is digitally printed directly on a dimensionally stable stone composite core.
High-definition scanning technology captures the image of real wood or stone. Advanced digital printing replicates the visual and embossing in 3-D. The minimal pattern repeat (1 in 30) makes the floor look and feel natural and authentic.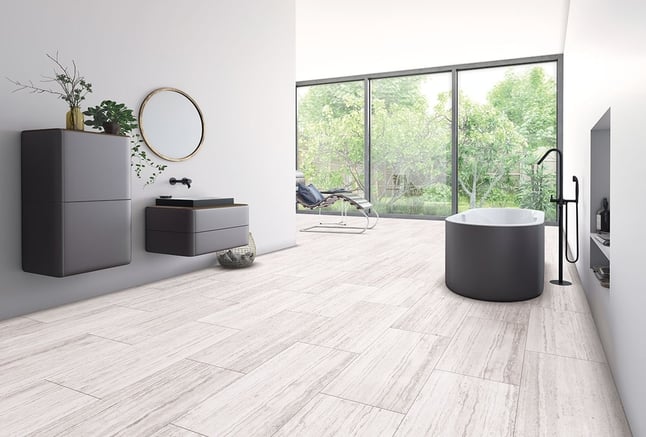 Sono Eclipse Pearl Travertine 12 x 24 Tile


Waterproof Flooring That's Engineered Not To Fade
With its high-performance surface, Sono Eclipse is engineered not to stain or fade, making it perfect for rooms with direct sunlight.
Flooring So Safe That It Has Passed Standard Consumer Safety Specifications for Toys
Unlike other waterproof floors that are protected by a 20 mil plastic wear layer, Sono Eclipse has a superior excimer cured embossed-in-register lacquer surface protected by a polypropylene wear layer that contains NO PVC, formaldehyde, Phthalates, or plasticizers making it so safe it has passed the Standard Consumer Safety Specification for toy safety.
Premium Flooring That's Quiet Underfoot
Sono Eclipse floors have a permanently attached underlayment that is quieter underfoot than traditional laminate or hardwood flooring and is also safe for stair installation.
Easy to Care For
No special cleaning products are required, it's safe to damp mop and steam.
Waterproof Flooring With Striking Looks
You'll love the range of styles that Sono Eclipse is available in! These striking tile and hardwood looks feature 3x more unique visuals than other competitor products for a totally unique look for your home.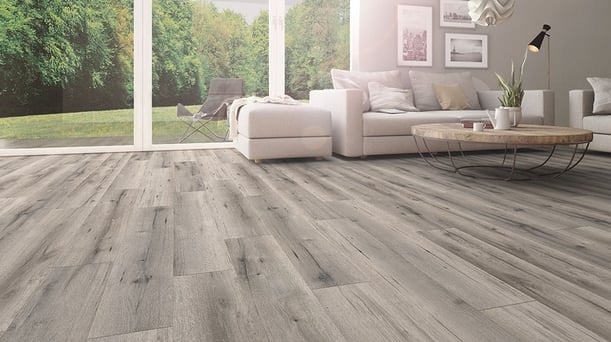 Sono Eclipse Jasper 8" x 50" Plank
2. Experience Empower Ultra-Performance Flooring
Armstrong Empower is a new ultra-performance rigid core flooring product. This new flooring collection features an innovative reinforced mineral core(RMC).
Empower's reinforced mineral core outperforms traditional rigid core in indent resistance and stability while providing comfort underfoot.
In addition, their exclusive Diamond 10 technology provides ultimate stain-proof protection, making Empower the best choice for homes with busy lifestyles.
Inspired by the popular Scandinavian design trend, Empower's extra-long planks are available in wide and mixed width sizes bringing its realistic visuals to life.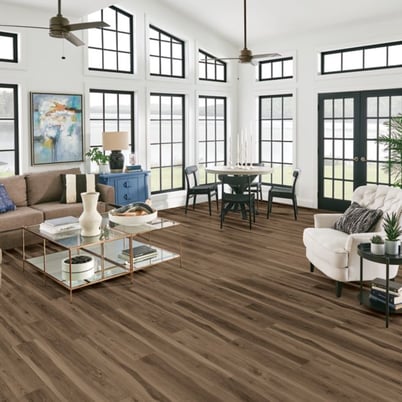 Empower Viking Hickory - Norse Brown
The Luxury of Hardwood Flooring
For centuries, hardwood flooring has been one of the most sought-after interior features by both homeowners and designers for its timeless and traditional natural beauty, versatility, and how it increases home resale value. But, this "luxury" flooring comes with a hefty price tag and at the end of the day, it may not be the best flooring option for busy families.
Some may argue, hardwood flooring although stunning to look at, is just that – to look at rather than live on.
For today's modern homes especially, you need to feel confident in your choice when investing in floors. And hardwood flooring cannot offer the same peace of mind rigid core flooring can.
What is Rigid Core Waterproof Flooring?
Simply put rigid core flooring is waterproof, kid-proof, and pet-proof.
Today's floors need to hold up to active family traffic, accidental drops, scratches, and most importantly, spills.
Rigid Core flooring was designed with these principles in mind. It's 100% waterproof and provides extreme scratch and indent resistance when compared to solid hardwood flooring.
The Evolution of Rigid Core Flooring
WPC
WPC (wood polymer composite) was the first Rigid Core product introduced to solve the shortcomings of hardwood. WPC's thicker and aerated core provides more comfort underfoot.
But, because of the additional air, it is prone to more dents than other types of rigid core.
SPC
SPC (solid polymer composite) has taken Rigid Core flooring up a notch, including all the benefits of WPC flooring, but unmatched in durability.
Although both flooring types are equally resistant to scratches and stains, the thinner and denser core of SPC makes it superior to WPC in dent and damage resistance from impact or heavyweight.
The downside of SPC's thinner core? It's less forgiving to subfloor imperfections and may telegraph easier.
>> MEASURING, ESTIMATING, AND JOB SITE ASSESSMENTS
Why Choose Between Comfort and Durability When It Comes to Your Floors?
Frankly, you shouldn't have to choose between floors that feel comfortable underfoot and floors that can withstand your day-to-day life! Thanks to exciting developments in how floors can be crafted or engineered to meet specific needs, you now have these two premium waterproof flooring options to consider.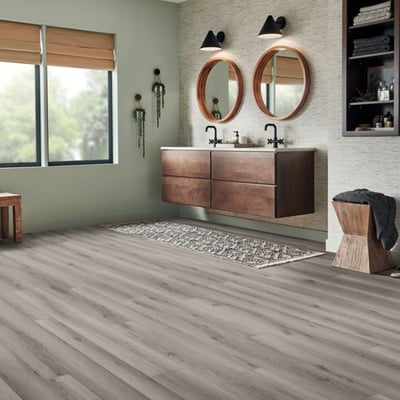 Empower Scandia Oak Rigid Core - Tundra Gray
Experience Sono Eclipse & Armstrong Empower Premium Waterproof Flooring!
If you're looking for a waterproof flooring solution with beautiful stylish options to pick from, you'll want to visit one of our two showroom locations in Middletown or Orange, Connecticut. There you can experience Sono Eclipse and Armstrong Empower for yourself.
Or, contact us with your questions.
We look forward to helping you.
Thanks for reading,
Janine & Michael