Yes, you read that right: waterproof hardwood. It's the result of cutting edge flooring manufacturing that engineers the best product qualities to deliver what used to be considered impossible. With the Waterproof Hardwood collection from Floorte Wrightwood from Shaw, you can now have hardwood without worrying about spills, messes and pet accidents.
How is Floorté Waterproof Hardwood Possible?
This revolutionary product combines engineered wood with the technology of multilayer flooring. It delivers a floor that combines the aesthetics of wood with the strength of engineered floors and the waterproof characteristics of multilayer flooring.
On the very top, you have genuine hardwood veneer with a surface sealant for extra protection and easy clean-up, combined with a solid waterproof PVC core made of SPC or Stone Plastic Composite.
Undeniable Performance
The end result is a floor that works overtime to provide extra stability and durability:
It is dent and impact resistant making it able to withstand the heaviest furniture and the highest, sharpest heels.

It comes in longer (up to 72") and wider planks (7.5" wide) for an impressive elegance making it ideal for open floor plans.

It minimizes telegraphing from subfloor imperfections.

It comes with an attached acoustical pad - the Soft Silence cushioned pad - which makes every step walked absolutely quiet.

Finally, should you choose to install it yourself, you'll find the click profile easy to work with.
Performance Plus Hardwood Styling
To read all of the product specifications above, you might think that the appeal of this product is primarily around utility and performance.
However, you get much more as you can see in the image below!
You get a beautiful floor that you can have in spaces where wood traditionally can't go - kitchens, bathrooms, basements, etc.

ALL ABOUT Floorte 'Wrightwood'
Floorte Wrightwood comes in a selection of premium options including multiple wood species, finishes, sizes and colors, all of which are waterproof.
The wood species span walnut, hickory, oak and mixed-species with designer surface finishes including reactive staining, bandsaw marks, wire brushing and black or white accent graining. More specifically, as you can see below:
Alabaster Walnut

Silverado Oak

Ashton Oak

Twilight Pine

Champagne Oak

Natural Hickory

Classic Oak
And, in this next section of samples, you see:
Regency Walnut
Acadia
Liberty Pine
Rich Walnut
Midnight Pine
Pewter Oak
Spiced Pine (pictured above with the staircase)
Beautiful, no?
How Do You MAINTain Waterproof Hardwood?
Although Floorte Wrightwood is waterproof, it still requires hardwood-focused care and maintenance. For that reason, you'll want to address floor care from four perspectives:
Post Construction Maintenance

Preventative Maintenance

Routine Maintenance

Spot and Spill Removal.
POST CONSTRUCTION MAINTENANCE
Once your floor is completely installed, you'll want to take the following steps.
Step 1 - Dry Mop the Floors
Dry mop the floor with a micro fiber mop pad or appropriate floor vacuum to remove dust particulate from the floor.
Step 2 - Mop Floor with Neutral pH Cleaner
Spray a neutral pH cleaner, such as Shaw Hard Surface Cleaner or Bona Wood Floor Cleaner, onto the floor in manageable area (spray mist will dry quickly).
Use a micro fiber damp mop pad to mop the floor with cleaner. If the pad becomes dirty, replace it with a new micro fiber wet mop pad.
Work the floor in sections.
Step 3 - Rinse with Misted Water
Finally, always rinse the floor by spraying misted water on a flat micro fiber mop pad meant for wet mopping. Please make sure there is no dripping water).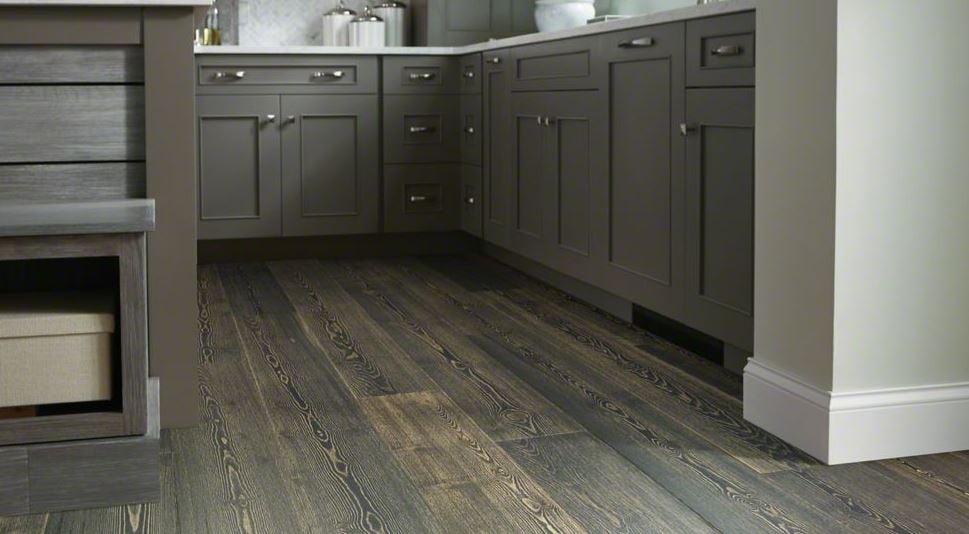 PREVENTATIVE MAINTENANCE
You'll find that the following steps will help you prevent maintenance issues on your Floorte Wrightwood floors - or any others, for that matter.
Protect your from direct exposure to sunlight that can cause the wood or stain to change colors. Warranties do not cover damage from UV exposure. Recommended humidity levels are between 35% R.H.- 55% R.H.

Protect your floors when moving heavy objects to prevent permanent scratches and tears.

Use appropriate wide floor protectors under tables, chairs, and any other heavy home furnishing to avoid permanent damage. As a rule, the heavier the object, the wider the floor protector.

Walk-off mats should be used at all entrances to absorb soil and moisture. You'll find that mats help avoid scratches and damages to the floor. If mats are placed directly on top of the hardwood floors, use proper indoor mats. Mats that can trap moisture underneath have potential to cause possible discoloration. Latex and rubber backings should not be used.

Consider area rugs in high traffic and pivot areas. Avoid shoes with spiked or damaged heels. Also keep pets' paws and nails cleaned and trimmed.

ROUTINE MAINTENANCE
On a routine basis, remove dirt and dust to prevent particles from abrading the floor's surface by sweeping, dust mopping, and vacuuming.
Don't use vacuums with rotating beater bars on hard surfaces.
We recommend Shaw's R2x Hard Surfaces Flooring Cleaner and Shaw's EPA/Dfe Green Formula Hard Surfaces Flooring Cleaner for general spotting and cleaning.
You'll find helpful information and detailed recommendations in this Shaw Hardwood Maintenance document.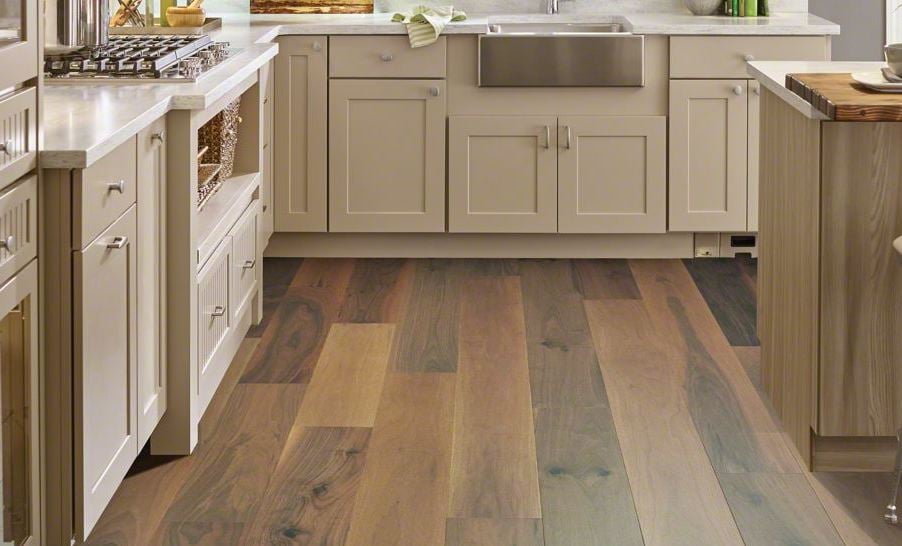 SPOT AND SPILL REMOVAL
Let's not forget spots and spills.
Remove wet spills promptly by blotting with white paper or cloth towels.

Remove dried spots with Shaw's R2x Hard Surface cleaner. Gently rub using a clean towel or cloth. Always blot dry.

Don't use detergents or abrasive cleaners since these products can result in a dull residue and appearance.

Use rubbing alcohol (isopropyl alcohol) with a clean white cloth for spots requiring a solvent type cleaner that hardwood cleaning agents cannot remove.
Ready to Check Out Wrightwood Waterproof Wood Flooring at Floor Decor?