If you're looking to create a one-of-a-kind look with cosmopolitan flair for your home, you will want to experience firsthand the Shaw Tile & Stone Collection on display at Floor Decor Design Center in Orange, Connecticut.
We fell in love with the bold tile patterns, the intriguing surface effects, and the range of sophisticated design possibilities that our customers yearn for. Ready to learn more?
Five Cosmopolitan Shaw Tile & Stone Styles
In this article, we'll share closeups of five tile styles from the Shaw Tile & Stone Collection. We picked these ones because of the patterns, colors and surface effects.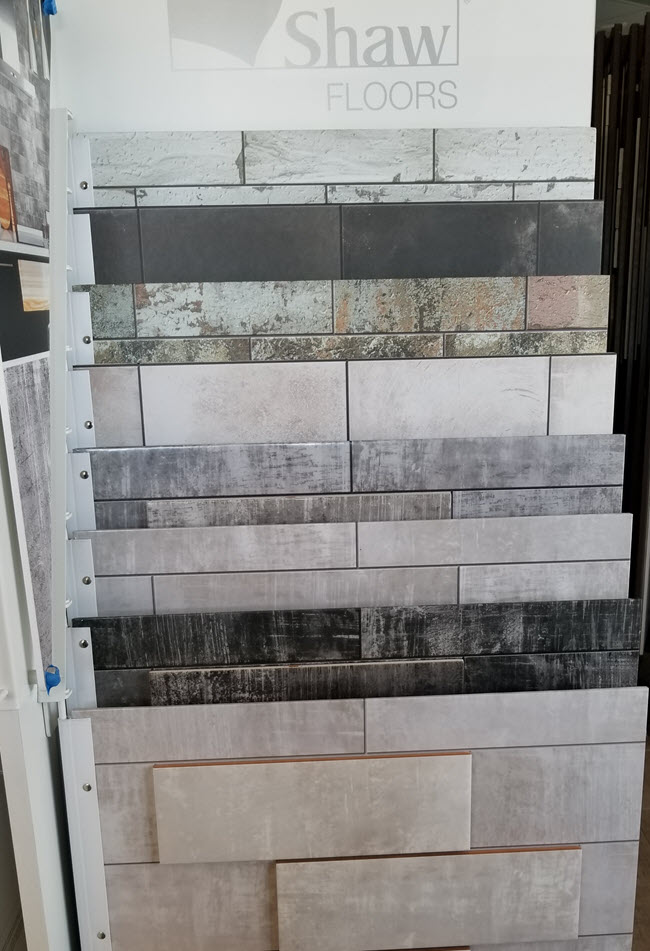 1. Contemporary Tile Designs Start with Cosmopolitan Vibes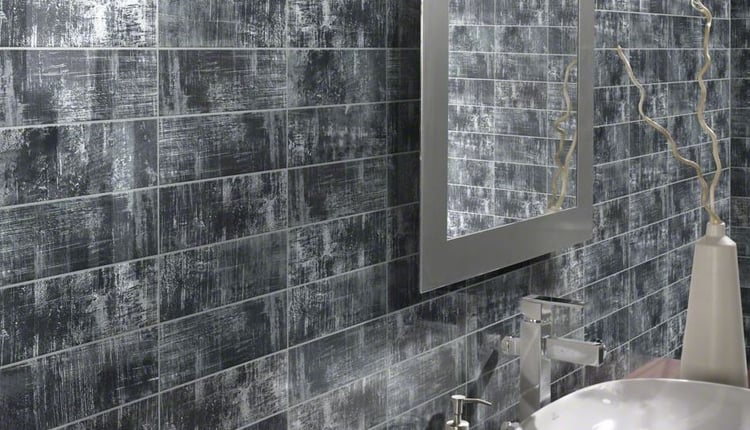 Cosmopolitan is a 4x12 glazed ceramic that comes in four colors. You see Chimney Smoke above installed horizontally. The other colors include Snow Crest, Silver Frost, and London Fog.
What's most wonderful about this tile style is the surface pattern which comes alive in different ways depending on the color. With Chimney Smoke, the etched marks seem to draw out smoke from a dark charcoal background.
Below you see a close up of Silver Frost.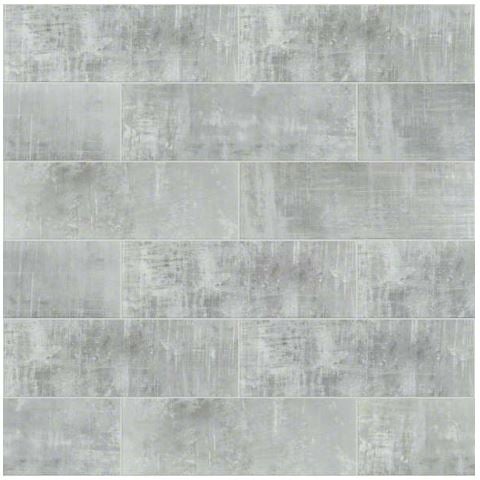 Shaw describes Cosmopolitan as follows:
"An original artwork, Cosmopolitan was designed on an Italian artists canvas, and then transformed into an all inspiring porcelain tile with never seen before graphics and subtle surface texturing.
Cosmopolitan offers an exciting wall tile package with the wall tiles offered in a rich glossy finish. The glossy wall tiles surface textures are highly-reflective to enhance the depth in both color and contrast within these remarkable modern graphics."
Below you see color London Fog. Notice that the tile has been installed vertically soldier-style.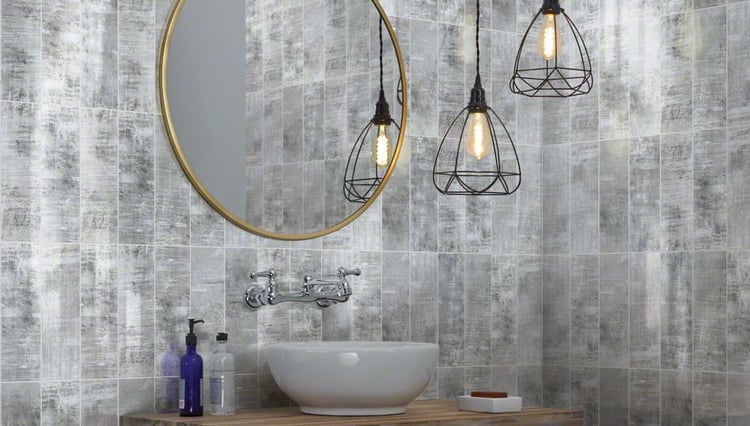 2. Classic Brick: Old and Intensely New
Who isn't familiar with brick? At the same time, it's become fresh and modern. You see exposed brick walls that add warmth and charm to an industrial-inspired design.
You'll find it in distressed looks that go-hand-in-hand with wood plank tile and bold primary colors as you see in the image below which features Classic Brick in color Farmhouse.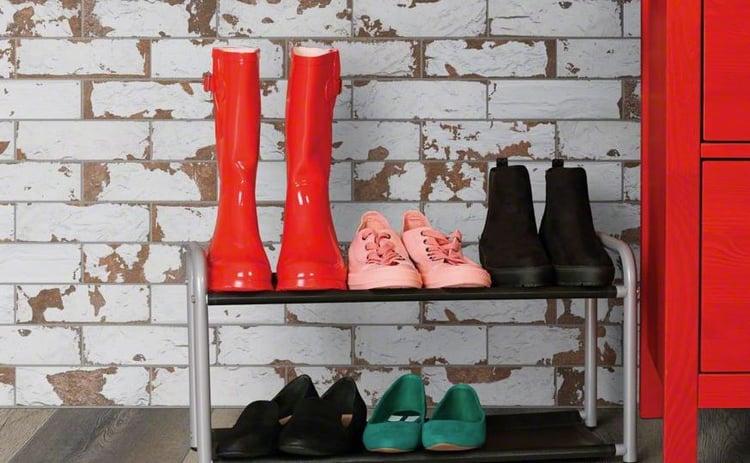 The other Classic Brick colors include Manor, Cottage and Factory.
>> See Designing With Wood Plank Tile
Shaw describes the Classic Brick collection as follows:
Our stunning tile & stone collections allow you to unleash your creativity with endless combinations. Designed to mimic the natural textures, like quarried slate, travertine and limestone, these looks embody flooring sophistication. Shaw tile & stone is available in ceramic, porcelain and stone and includes eco-friendly options to meet your various project needs.
3. The Magic of the Islands in the Islander Collection
The Islander tile collection includes two 8x8 patterns and a solid 8x8, as well as 3x6 wall tile in several colors. Notice how the tiles look hand-fired and slightly distressed.
Shaw describes this collection as follows:
The Island Life: warm sunshine, blue waters and white beaches. Now you don't have to be a local to enjoy year-round tranquility and relaxation. Become an Islander in your own home.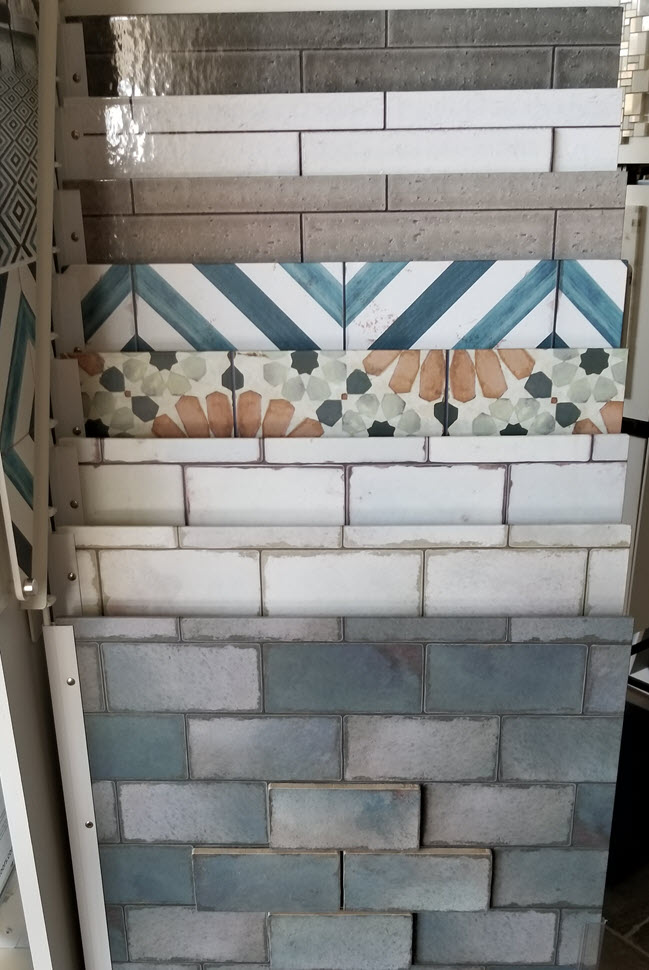 Islander 8x8 Tile
In the 8x8 size, Islander comes in three colors/patterns: Blue Daze, Sandbar and Garden Way. These tiles work on floors as well as walls.
We'll focus on the two patterns here starting with Garden Way pictured below which forms a flower pattern when four are combined.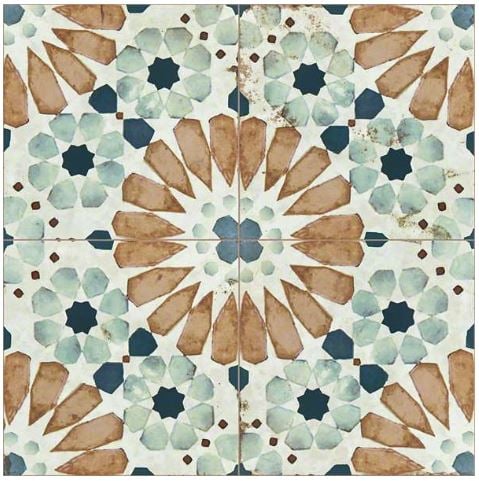 Look how fresh Islander Garden Way looks on the floors especially when combined with white wall details.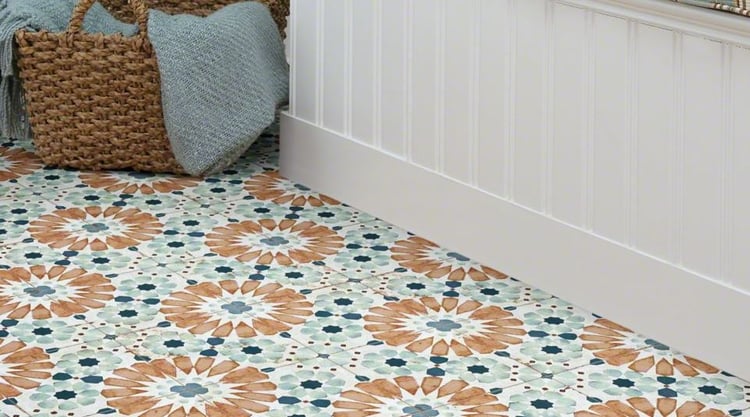 Blue Daze celebrates blue in a diagonal pattern that forms a diamond when four are combined as you see in the detail below.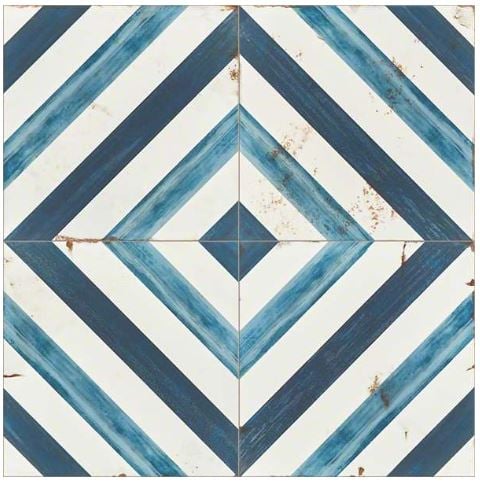 As you see in the room scene below, it adds vibrancy, freshness and Caribbean-inspired visual interest to the floor.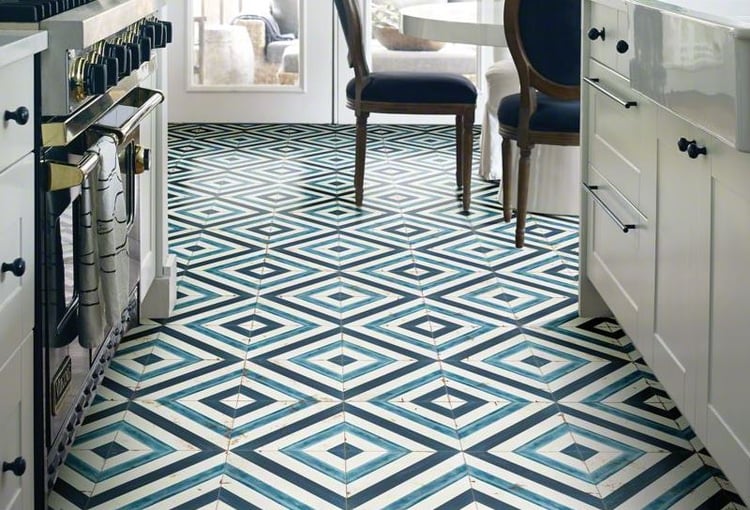 The third 8x8 tile in this collection is color Sandbar, an off-white color that works well with both patterns above. For example, you might create a tile rug with patterns in the middle and a solid border around.
Islander
3x6 Wall Tile
Islander also comes in a 3x6 wall tile format in colors Seashell, Sandbar, and Salt Water. In the image below you see a closeup of color Sandbar.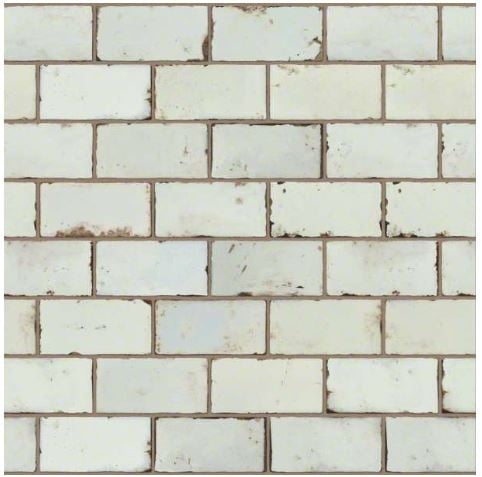 Below you see Islander 3x6 in color Salt Water as a backsplash. Imagine having Islander Blue Daze of the floor....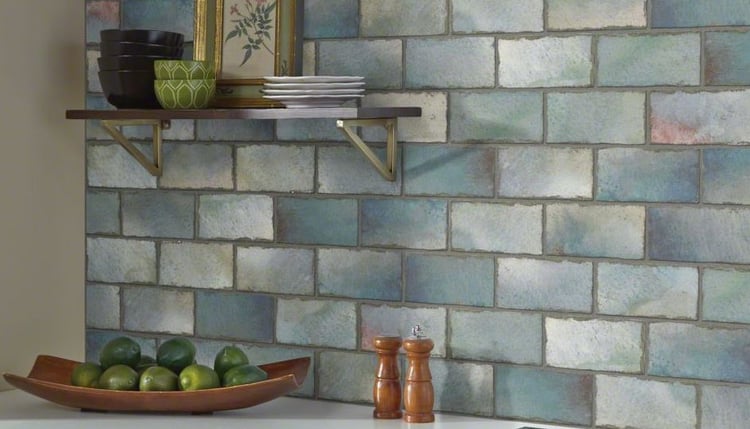 4. Tile Revival Patterns
A true cosmopolitan collection includes fresh takes on classics. In this case, it's strong, decorative tile patterns called Revival.
You'll find Revival Catalina, Josefina, Isabella, Aurora, Maria and Mirasol. Josefina and Catalina come in one color; the others in three colors each.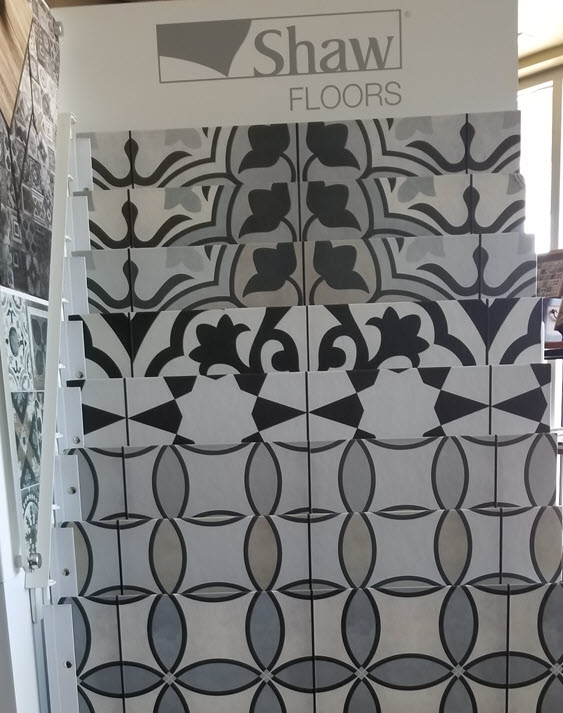 Below you see a room installation with Revival Isabella which comes in colors Pearl, Agate, and Opal. Agate is pictured.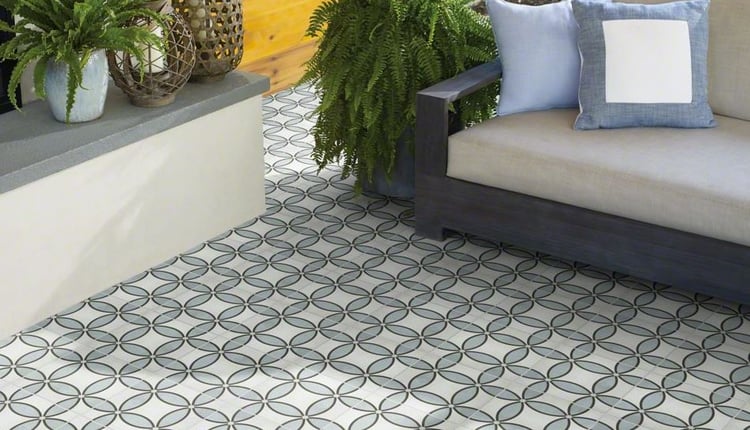 Shaw explains,
Revival evokes the look and feel of craftsmanship established in a bygone era. This collection honors a time when homes were fitted with one-of-a-kind accents, lending art to unexpected places.
5. Don't Forget Deco Tile Mixes!
The last product we'll highlight is Marlow Deco Mix 8x8, a glazed porcelain tile that can be used on either floors or walls. It features a mix of bold patterns guaranteed to be a show-stopper in your home.
As Shaw describes it,
This timeless, European inspired look will add old world charm to any home.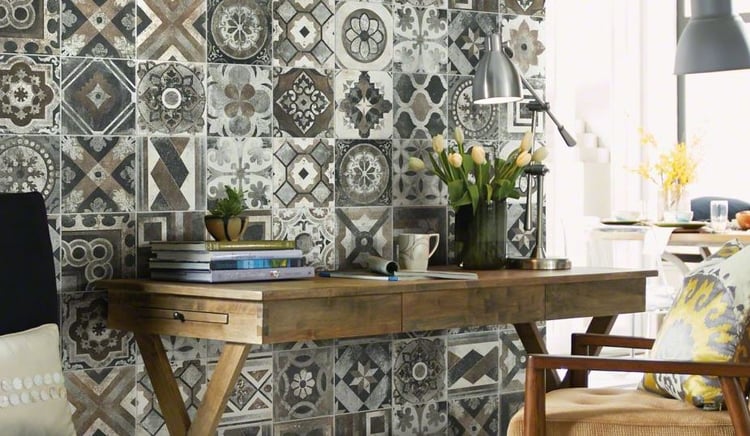 Ready to Add Cosmopolitan Tile Touches to Your Home?
What's your reaction to this fresh cosmopolitan collection from Shaw Tile & Stone? Can you see adding it to your home decor?
We invite you to visit one of our two showroom locations in Middletown or Orange, where you can explore the possibilities available.
Let me know of any questions in the comments or contact us.
We look forward to helping you.
Thanks for reading,
Michael