The 7 Newest Flooring Trends from Surfaces 2020

Perhaps you don't think of flooring as a cutting-edge, futuristic category. However, based on the latest flooring trends, rest assured that the future is here and now in flooring.
We recently attended the international floor covering show known as Surfaces in Las Vegas. It's the largest North American floor covering, stone, and tile industry event and is THE industry marketplace for buyers, specifiers, and influencers to source products, gain design inspiration and develop their businesses.
Retailers and manufacturers packed the show. The excitement was palpable and the product introductions exciting. Here are the trends that caught our attention.
The 7 Newest Flooring Trends from Surfaces
1. The Future is Now in Flooring
No surprise but the show generated considerable buzz about the influx of "water-proof" products.
In the last few years, water friendly hard surface flooring has exploded onto the scene. No surprise, consumers are loving the new "vinyl" floors, now known as "luxury vinyl tile" (LVT) and "luxury vinyl plank" (LVP). This is not your Grandmother's vinyl floor!
Some of these products have become household names such as COREtec, the originator of this rigid core category.
>> See The Lowdown on Multilayer Flooring: LVT, WPC, SPC and More
Look for more exciting innovations from this category.
2. Amazing New Digital Printing Formats
... Starting with Digital Printing!
Engineered Floors has introduced another game changer in the LVT - LVP category with digital printing!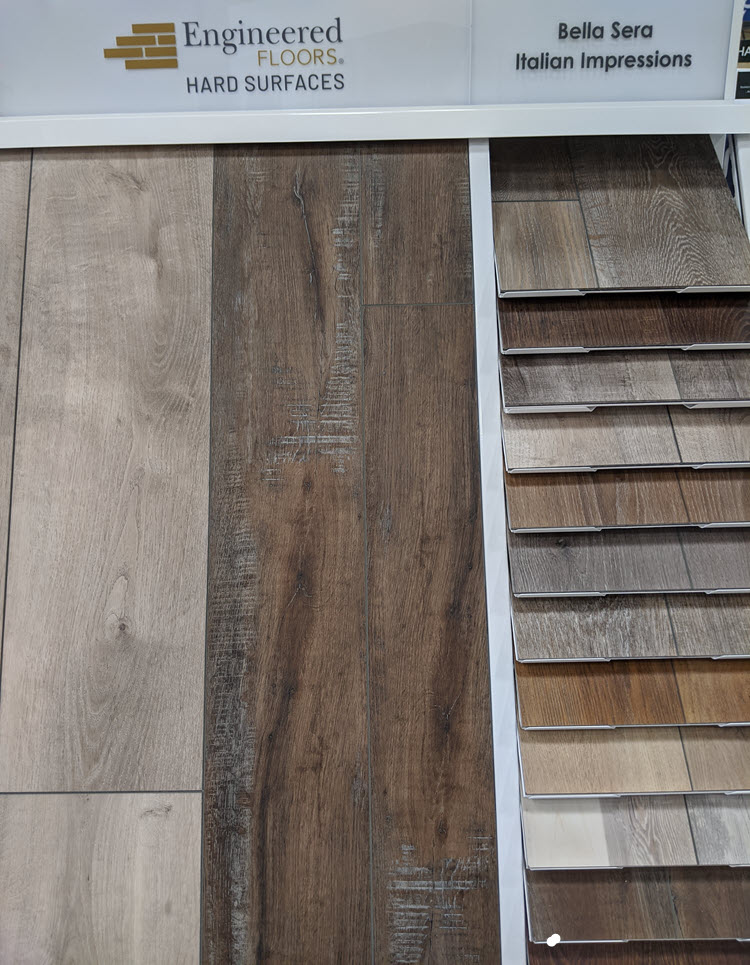 Traditional LVT has a core of plastic and stone with a PVC layer on top. The visual is on a film that is attached to the PVC with a repeat pattern usually every five planks.
With digital printing, real wood plank images are printed directly on the core which minimizes repeats and gives it an even more realistic look of hardwood or stone.
Combined with a UV acrylic wear layer with a ceramic bead that gives the product superior scratch resistance, not to mention its already waterproof core, this product is sure to be a winner.
3. Carpet Designed for Performance and Fashion
It's not all hard surface, however.
Two of the hottest products at the show drawing everyone's attention were the new introductions from Dream Weaver and Tuftex. In fact, theses introductions have been nominated for The Dealers' Choice Awards.
DW Select from Dream Weaver
Dream Weaver is introducing DW Select with a proprietary fiber technology called "twist multiplier" that delivers enhanced durability with fashion-forward styling.
Three New Tuftex Collections
Tuftex has unveiled three new collections.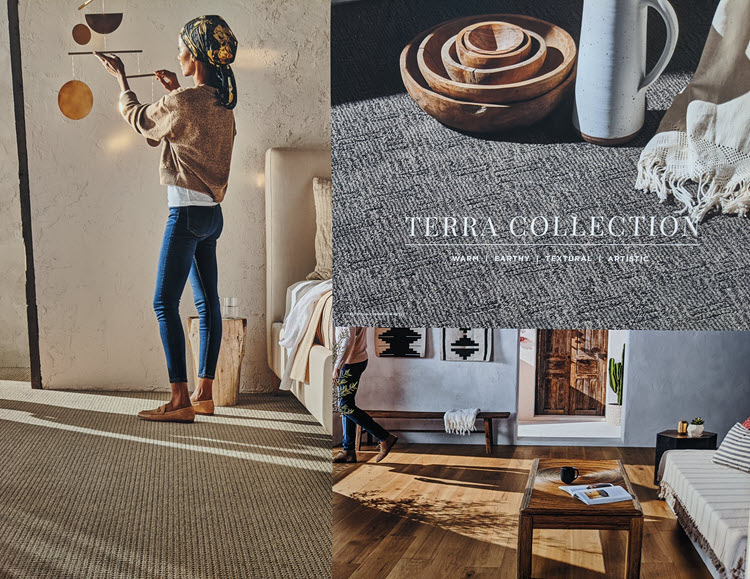 1. The Terra Collection: Warm, Earthy, Textural, Artistic
The Terra Collection is inspired by warm colorscapes and the earthy textures of Mexico.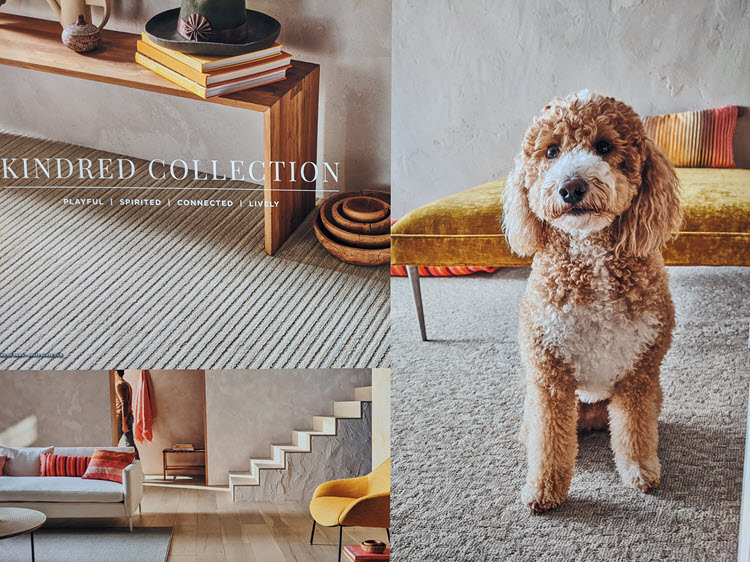 2. The Kindred Collection: Playful, Spirited, Connected, Lively
The Kindred Collection is constructed with its performance Stainmaster PetProtect and will be available in breathtaking loops and cut loop styles.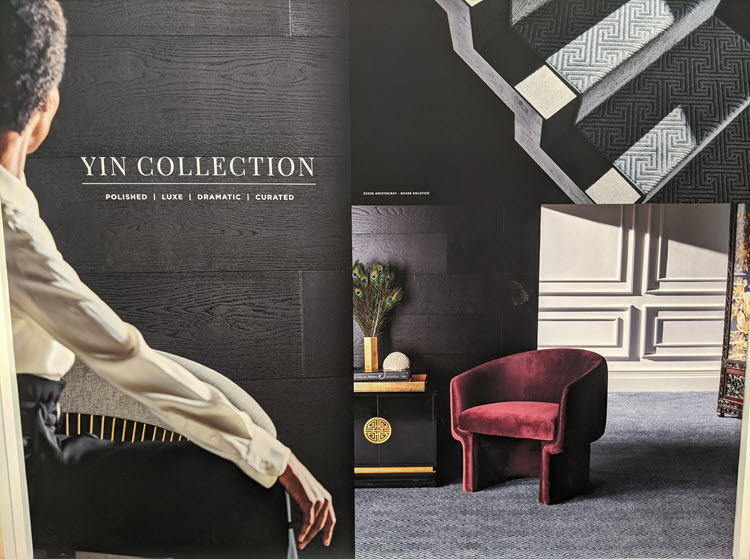 3. The Yin Collection: Polished, Luxe, Dramatic, Curated
Finally, the Yin Collection is designed to bring the dualism of Ying and Yang to create stunning spaces.
Shaw's Bellera Carpet
Also look for Shaw's award winning performance line of high-styled carpet Bellera, introduced last year, which is adding ten exciting new carpet styles to its lineup.
>> Read Bellera and Stainmaster PetProtect: Carpets That Perform
4. COREtec the Industry Disruptor
COREtec, the original LVT product brand, has done it again with its introduction of COREtec Premium Grande, an awe inspiring floor.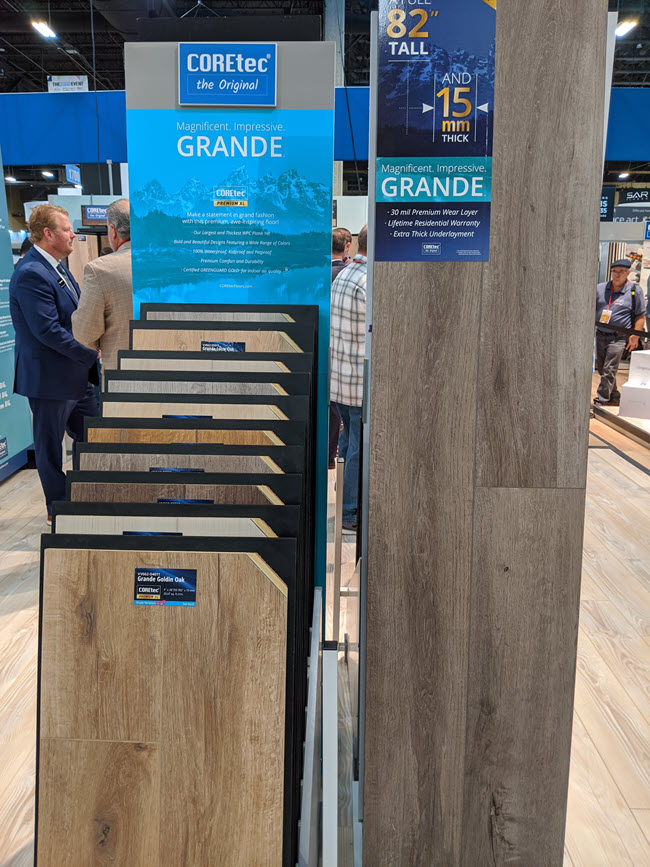 Bold in beauty and design, COREtec Premium is 82" long which is currently the longest LVT on the market.
It is 100-percent waterproof, kid-proof, pet-proof and will stand up to life's real messes in grandness and style.
5. Revo Tile... The Revolutionary Porcelain Tile
For the homeowner who prefers real tile, DalTile USA has unveiled a revolutionary new porcelain tile that needs no thinset or any adhesive at all. It's called Revo Tile.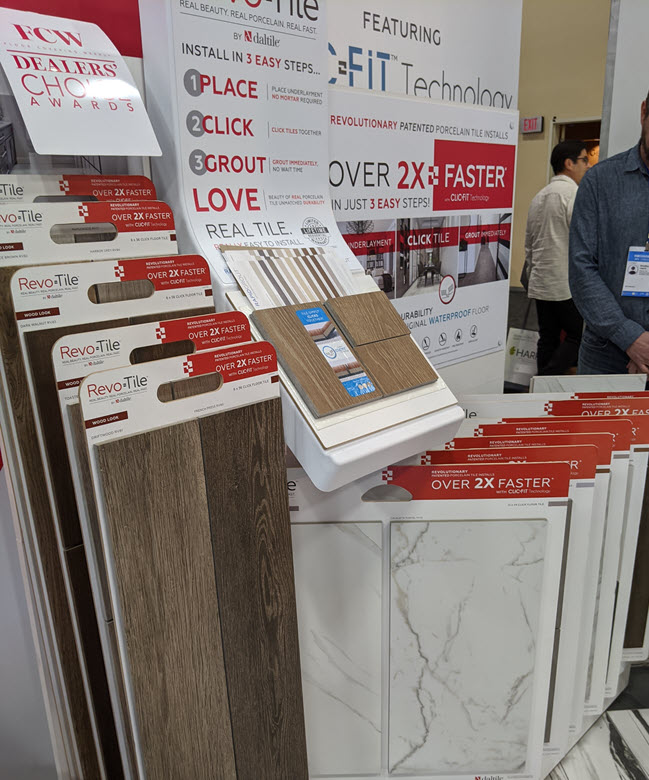 Two years in the making, this new tile known as Revo Tile is a click fit installation and can be installed over a multitude of sub floors including existing ceramic tile, plywood, vinyl, and particle board.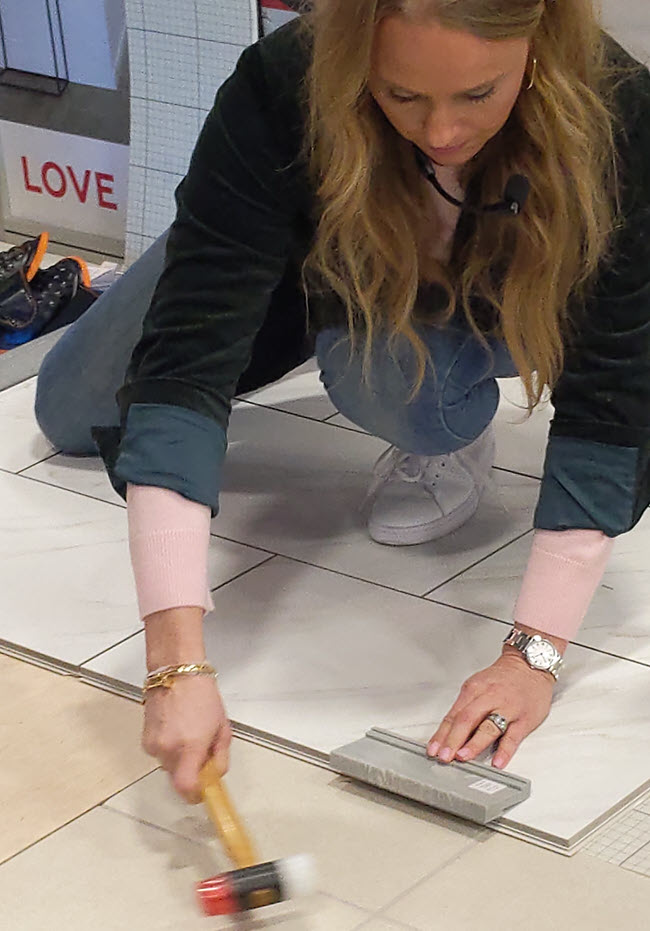 It requires no acclimation time, no mortar, and no spacers.
The tiles just click together. You can install tile and grout on the same day; they are easy to remove for repair, and tear out is simple if you want to update years later.
This was truly a show stopper, and so amazing I had to video the presentation...check it out. It's only 7.5-minutes and stars Chip Wade.
6. Johnson Flooring Right on Track
Johnson Flooring has introduced two new exciting waterproof rigid core lines.
The Skyview Series is where l

uxury, high-end style meets while allowing for easy low-maintenance.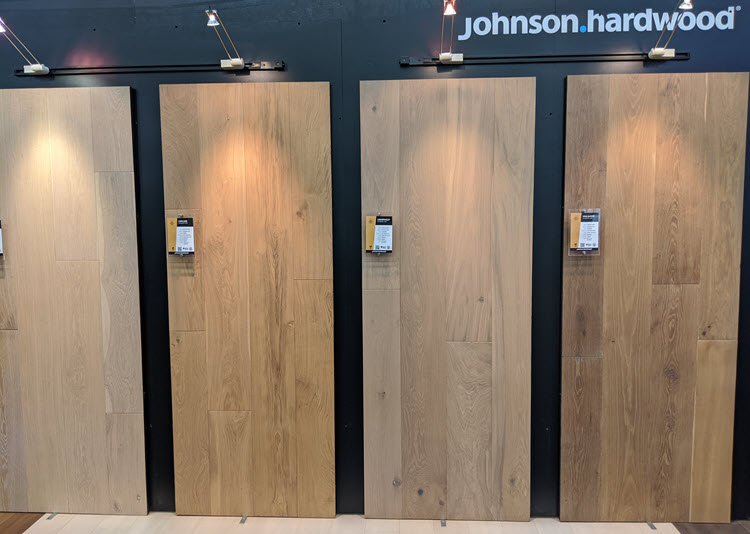 It features wide planks with realistically embossed wood texture showcasing modern, trendy colors ranging from stormy grays to wheat tans.
The Public House Series offers rustic tavern charm and vintage speakeasy vibes.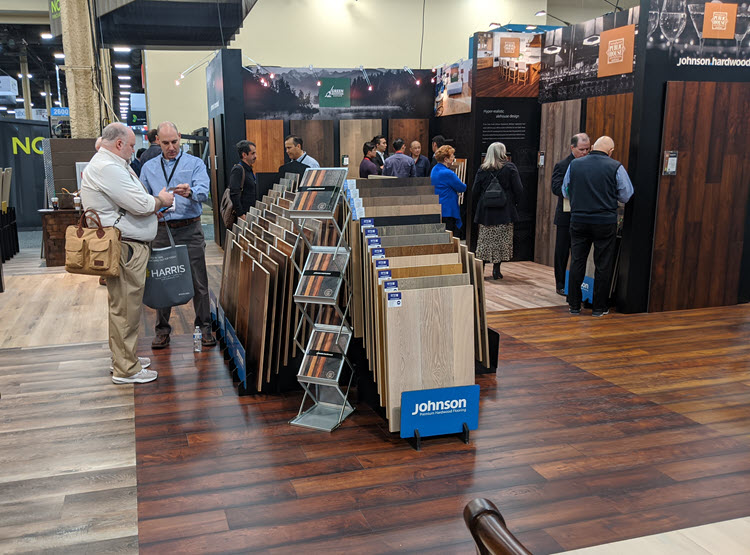 It features eight rich colors ranging from greys to browns, and each plank reaches five feet in length.
With a super thick 30-mil wear layer, Public House provides water-resistance and durability, while its registered embossing technique creates a realistic and detailed wood texture.
These beautiful worry-free floors can match the bustle and joy of any lifestyle.
7. Stunning Custom Rugs and Runners
With so much hard surface floors getting attention these days it's important to remember soft surface flooring which offers warmth, style, and safety.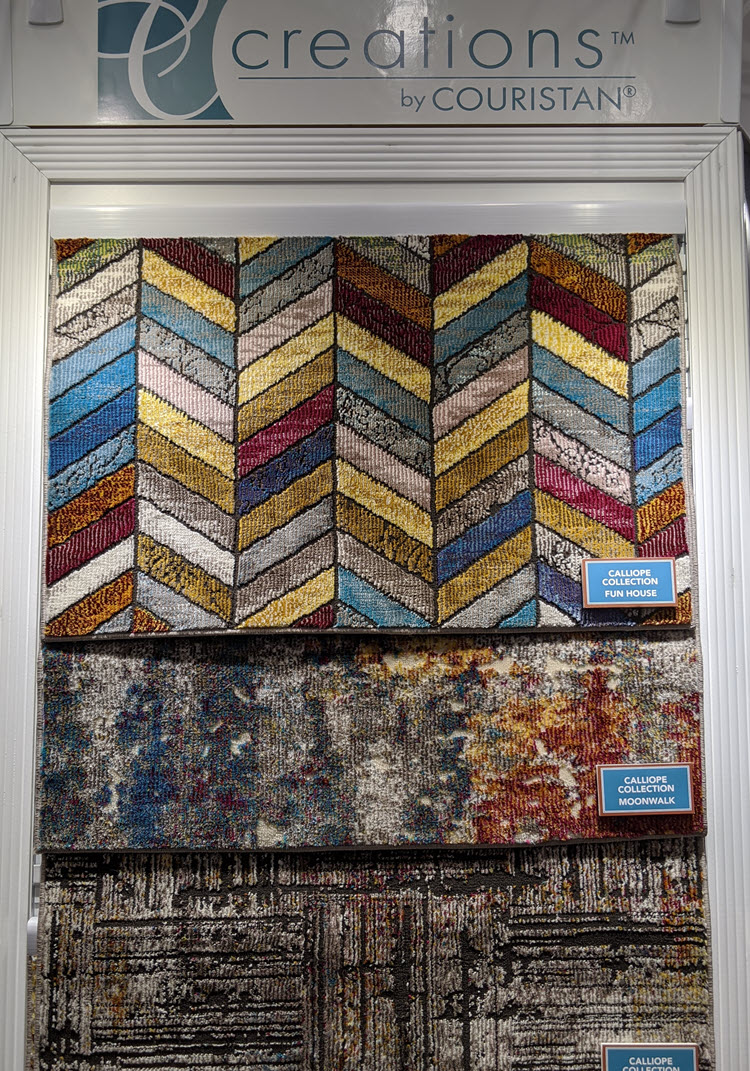 High end manufacturers such as Couristan and Stanton are introducing many exiting new carpet styles in abstract, geometric, and print designs that are perfect to add wow to any room of the house, as you can see in these images.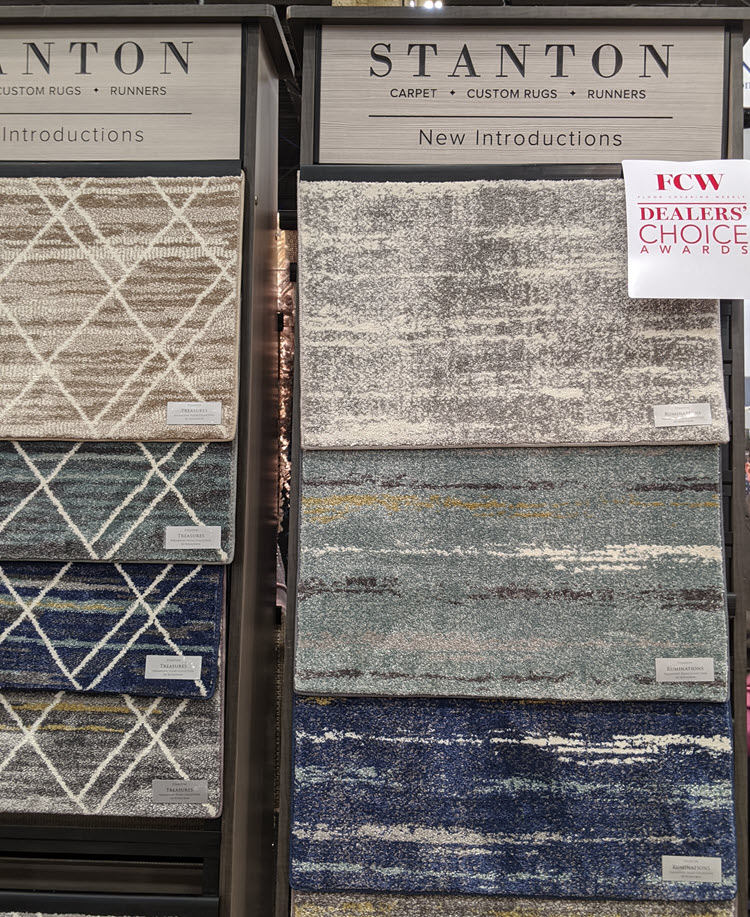 Custom stair runners add elegance and safety to any home.
Runners protect against slips and falls for children, seniors, and even pets.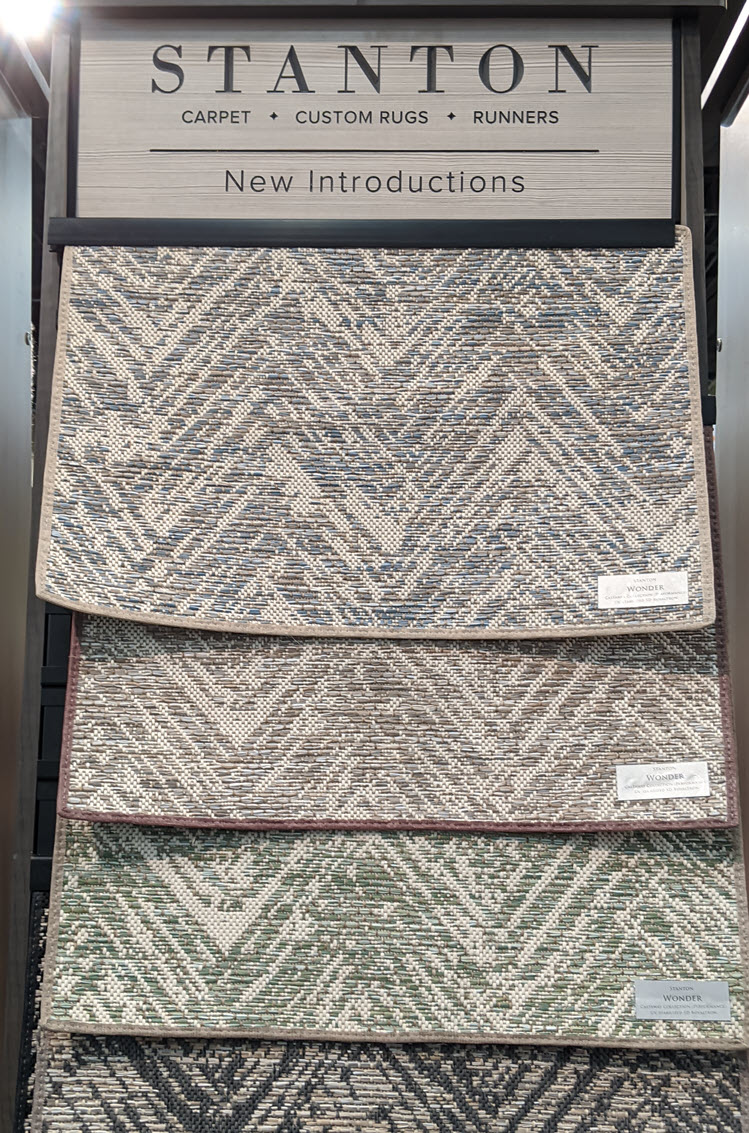 Make a statement with a beautiful new runner you'll be glad you did when you receive all the compliments about your great style.
>> See Try Couristan Rugs and Carpets For the Ultimate in Style and Luxury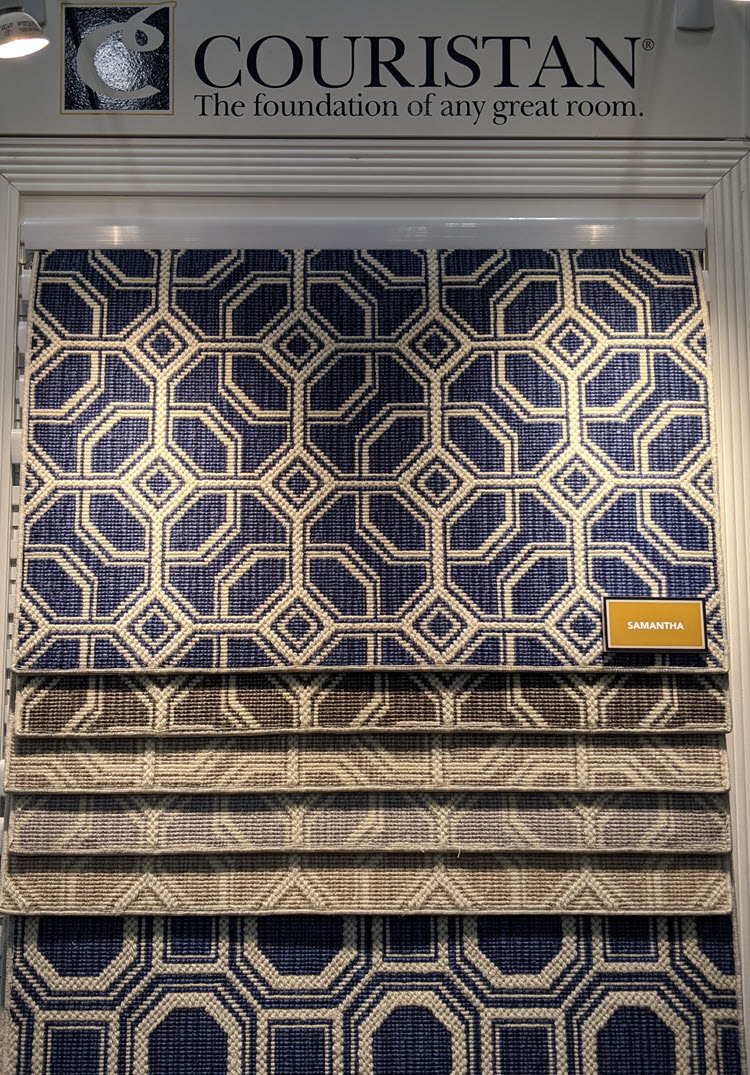 Custom rugs offer perfect size for any room that the traditional pre-made 6 x 9, 8 x 10, or 9 x 12 don't work. We can customize a beautiful area rug designed specifically for your space.
>> Read Create Your Own Rug Using Stanton Carpet's Custom Rug Visualizer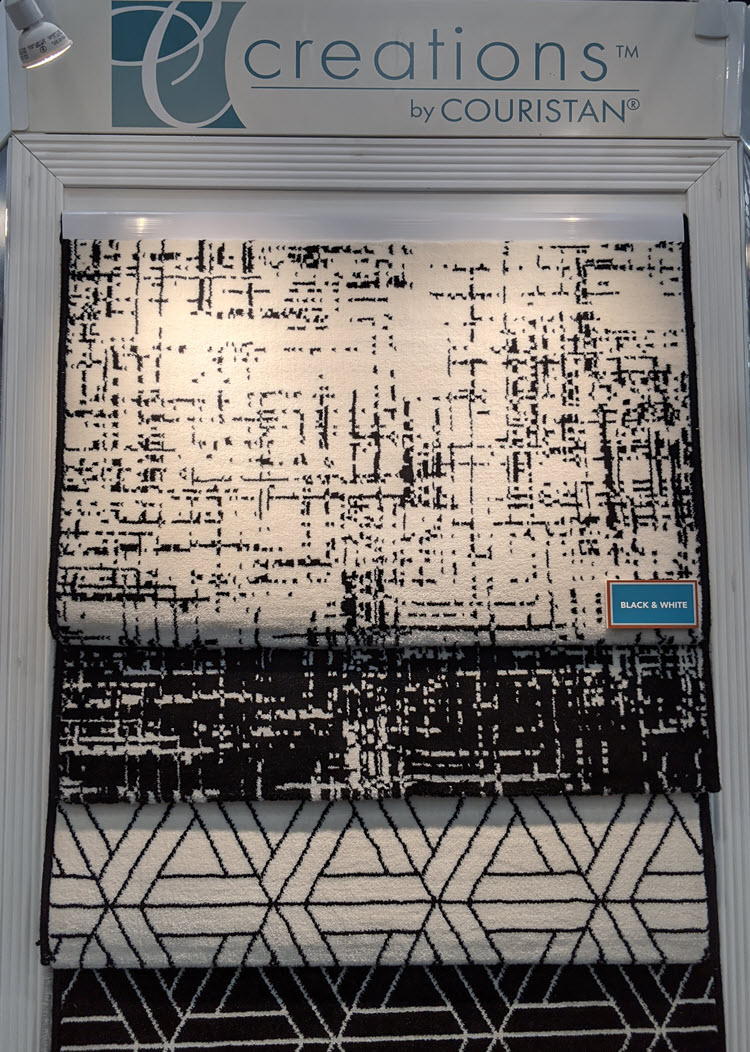 FLooring Trends Inspired By Classic Blue
No flooring industry event escapes color trends and Surfaces was no exception. If you read Add Calm and Stability to Your Floors and Walls with Classic Blue, you're aware that the 2020 Color of the Year is Pantone's Classic Blue.
Guess which color we found showcased in just about every booth? Yes, Blue.
Sometimes, it's Moody Blues.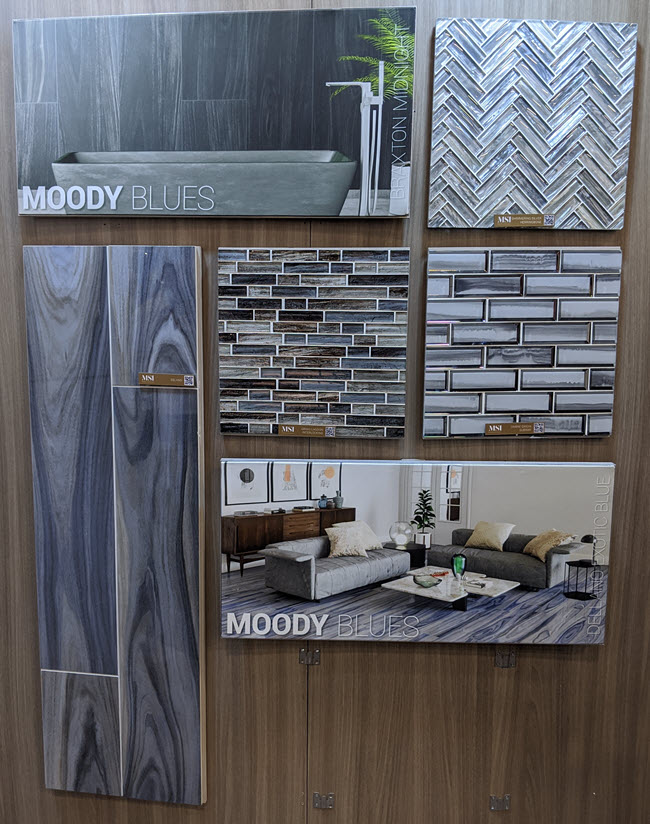 These vignettes included a calming blue-inspired space as you see below on the right.

And check out this snakeskin-textured wall tile with shades of blue.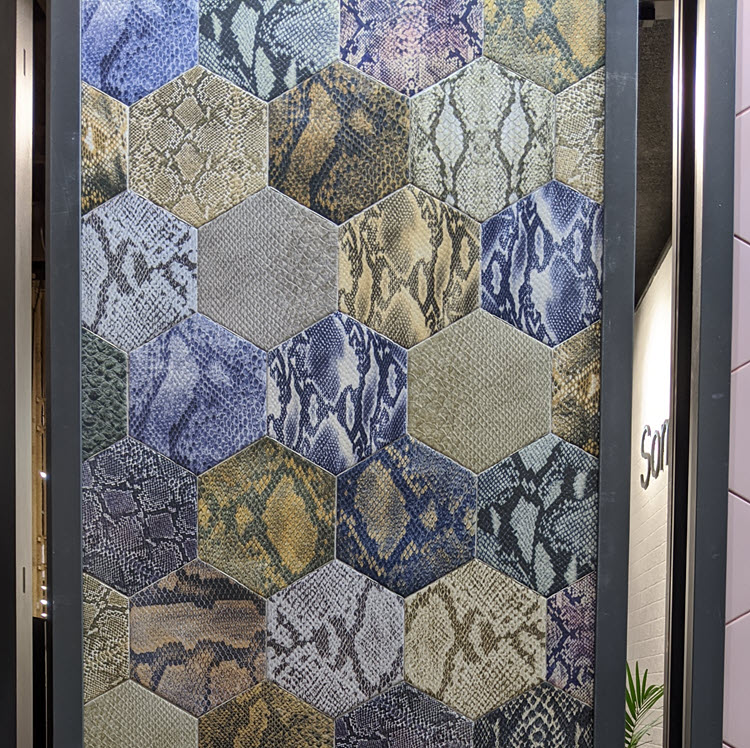 Which Flooring Trends Inspire You?
We're excited to be in the flooring business given so many exciting new product trends to share with you.
When you're ready to purchase new flooring for your home, we invite you to visit one of our two showroom locations in Middletown or Orange, Connecticut. We'll be happy to learn more about your needs and help you select the best option for your home.
Let us know of any questions in the comments or contact us.
We look forward to helping you.
Thanks for reading,
Michael