The Christina Collection: DiamondWalk Waterproof Flooring

Come check out the gorgeous new SPC luxury vinyl flooring collection from HGTV star Christina Haack! The Christina Collection with DiamondWalk finish is not only waterproof but also extremely durable, stain-resistant, and scratch-resistant. Equally important, this flooring combines performance with impeccable style.
From 'Flip or Flop' to the Christina Floor Collection
Since 2009, Christina Haack has been involved in renovating and flipping houses. The HGTV show "Flip or Flop" launched in 2012, and in 2019 "Christina on the Coast" made its debut. Between the two, the shows have attracted more than 20 million viewers per year. As you might imagine, Christina's social presence is significant!
And her sense of style and design - after all those home renovations and flips - are right on target in terms of what appeals and performs at a variety of price levels.
No surprise, then, that Christina was inspired to create her own stylish, affordable, and durable SPC luxury vinyl flooring line.
The Christina Collection: Durability That Performs
Here's how important durability and performance are to the Christina Collection. In an interview with industry publication Floor Covering News, Christina explained that,
"The collection is designed to perform and withstand the test of time. And dogs. And kids."
DiamondWalk Finish
That means that the flooring has to be pet-nail-scratch-proof, stain-proof, and can easily deal with heavy traffic. The collection features a Diamondwalk finish that protects from all of that and more!

SPC Waterproof Flooring
SPC is a multi-layer flooring product that offers considerable performance benefits, including that it's waterproof.
>> See THE LOWDOWN ON MULTILAYER FLOORING: LVT, WPC, SPC, AND MORE
As Christina described about SPC in that same Floor Covering News article,
"It's similar to the quartz counters that used to be the marble... Once upon a time, people wanted marble because it's beautiful. Well, it's also porous. You leave a cup on it, you're screwed. You spill red wine on it, you're screwed. So, I will only use quartz in houses that have families, because that relieves the stress. No mom wants to worry about someone spilling or dropping something and getting mad at somebody. These SPC floors are to hardwood what quartz counters are to marble."
Warranties That Count
Don't forget warranties. The Christina Collection offers a lifetime residential wear and residential waterproof warranty.
For scratch resistance and stain resistance, this collection comes with a 10-year warranty, not to mention a 10-year light commercial warranty.

Christina Flooring Reduces a Mom's Stress
Christina adds,
"Every time I do a house, here's what I say: I have young kids and I have dogs. I do not want a floor that scratches, and I do not want a floor that will be ruined if I spill something on it. That's what everyone wants. So, that's why this floor is so important.
It's all about reducing a mom's stress."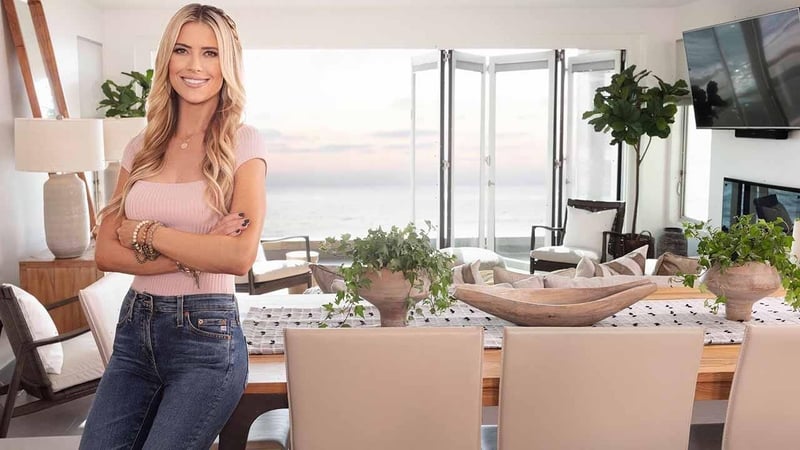 Waterproof Planks in 21 Colors!
The Christina Collection consists of beautiful 9" wide x 60" long planks that will make any room stylish at an affordable price!
The line features 21 different colors and styles, that Christina hand-selected. These planks can be used anywhere in the house including areas where hardwood usually does not hold up, such as basements, bathrooms, and kitchens. The flooring is both scratch-resistant and waterproof, so it is perfect for homes with children and pets.
The colors include:
Austin Creek

Beacon Hill

Blanca

Camelback

Castle Rock

Channel Island

Chaparral

Del Norte

Denali

Diamond Peak

Enchanted Peak

Escalade

Fells Pointe

Geyser

Kings Peak

Palo Duro

Pikes Peak

Pointe Isabel

Rainier

Silver Strand

Whitney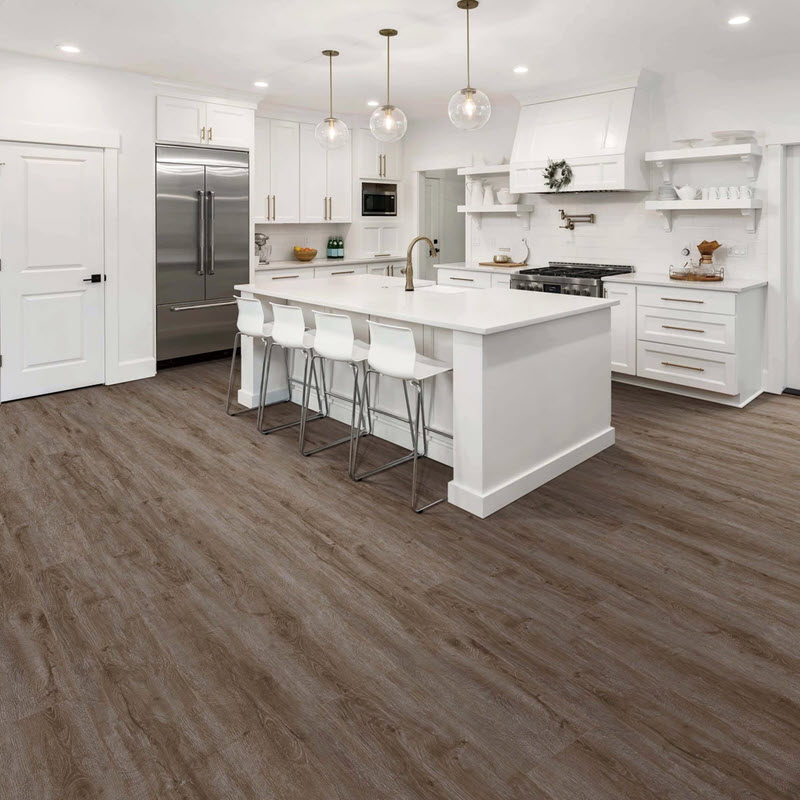 Denali SPC from the Christina Flooring Collection
Christina's Design Style Inspiration
California and the West Coast inspire Christina's design style. She combines that with a contemporary feel. However, she's also opened herself to Spanish style with the latest house she has bought.
The collection reflects that inspiration. As she selected colors and styles, she identified 15 that fully expressed that West Coast feel, and then the remaining captured a Midwest vibe.
With the Christina Collection, you will find the perfect flooring option that suits your design preferences. No matter what style of home you own, you will find the right color and texture that brings your room together and satisfies your design aesthetic. The flooring will also improve your home's value, making it a worthwhile, long-term investment.

>> See CAN YOU IMPROVE THE VALUE OF YOUR HOME WITH NEW FLOORS?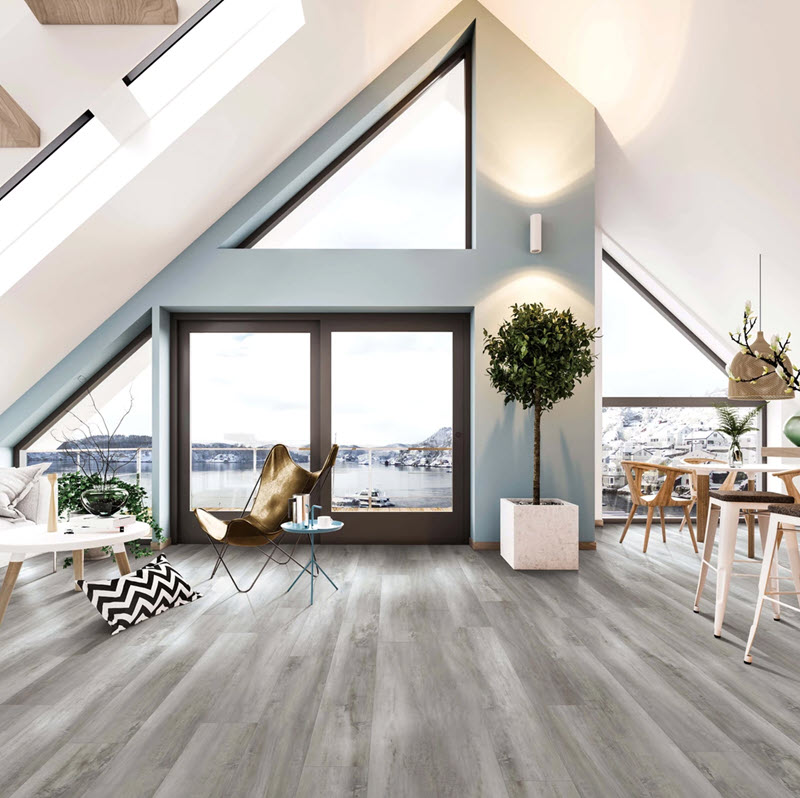 Geyser SPC Flooring from the Christina Collection
the Christina Flooring Collection: Perfect for Your Home
Does the Christina Collection sound like the perfect floor for your home? Explore the Collection online at Floor Decor Design Center product catalog.
Then come visit the Floor Decor Design Showrooms in Middletown or Orange, Connecticut. Or, contact us with your questions.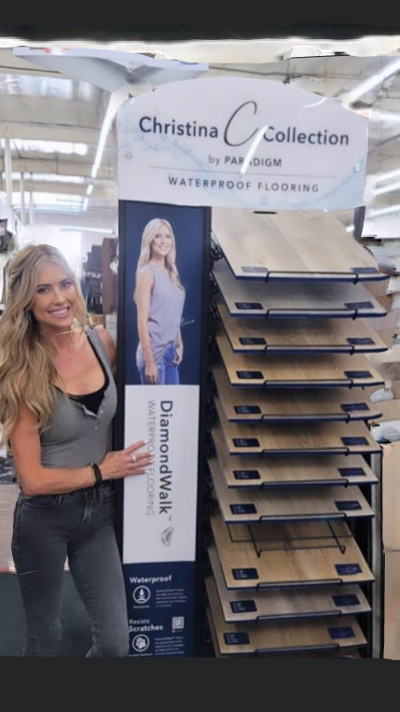 As mentioned above, it comes with a lifetime wear and waterproof warranty as well as a 10-year scratch & stain resistant warranty. This collection has everything you could want! Make sure you come & see it in person!
We look forward to helping you.
Thanks for reading,
Janine & Michael