One of the best uses for tile - especially those beautiful decorative styles - is transforming an eye-catching element in your home - such as a backsplash - into a stunning design feature that expresses your very own sense of style.
In this article, we'll focus on two examples: a fireplace and a kitchen backsplash. You can easily do something similar with the walls in your shower (where you can have big fun with coordinating niches) and bathroom, as well as a feature wall in a foyer or another area.
Taking Tile to Transform a Fireplace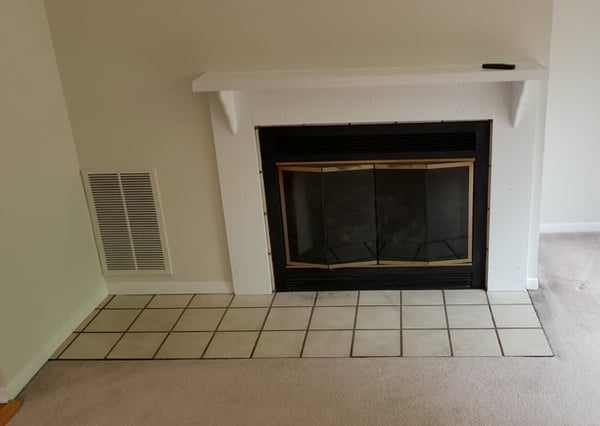 In many homes, you'll find that a fireplace occupies a central and visual area. It tends to communicate a sense of hearth, home, and welcome where you, your family, and visitors can gather around for warmth and conversation.
Yes, it's functional, however, it can also be beautiful. The relatively small wall area means that you can be creative in your choice of tile.
The drab example above comes from the remodel described in See How New Flooring Transforms 1980s Connecticut Condo. Imagine replacing the mantelpiece so you can add a decorative tile feature around the fireplace... What might you choose?
(BTW - we're not focusing on the blah beige square tiles in this article. Don't worry; they are definitely going away.)
Something Cosmopolitan?
You could go for one of the Cosmopolitan Tile Designs from Shaw Tile and Stone. Possibly a subway tile design?
Or even a bold decorative graphic pattern?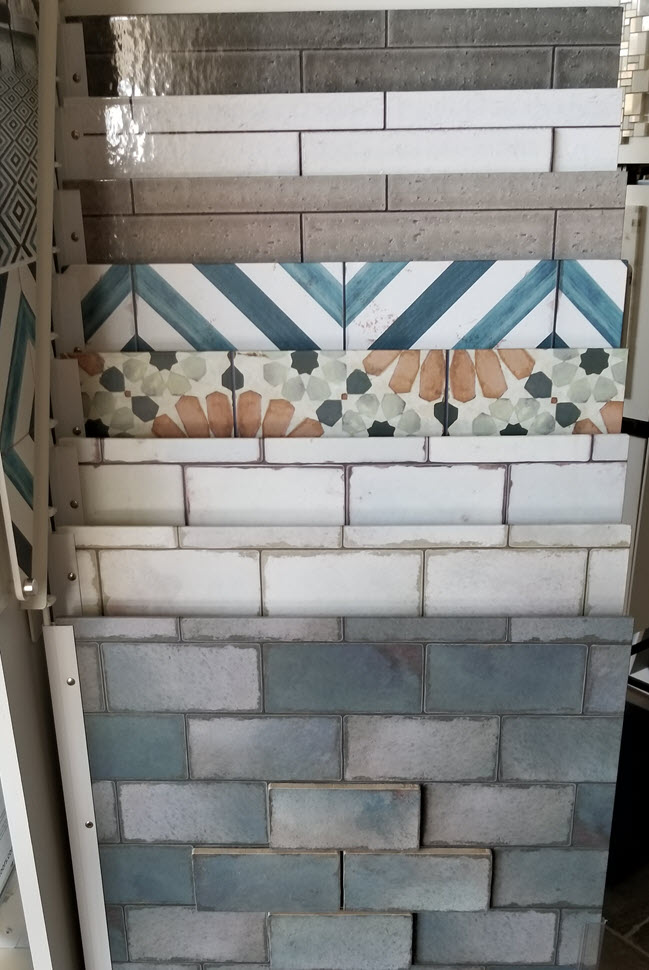 Something Glam and Sophisticated?
What about a tile that's more sophisticated and elegant? If your fireplace is in a more formal space, something like the Una Kora Series Panna you see below would be perfect with its glamorous shimmer and shine.

Something Bold and Contemporary?
Perhaps you're looking for more of a bold and contemporary tile look. In that case, you'll like these waterjet cut stone hexagons.
Appalachian by Paradiso Stone captures this look.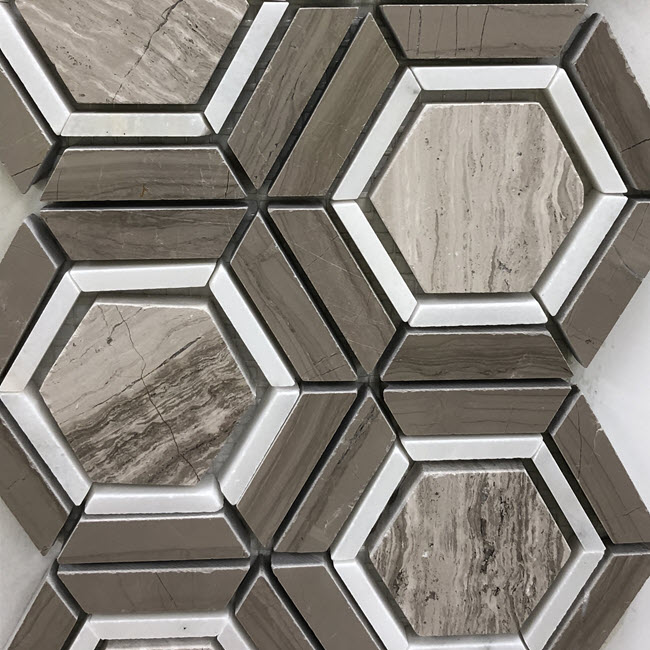 Something With Glass Mosaics and Subtle Pattern?
Glass mosaics are the jewels of the tile world. They come in all kinds of tiny shapes - squares, rectangles, circles, hexagons...
They can shimmer and reflect light. They can even have interesting textured or mirrored backgrounds and in interesting shapes.
You'll even find them combined with other materials such as metals and stone.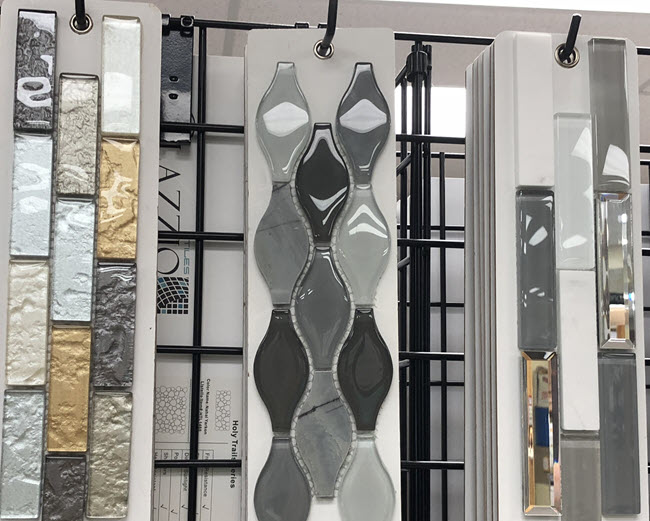 Glass tile also comes in a subway tile format. Here you see a textured finish that shimmers in the light.
Here's the Final Result of this Fireplace Transformed with Tile!
Remember the blah, beige floor tile? It's been replaced with a granite hearth.
The fireplace surround has been truly transformed with glass subway tile in different color tones and background textures.
Notice the difference that the larger mantelpiece makes and how much more dramatic the final result looks.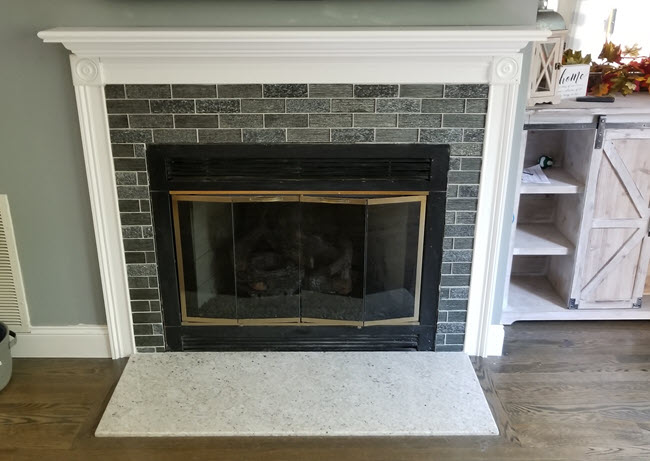 ReVivify Your Kitchen With a Stunning Tile Backsplash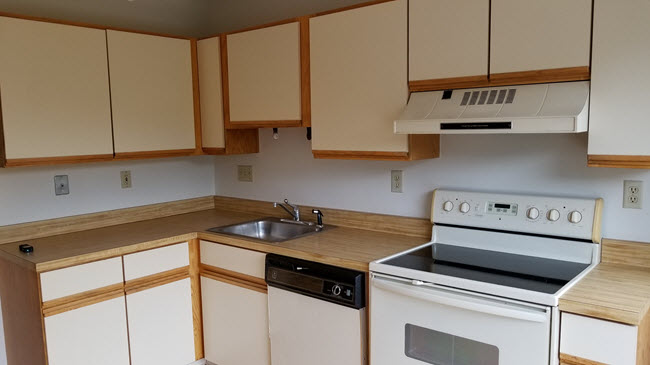 From the same condo that the fireplace was in, comes this kitchen. It needs something, don't you think?
The replacement cabinets are white with shaker-style doors. Already an improvement.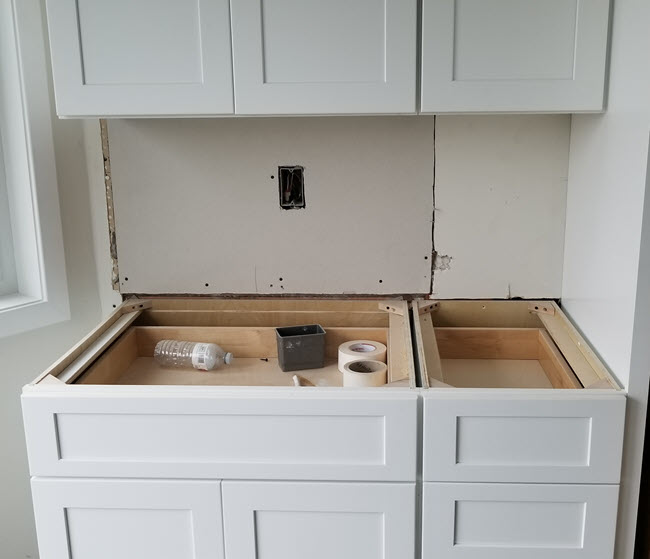 In addition to new cabinets, this kitchen saw an updated floorplan that opened it up to the dining area. That, however, meant that the space became more visible. It needed to look more elegant and welcoming. What would you select?
Coordinating the Backsplash with the Countertop
When it comes to a kitchen backsplash, you have many options for playing around with tile design ideas. You might select a solid-colored field tile and jazz it up with a band of decorative glass mosaics. And then you want to tie your tile selection with your countertop choice and cabinets, too.
In the example below, notice how the aqua mosaics pull that same tone from the countertop stone. And the beige-colored mosaics work harmoniously with the field tile and the countertop.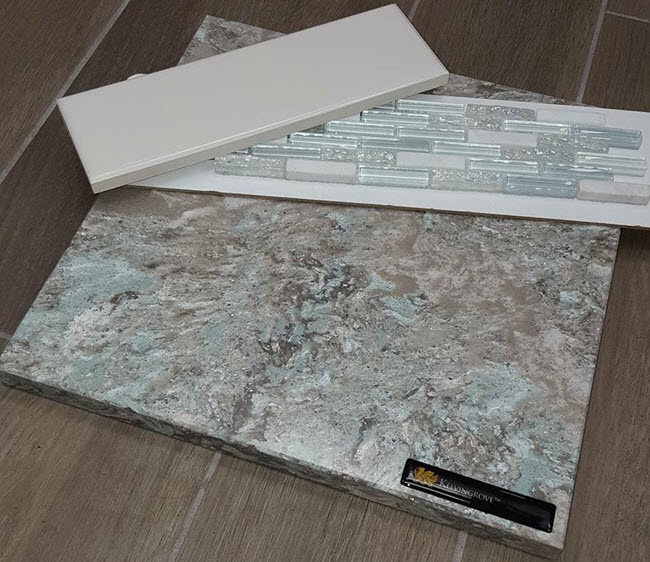 In the case of the kitchen above, the white cabinets have been matched with a warm grey quartz with flecks of black, white, and brown.
What About Green Hexagons?
You could opt for contrast. For example, this hexagon mosaic with deep shades of green and warm earth tones could work well.

What About Contemporary Hexagons?
For a more contemporary effect, you might opt for a modified hexagon in a solid color to coordinate with the countertop.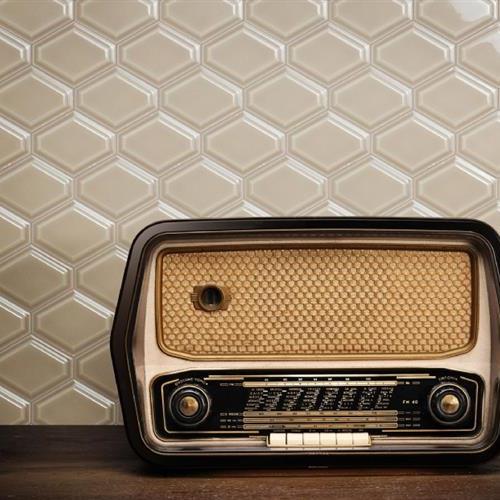 For other hexagons, check out:
>> Villa Carrara Hex from Proximity Mills
>> Tuscany Hex in three options from Proximity Mills
>> Mirage Tex in three options also from Proximity Mills
What about Arabesque Tile Shapes?
If you like the idea of an all-over pattern and want fewer angles, you might consider arabesque shapes.
Below you see Lincoln Arabesque in Carrara from the Paradiso Accents tile collection.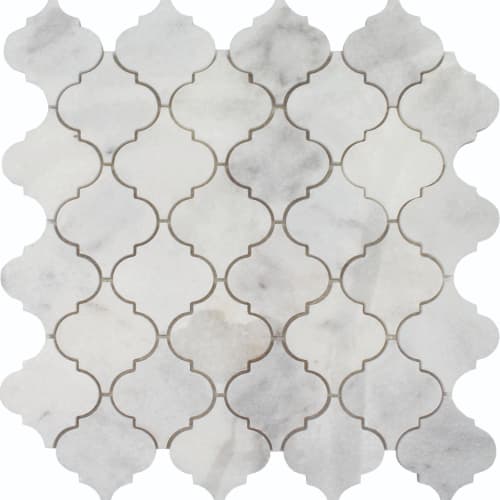 Here's the Final Result of this Kitchen with Tile Backsplash!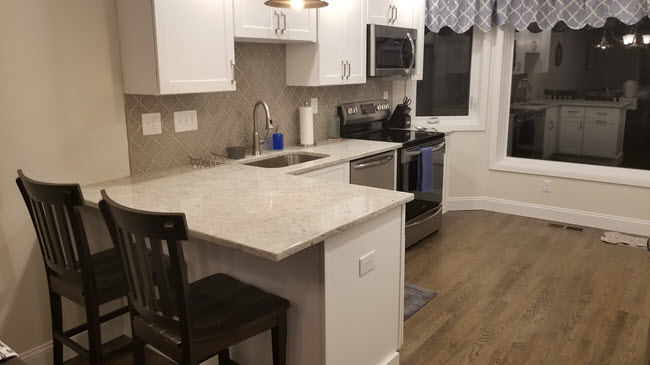 As you can see from these photos, the wall cutting the kitchen off from the dining area is gone. Instead, you have a counter with an overhang.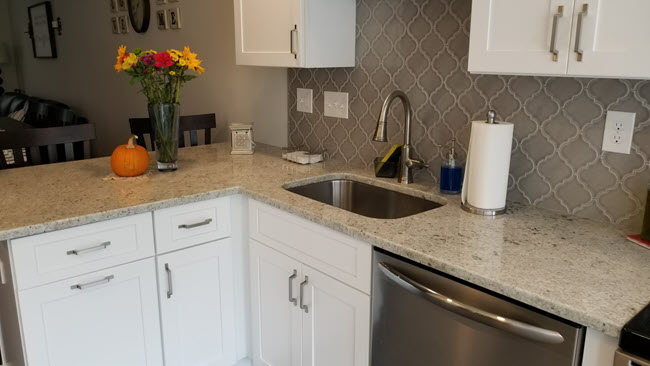 Notice the arabesque backsplash and how well it ties into the countertop selection. The white cabinets look fresh and add to the sense of spaciousness.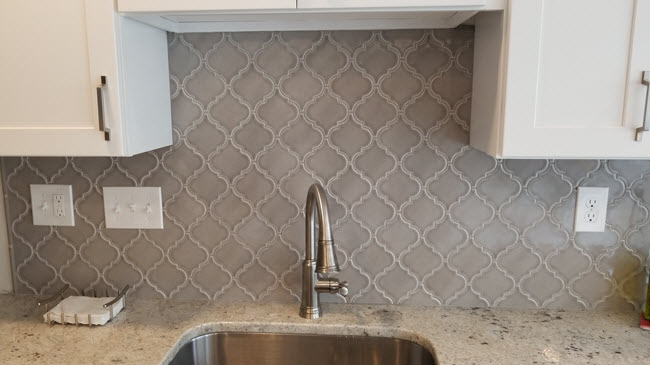 The pattern adds sufficient visual interest to attract the eye, yet it isn't distracting.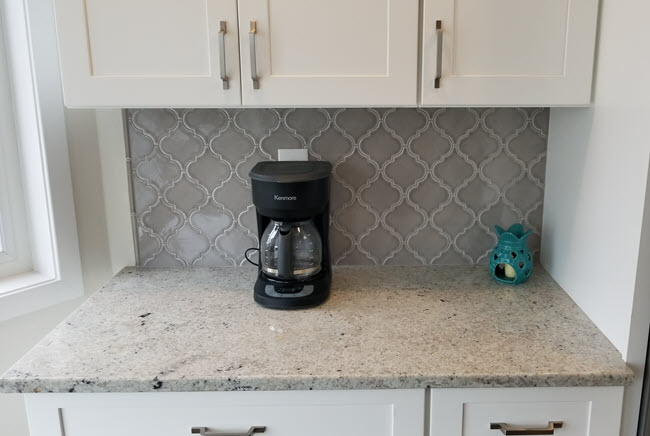 For additional backsplash inspiration, be sure to check out 9 Kitchen Backsplash Ideas to Inspire Your Next Remodel (Video).
Are You Considering Tile for A Before/After Project?
Let us know how we can help you with your next tile project. You can leave questions in the comments below or contact us.
Be sure to browse our tile catalog online. Realize, though, that you'll find even more when you visit Floor and Decor Design Center! We have two showroom locations in Middletown or Orange, Connecticut, and look forward to helping you.
Thanks for reading,
Janine & Michael
Note: We originally published this article on 06/19/2019, and have updated it.