Best Flooring for Dogs, Cats, and Other Pets

What's the best flooring if you have dogs, cats, and/or other pets? It's a question we are frequently asked.
The answer is that it depends on your pet, the type of flooring you have in mind, how much you expect your pet to interact with that floor, and whether you have alternative solutions for minimizing your pet's flooring demands.
Regardless, you can definitely find flooring that will meet your and your pet's needs, and look beautiful in your home. When you visit Floor Decor Design Center, you'll meet our Dog Greeters, Cody and Snoopy (who's still in training). In other words, we have personal experience with dogs in addition to flooring.
What Do Dogs, Cats, and Other Pets Require in a Floor?
Let's explore some of the requirements that pet owners ask about. Generally, those fall into two categories:
Accidents
Accidents relate to unexpected liquids on your flooring, including water bowl spills, puppy training mishaps, older pet issues..., not to mention mud, and enthusiasm.
The ideal flooring for liquid accidents is waterproof or water-resistant, and/or gives you enough time to wipe up the mess before it sinks into the flooring.
The best is tile.
Next are products such as Luxury Vinyl Tile or Planks, vinyl, and other types of waterproof flooring.
Many hardwood floors come with finishes that protect from accidents, and even carpet now has built-in pet protection giving you the time you need to clean up.
You'll even find products with Microban anti-microbial protection built-in.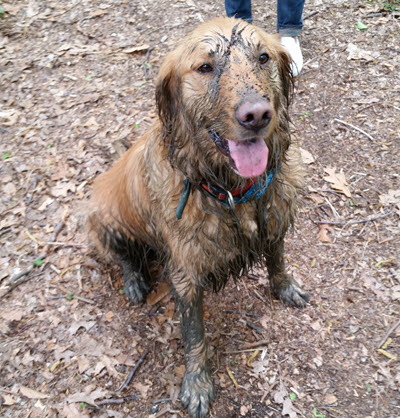 Pet Claws & Nails
The other concern relates to claws and nails. Large dogs, for example, might leave claw marks on hardwood flooring if they actively run around the house.
Cats might overly enjoy scratching looped carpets.
That said, plenty of flooring products address those issues.
You'll find hardwood flooring with extra-strong surface finishes, LVT that is scratch-resistant, and products such as tile that your pet can't easily scratch.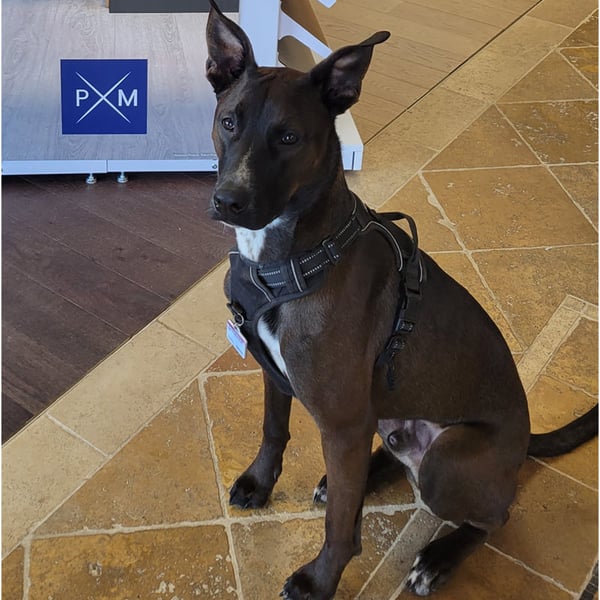 How Do Different Flooring Options Address Pet Requirements?
Flooring that's ideal for dogs, cats, and other pets will include a combination of factors:
pet-friendly construction and/or enhancements

pet-friendly warranties
Tile
As mentioned above, tile is ideal for pets. If you're planning a dog-washing area in your home, definitely do it with tile so you have a continuous area from the cleaning area to the floor where you have no fear whether your best friend is muddy, drenched, or ready for intense towel action.
You'll find tile selections included in several flooring collections so you can coordinate between your surfaces, or as stand-alone options.
>> See PROXIMITY MILLS AT FLOOR DÉCOR DESIGN CENTER IN ORANGE, CT
Wood Flooring
When it comes to wood flooring - whether engineered or solid - you'll find choices that perform based on surface finishes and construction. For example, Armstrong (Hartco) offers a scratch-resistant diamond-coat finish that is worth considering if you have big dogs as pets.
>> Hardwood Flooring That's Scratch-Resistant From Hartco
Vinyl Flooring, Luxury Vinyl Tile, And
Other Flooring Types That Suit Dogs, Cats, and Other Pets
On the Vinyl and Luxury Vinyl Tile/Plank front, you'll find many water-resistant options that also include new scratch-resistant features, and natural durability plus easy maintenance.
These articles offer more detail on the vinyl and LVT product categories and brands you'll find at Floor Decor Design Center:
>> What's the Difference? Vinyl Flooring vs. Luxury Vinyl Tile or Plank
>> Introducing V-EVO Luxury Vinyl Flooring By Durato
>> The Farmhouse Manor Rigid Core Luxury Vinyl Flooring Collection
>> Three Luxury Vinyl Designer Collections From Karndean.
>> Have You Considered COREtec Waterproof Flooring For Your Connecticut Home?
>> THE CHRISTINA COLLECTION: DIAMONDWALK WATERPROOF FLOORING includes a scratch warranty.

Pet-Friendly Carpet Styles
Yes, you'll find plenty of pet-friendly carpet styles.
Some include waterproof backing so liquid stays on the surface of the carpet rather than penetrating into the padding. Others have added enhancements in the construction of the loops/cut loops, and anti-microbial properties.
Some of the carpet brands to look for include:
Pet Perfect from Anderson/Tuftex
Pet Defense from Phenix with Microban - available in the Middletown, CT showroom.
Bellera Carpet from Shaw
Stanton Stainsafe Carpet
Engineered Floors which offers a lifetime pet stain warranty.

You can learn more about Pet Perfect carpet by reading TRY TUFTEX CARPET FOR STYLE AND PET PROTECTION.

How To Ensure Your Flooring and Your Pets Play Well Together?
In addition to picking the best flooring for your dog or cat, you'll want to consider a few extra steps.
Regularly Trim Your Pet's Claws
Trimming your dog's or cat's claws on a regular basis is an important and relatively easy way to minimize claw damage.
Consider Scratch Pads for Cats
Scratchpads (doctored with some catnip) can be really effective for encouraging your cat to not scratch the carpet.
Keep Pee Pads on Hand
Pee pads can be your best friend not just for puppies but also for felines and older pets.

Have You Considered Pheromone Diffusers?
Pheromone diffusers can be effective for modifying challenging behaviors in both cats and dogs, helping them feel happier, less aggressive, and less anxious.
Ready to Find the Best FLOORING For Your Dog, Cat, and Other Pets?
If you are, we invite you to visit Floor Decor Design Center in Orange or Middletown, Connecticut. There, you'll find ideal flooring solutions that address your pet concerns, and experts ready to guide you on selecting the best one.
Let us know of any questions in the comments or contact us.
We look forward to helping you.
Thanks for reading,
Janine & Michael