This holiday season, please drop off toys for the Marine Toys for Tots Program at Floor Décor Design Center in Orange, Connecticut, to bring the joy of Christmas to children in need. Starting now and until December 15, simply bring new unwrapped toys to 555 Boston Post Road, across from Trader Joe's.
For every toy dropped off, you will receive a $50 discount!
The Marine Toys for Tots Program
If you aren't familiar with the Marine Toys for Tots program, here's some background information.
Toys for Tots History
Did you know that the organization started in 1947 when Marine Corps Reserve Major Bill Hendricks couldn't find an organization to distribute the handcrafted dolls his wife had made for children in need? That first year, Major Hendricks and his reserve unit collected and distributed 5,000 toys!
Given that success, Toys for Tots became a national community action program the following year. In 1991, the Marine Corps established the Marine Toys for Tots Foundation, an IRS-recognized 501 (c) (3) not-for-profit charity, to help run and support the Marine Toys for Tots Program.
As you might imagine, the Foundation manages fundraising, toy purchases, promotional and support materials, and day-to-day operations as well as educates the public. Since 2001, the Foundation has been ranked as one of the top-rated charities by "Philanthropy 400."
From those original 5,000 toys, the Marine Toys for Tots Program now distributes an average of 18 million toys to 7 million less fortunate children annually. Wow!
>> Explore the history of Toys for Tots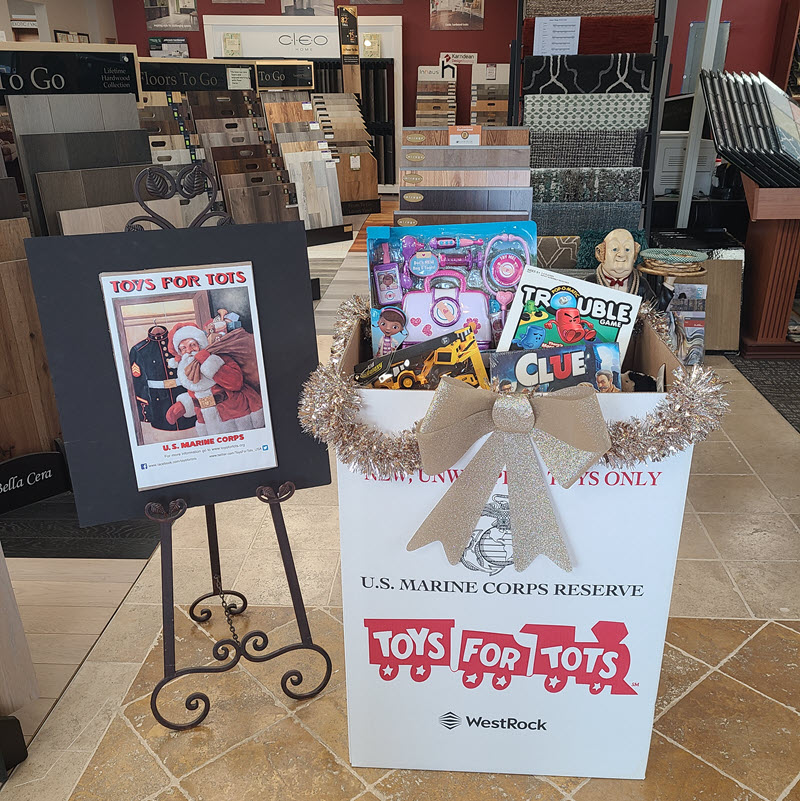 The Toys for Tots Mission and Goal
The mission of the Toys for Tots program is as follows:
"The basic mission of the Marine Toys for Tots Program is to collect new unwrapped toys and distribute those toys to less fortunate children at Christmas."
And the program's goal consists of the following:
"The primary goal of Marine Toys for Tots is, through the gift of a new toy, to help bring the joy of Christmas and send a message of hope to America's less fortunate children."
The Logistics Behind the Toys for Tots Program
To put into perspective the magic behind bringing the Joy of Christmas to children in need in America, here's what goes into Toys for Tots.
You'll find local campaigns taking place every year in over 800 communities that cover all 50 states, the District of Columbia, Puerto Rico, and the Virgin Islands.
Nearly 40,000 Marines, Marine Corps League members, veteran Marines, and volunteers are involved in these annual campaigns.
Local businesses such as Floor Décor Design Center host collection boxes so members of the community like you can drop new, unwrapped toys.
Coordinators will pick up the toys to store them in central warehouses so they can be sorted by gender and age.
Then, at Christmas, coordinators collaborate with local social welfare agencies, church groups, and other local community agencies, to distribute the toys to the community's less fortunate children.
Central to the success of Toys for Tots is the involvement and generosity of the local community.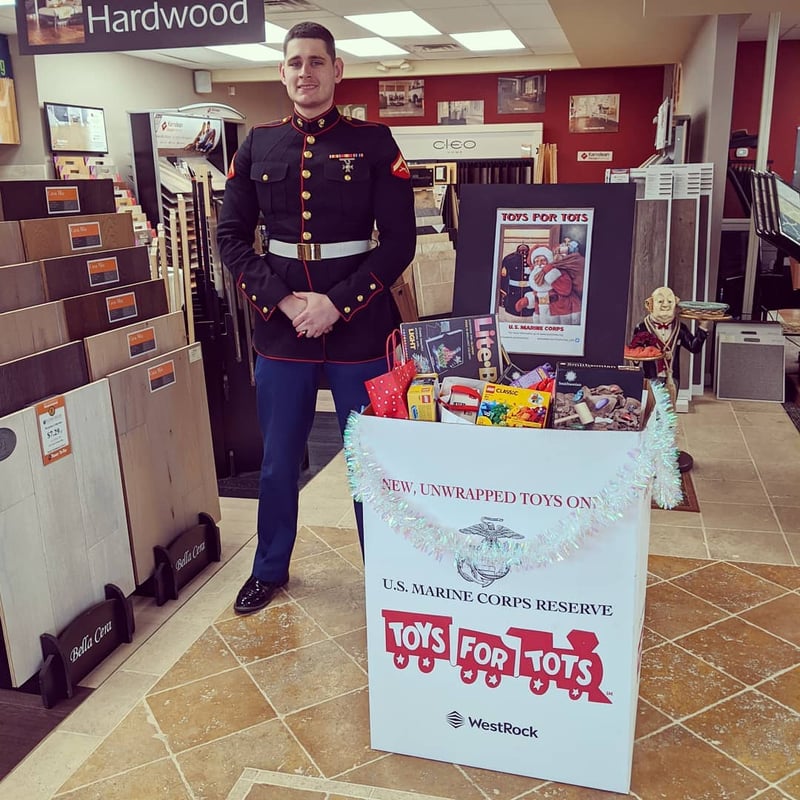 Please Help Us Bring the Joy of Christmas to Children in Need
We hope you'll join us in this year's Toys for Tots program to share the love and joy of the season with our community's children.
Simply bring an unwrapped new toy and drop it in the collection box you'll find in our showroom.
Thank you and Happy Holidays!
Janine & Michael and the entire Floor Décor Design Center Team
Note: We originally published this article on November 24, 2019, updated it on 10/28/2020, and here's the information for 2022!