Floor Décor Design Center in Connecticut has become a woman-owned company!
As a family-owned business, Floor Décor Design Center is focused on helping you achieve a practical, beautiful and timeless home that your family can really LIVE in for years to come. The next step in that commitment is with the company becoming woman-owned, thereby shifting more of the ownership of the father-daughter team to daughter Janine Geneste, the third generation of the Phoenix family to be immersed in flooring.
>> See MEET THE OWNERS OF FLOOR DECOR DESIGN CENTER
We caught up with Janine to learn more.
Janine Geneste Discusses Floor Decor Becoming a Woman-Owned Business
FDDC: Janine, how did you get started in the business?
JG: I have always had a thing for color and design.
In high school, I would help my dad with basic office duties like entering orders, creating price lists, and various accounting duties. I would watch how our sales people interacted with clients and learned a lot from everyone.
From there, I picked up knowledge about different products including their benefits and features and why one type of flooring may benefit one client but not another.
It quickly grew into a love for wanting to help clients create the space they had always envisioned. This business is truly my passion and brings me great joy.

FDDC: How long have you and your dad worked together?
JG: My dad and I have been working together since 2000.
I would watch how he interacted with clients and staff and was truly inspired to want to continue on with the family business one day.
FDDC: How did becoming a woman-owned company come about?
JG: We had done some research on how becoming a certified Woman-Owned Business (WOB) opens up possibilities to new business. Not only does it expand our reach into our community, it also provides access to informational seminars and networking.
FDDC: What's your reaction?
JG: I'm thrilled!
I know we will continue to grow and develop our family business by working together as we have for so many years. I have always strived on achieving individuality in every project I work on and know this will not be any different!
FDDC: Does this change the role your dad plays in the business?
JG: It doesn't! My dad is still my business partner and we make all decisions together as a team.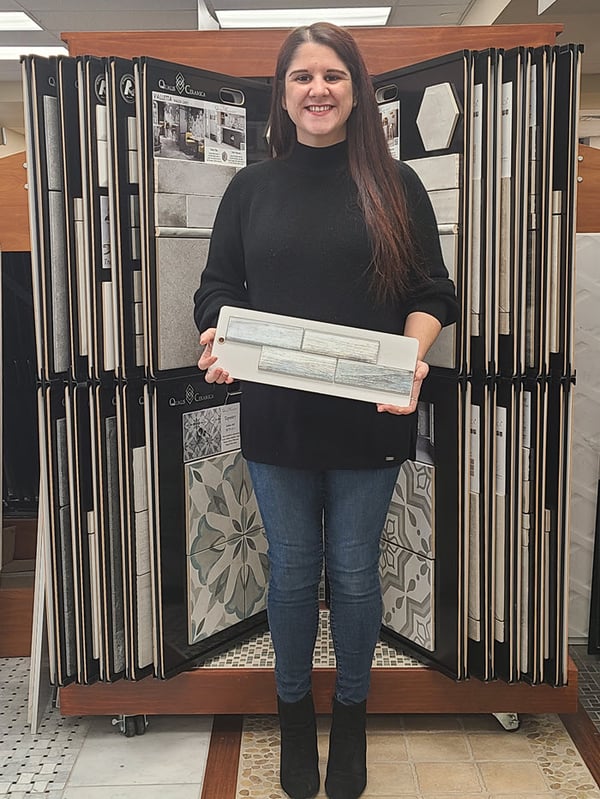 FDDC: What are your priorities for the business?
JG: I have two main priorities:
First, offering products that accommodate a range of budgets. Just because someone doesn't spend a lot, doesn't mean the project won't come out looking beautiful!
Next, upping our social media presence. Even though it may not bring in sales, showing clients our work or newly released products is important and something I want to continue to post.
You will find Floor Décor Design Center active on these social networks:
>> Instagram
>> Facebook
>> Houzz
>> Pinterest
FDDC: What are the biggest challenges that people have when shopping for flooring?
JG: We completely understand that shopping for new flooring can be a challenge for a lot of clients.
While there are many clients who come in and can show us an image of something they found online, it can be overwhelming for others.
If a client tells they don't know where to start, I start off by asking about their space, what colors or visual they had in mind, if they have children or pets and other things to get a better idea of what they envision.
Since many clients are visual, we suggest they go to Houzz.com which is an awesome site! Designers, contractors and even homeowners post completed renovation pictures of bathrooms, kitchens and more which is sometimes what someone needs to get ideas to revamp their space.
Clients can also visit Janine & Michael's Floor Talk Blog where we publish articles about the pros and cons of different products, details on completed projects, and advice on how to get started with shopping for new floors.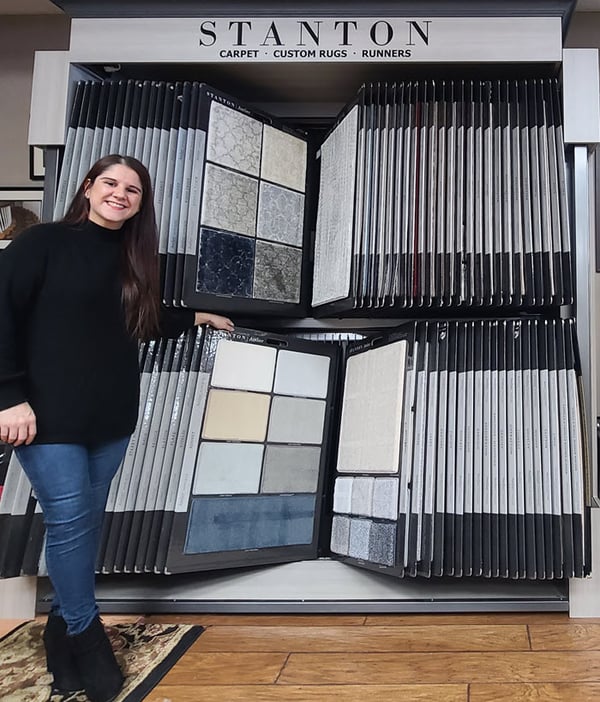 FDDC: What advice do you have to make the process less overwhelming and more fun?
JG: It's important to give people options but no too many. Sometimes, it can be too much to see and remember all the product possibilities available, so starting with 2 or 3 different options can help to guide what they do or don't want.
I always encourage clients to take pictures of the items we put together so they can go back to it for reference after they leave. By doing a concept photo, I think they get excited – they see the possibility of what it can become!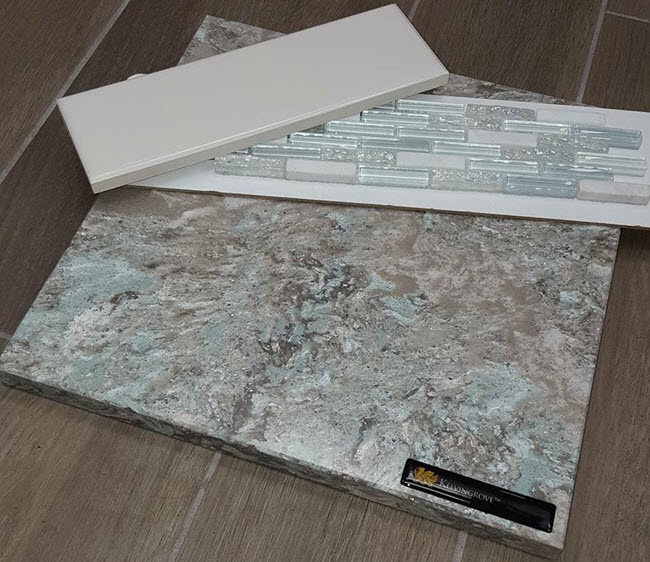 FDDC: What product trends excite you the most?
JG: The product trends that excite me the most are new & innovative products. It's amazing to see how far we've come from when I started back in 2000 and even before then. Schluter and Versatrim are great examples of innovative product manufacturers.
For example, Versatrim, a basic furniture and window molding manufacturer has risen to the top as one of the largest in the flooring industry. Thilo Hessler, the president of Versatrim once said,
"Our mission is to look at customer needs and to design a program that makes their life easy so they don't even have to worry about moldings and can focus on their flooring, which is their main business."
Finding a partner like that who knows how to create what you need for your client and deliver it in a timely manner is a win-win for us. You never realize how important a finishing edge can be until you research and see what is available. They continue to outdo themselves with creative, innovative and modern style transition moldings geared toward the younger generation. I'm excited to see their next innovative products!
FDDC: Janine, what do you like to do outside of the business?
JG: Outside of the business, I love spending time with family and supporting local causes within my community.
I love doing charity walks for March of Dimes in support of my son Maxwell who was born at 30 weeks. There's something about coming together with local parents who have experienced a similar story that is heartwarming and a great thing to be a part of.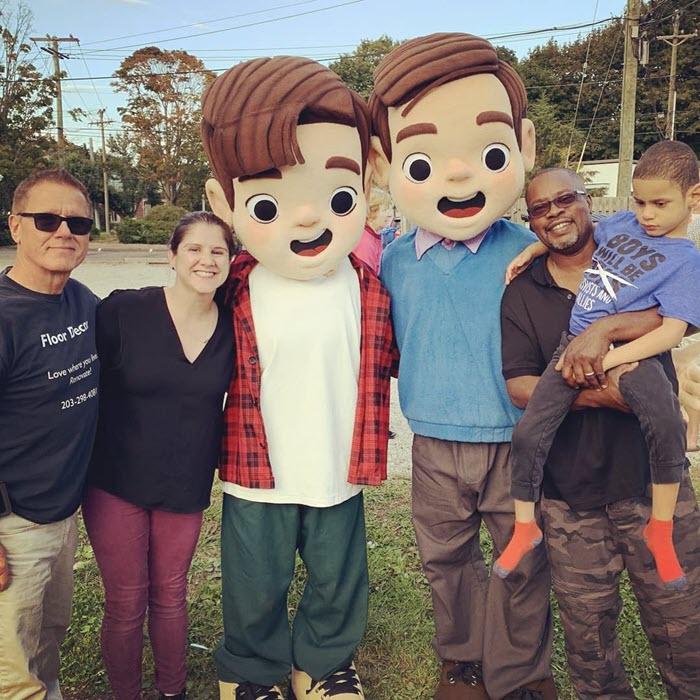 Michael Phoenix and Janine Geneste with her husband and son, Maxwell (and the Property Brothers)
I also enjoy traveling to see new and exciting places as well as working on creative projects at home. Design is always on my mind no matter where I am!
Re-imagine Your Floors with Floor Decor
When you're ready to explore new flooring for your home, we invite you to visit one of our two showroom locations in Middletown or Orange, Connecticut. Janine, Michael and the team welcome the opportunity to answer your questions so you have the best product for your living situation.
Don't hesitate to let us know of any questions in the comments or contact us.
We look forward to helping you.
Thanks for reading,