There's nothing more inspiring than seeing a before and after transformation. In this case, it's a stair runner makeover that the homeowner, Danielle, is thrilled over.
In fact, Danielle recently left the following review about her experience:
Excellent customer service & communication, great quality rug, very fair pricing, and professional installation! I am so happy with my rug & overall experience!
Danielle D., Southbury, CT
We caught up with her to learn more about her project and then asked Janine to add a few details.
First-Hand Perspective on a Stair Runner makeover
FDDC: Danielle, could you describe your project? What was installed before?
DD: The project was to have a carpeted stair runner installed for our stairs leading from the main level to the upstairs bedrooms.
We just had hardwood stairs prior to the installation. We wanted to have a soft, cushiony, homey carpet on the stairs to prevent slips and falls especially for my 3-year-old son and 6-year-old daughter. We had a few falls previously especially when the kids were just wearing their socks so this seemed like the solution to our problems!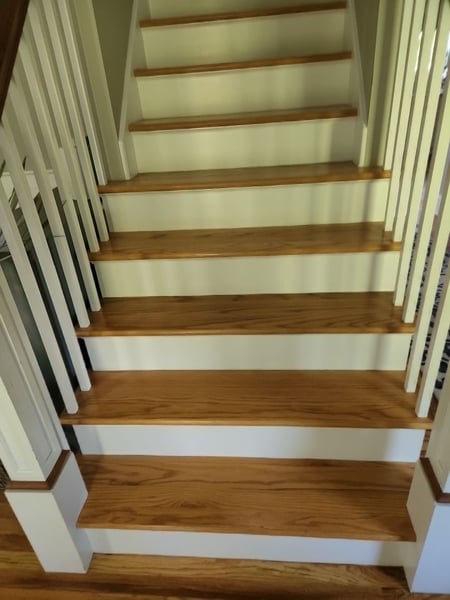 FDDC: Why did you select Floor Décor Design Center?
DD: We chose Floor Décor Design Center because of the wonderful customer service, knowledgeable staff, expansive options, and fair pricing.
It was our first time working with Floor Decor but it definitely will not be our last!
As a designer, I am eager to use them again for future projects based on our pleasant and seamless experience working with them!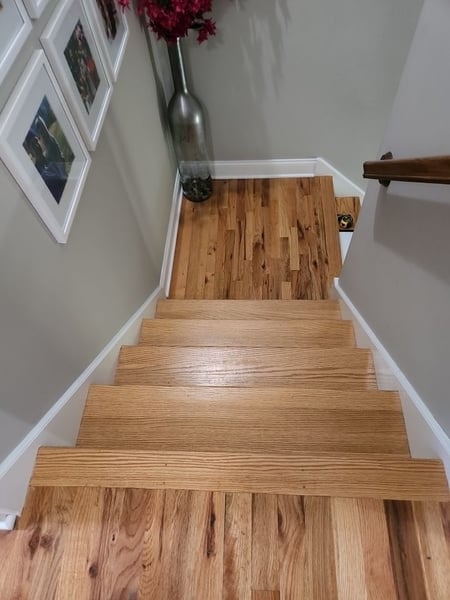 FDDC: Danielle, which products interested you, what did you select, and why?
DD: Initially, we were considering another carpet brand that we saw at another store, but after speaking with Janine and being guided by her past experience with that particular carpet brand, she was able to confidently recommend other brands that were more reputable, had better quality carpets, and offered better ratings.
We had full confidence that she had our best interest at heart and went with her suggestions.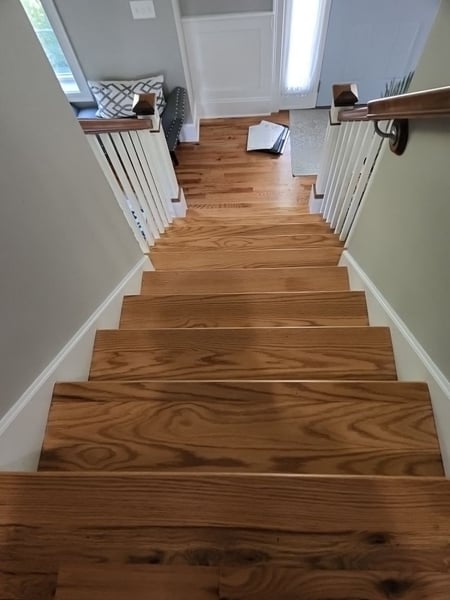 FDDC: Were you torn between multiple choices?
DD: Once we narrowed down the design that we were attracted to the most, we were torn between two color options.
Janine was able to swiftly order us large-size samples of the rugs we were choosing between, and that made our decision-making much easier! We were grateful she was able to get us the samples so quickly and they were big enough that we were really able to see the pattern in the rug on a larger scale rather than looking online at a photo.
We chose the Couristan Daring in Aegean Blue as the winner and we could not be happier!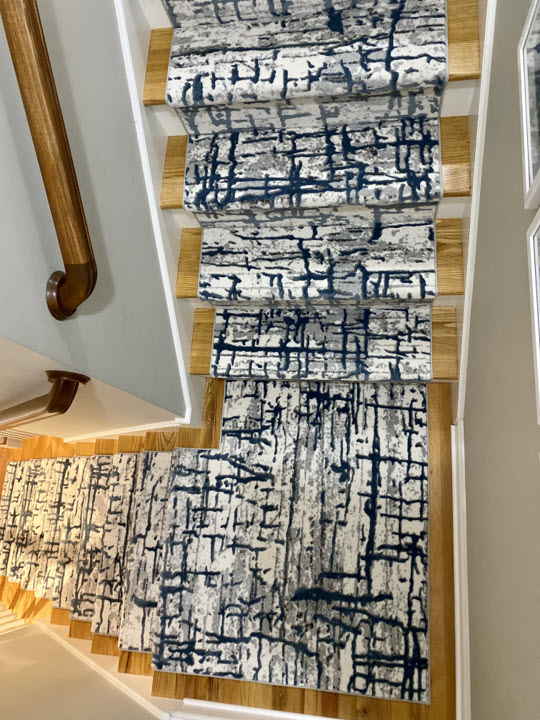 The carpet is plush, the design is gorgeous, and we receive so many compliments on it!
The installation was done professionally and seamlessly and we highly recommend using Janine and her staff for any future carpeting needs!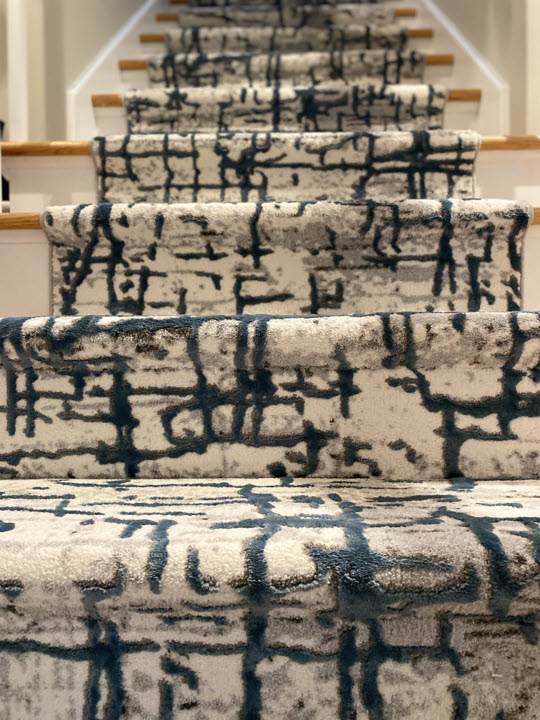 FDDC: Janine, how did you help Danielle through the process of selecting a stair runner?
JG: Danielle had initially sent me an image of a carpet that was beautiful but I was not confident it would be able to withstand the high traffic that most household staircases take on.
I suggested a few options from Couristan, which is a gorgeous collection of high-quality, luxurious carpet. I was able to find some alternative options, sent her samples, and she and her husband were able to select a style and color the entire family loved.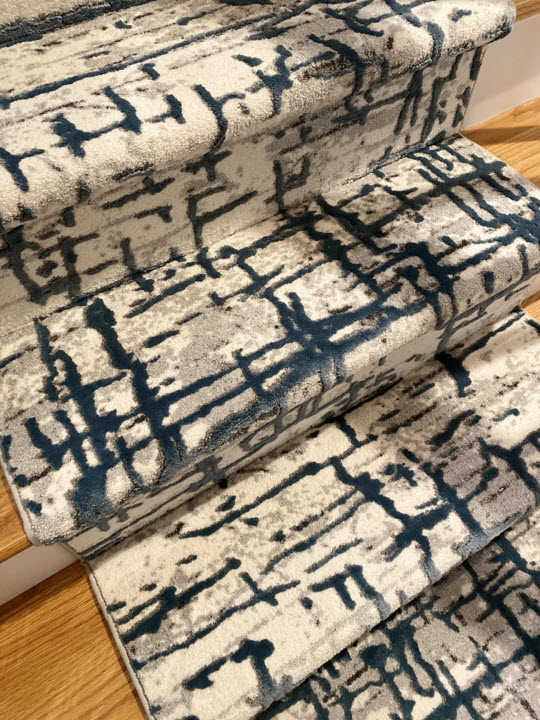 FDDC: Jannine, do you have suggestions for someone wanting to do something similar?
JG: We have a lot of samples from many different manufacturers in our showroom but sometimes it can be difficult for our clients to envision how any pattern or style will look on their stairs.
A great visualization tool we use is Houzz.com. If you search a particular look or style such as 'herringbone stair runner', our clients have the ability to see how it looks on someone else's completed project before committing to it.
Stanton carpet also has a stair runner visualizer tool which is great if you use their stock photos. It's truly an incredible tool for our clients to be able to visualize any of Stanton's carpets as a stair runner since there has never been a visualizer like this before. I'm hoping others will follow Stanton's lead and get on board with their own versions of a stair runner visualizer!
The before and after images in this article also help to illustrate the process.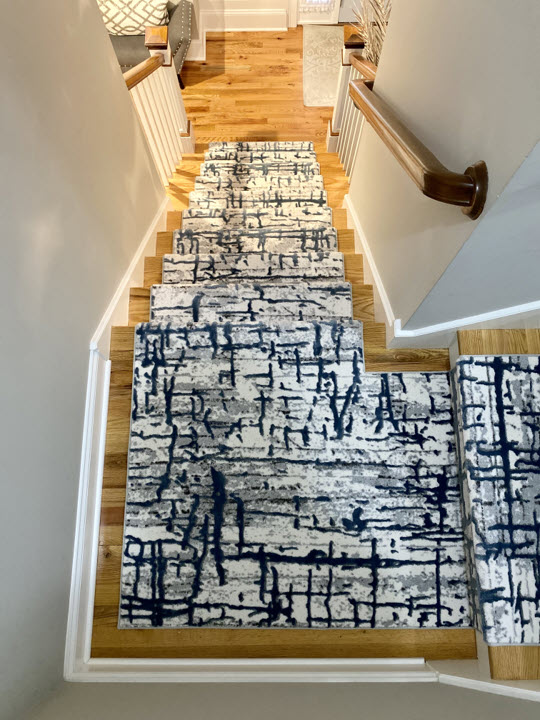 Janine: Were there challenges with the stair runner installation?
JG: The only challenge I can think of is that the material was initially on backorder when Danielle was ready to move ahead last year.
Fast forward to September of this year and she was ready and so was the carpet!
FDDC: Thank you, Danielle!
Ready for a Stair Runner MakEover?
We hope this before and after article inspires you. If you're considering a stair runner makeover, don't hesitate to reach out with questions in the comments or contact us.
You'll find additional ideas and images on the Custom Area Rug page we created.
You can also visit our showroom located in Orange, Connecticut.
We look forward to helping you.
Thanks for reading,
Janine & Michael