If you're familiar with Milford, Connecticut, chances are that you've heard of Woodmont and some of the history associated with the homes there. Imagine having the opportunity to install Persian design-influenced stair runners in one of those gorgeous homes... Wow just wow!
In this article, we'll show you that project so you can see for yourself the difference that beautiful carpet designs make in completing the look and feel of a home.
The Villa Rosa Poli Estate in Woodmont, Connecticut
Woodmont is a compact one-square-mile section of Milford, Connecticut, which is located just 70 miles north of Midtown Manhattan, and fronts the Long Island Sound.
In the image below, you see the beautiful view of the Sound as seen from Woodmont, and more specifically the Villa Rosa Poli Estate.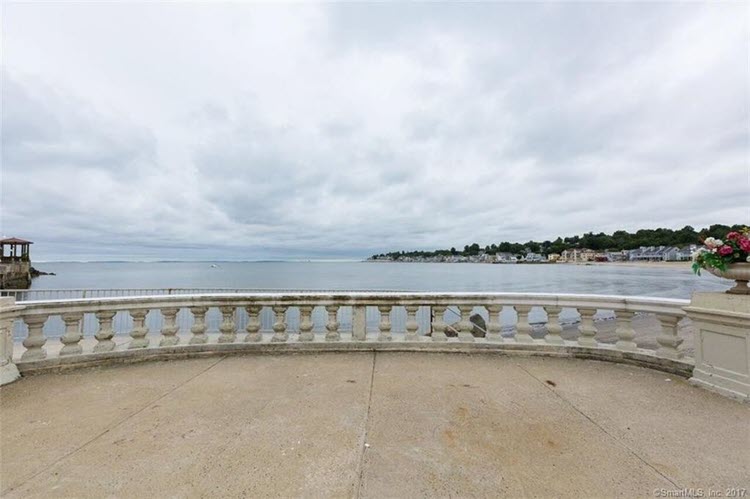 Built in 1914, the Villa Rosa Poli estate consisted of one main house and ten waterfront cottages for the children of Sylvester Zefferino Poli.
Mr. Poli came from Italy as a young man and was a wax sculptor for museums on the east coast. He settled in New Haven in 1892 and became known for his museums and sideshow theaters around New England, which were called Loew's Poli Theatres.
>> See images of the Waterbury, Connecticut Poli palace theater
After these homes were constructed, many movie stars in the 1920s such as Clark Gable occasionally visited. The houses are built of mortar and have red-tiled roofs as you can see below.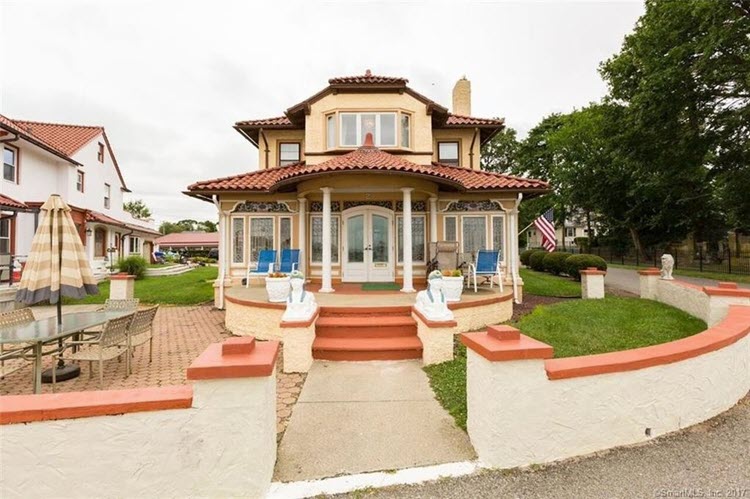 These homes have stunning and dramatic panoramic views of the Long Island Sound, not to mention delicious ocean breezes. Each house is just one of a kind including the one we installed stair runners for. This home is truly something special!
An Eclectic Stair Runner with a Persian Design Flair
From the first meeting to discuss the project and design preferences, our client right away hinted that she wanted something eclectic but still with a Persian flair, to elegantly coordinate with the luxurious look and feel of her home. With sunlight literally coming in from every angle, we knew the carpet had to perform, yet also be something that flowed and worked with the rest of the home.
From the photo below, notice the dining room rug pattern and the black and white granite countertop.
Notice the whimsy in the stained glass windows, not to mention the detail in the staircase railings.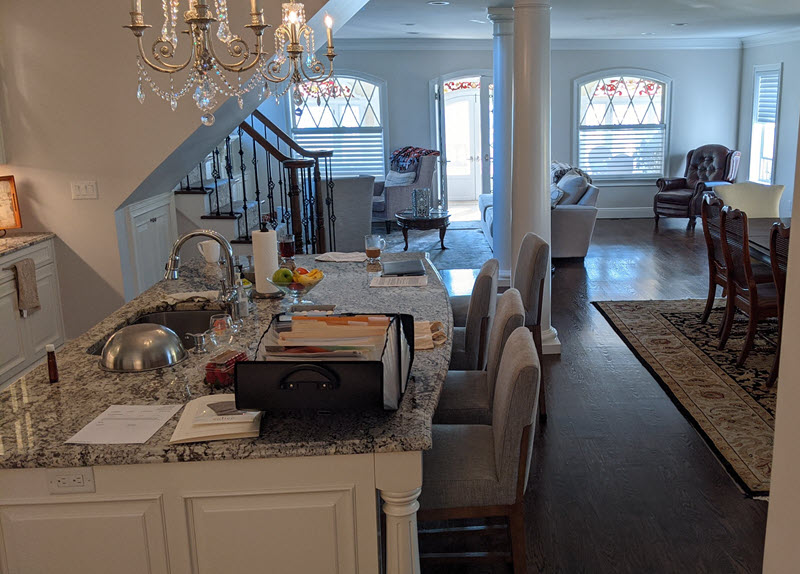 Chosen for the Stairs: Couristan Haka in Color Night Sky
Our client ended up selecting a gorgeous Couristan broadloom carpet that was inspired by authentic, traditional Persian designs.
Couristan Haka offers an eclectic and soothing foundation that is designed for today's most stylish interiors. The intermixing of cool, trendy colors within a striking mod-Persian pattern allows this pattern to become a standout piece above any other carpet of its kind.
Face-to-face woven Wilton of a blend of 60% heat-set Courtron™ polypropylene and 40% shrink polyester, Haka combines fashionable styling and incomparable comfort with a durable construction making it easy to clean and care for. This quality high/low cut-pile, residential carpet pairs up well with an array of decorating styles, as you can see from the image below.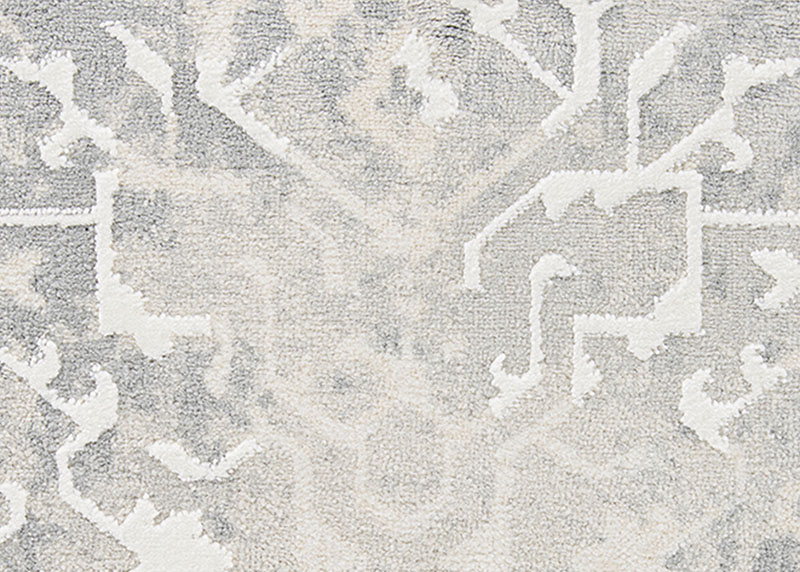 To complete the runner, our client chose a narrow cotton binding in a coordinating grey color.
>> SELECTING THE RIGHT BINDING OPTION FOR YOUR CUSTOM RUG
Here's a close-up of the completed main staircase runner. Not only does the pattern work well with the overall design scheme of the house and the dark hardwood floors, but the colors echo the granite countertop, the walls, and even the water and sky over the Long Island Sound.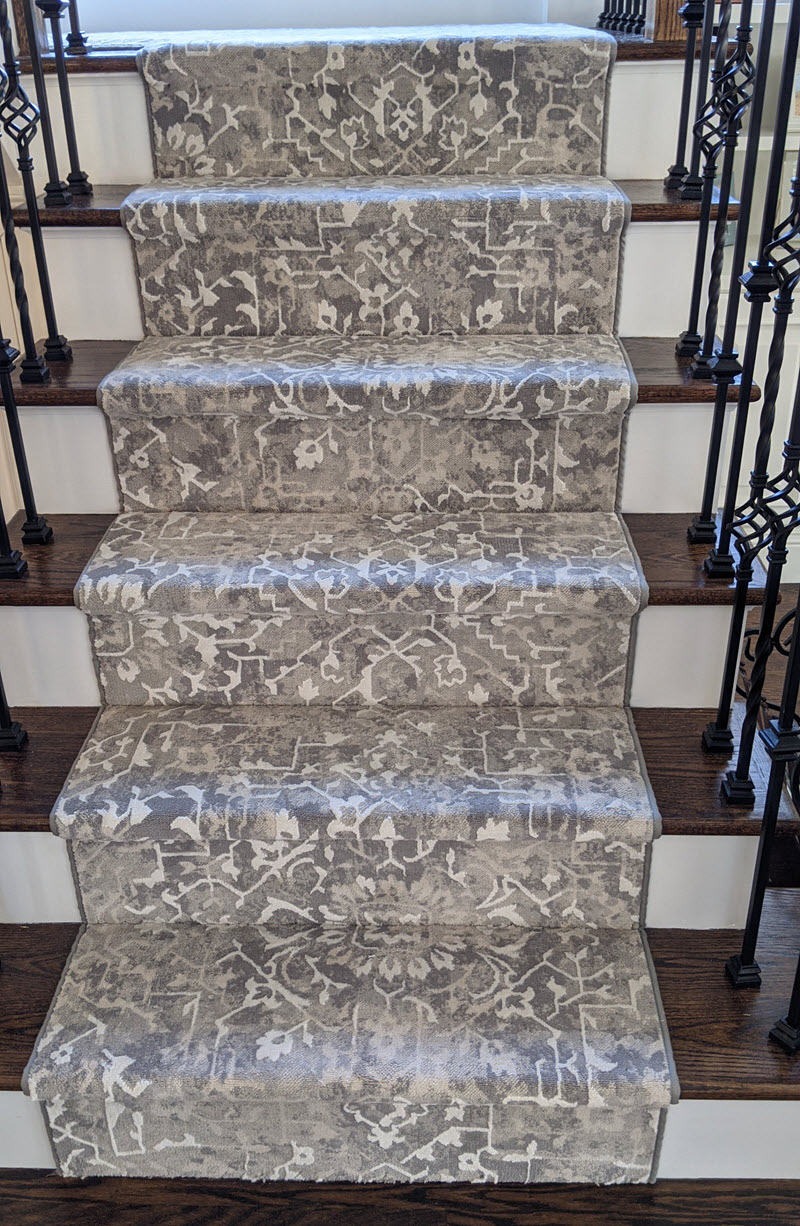 Stair Runner Customized for this Home's Unique Details
Every project has its own one-of-a-kind challenges. In the case of this historic home, the landing included a partial pillar detail.
The solution: to echo that shape in the corner of the stair landing carpet runner as you see below.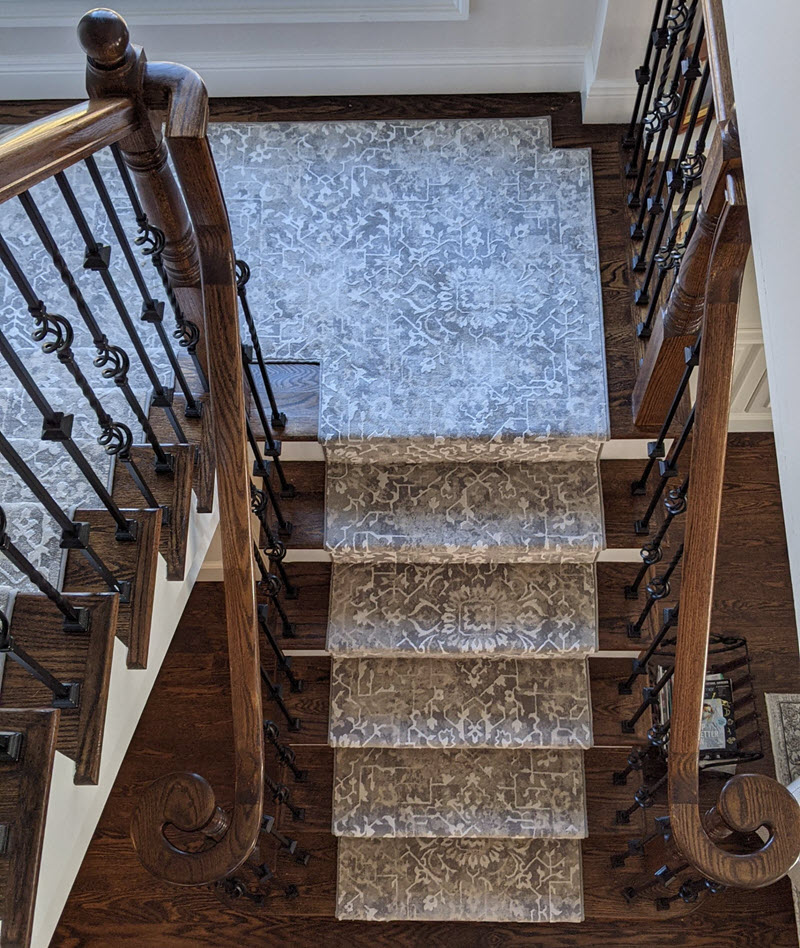 >> For carpet runner inspiration, read WATERFALL VS. HOLLYWOOD STAIR RUNNERS.
Continuing the Persian Design Down to the Basement
This home includes a second set of stairs, down to the basement. Those stairs, too, received a runner with Couristan Haka in Color Night Sky.
Look how well this carpet pattern works with the dark hardwood railing.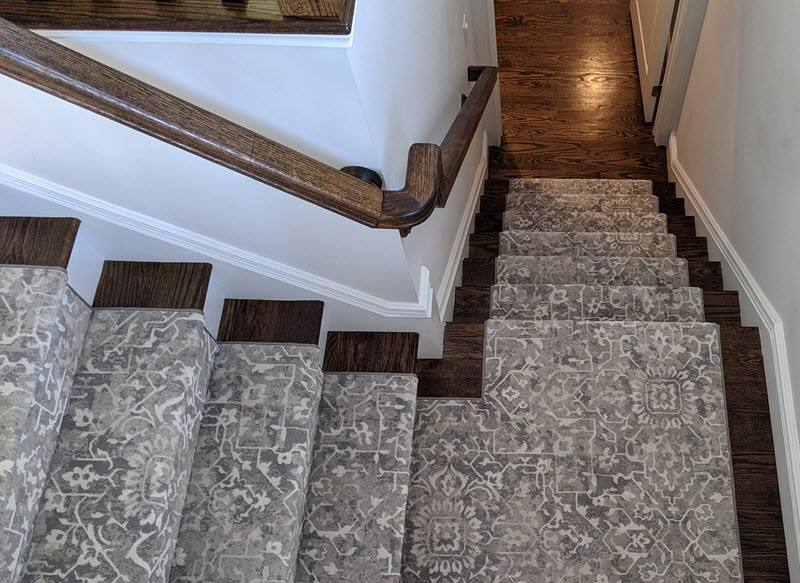 As a final touch, notice the separate area rug at the foot of the stairs.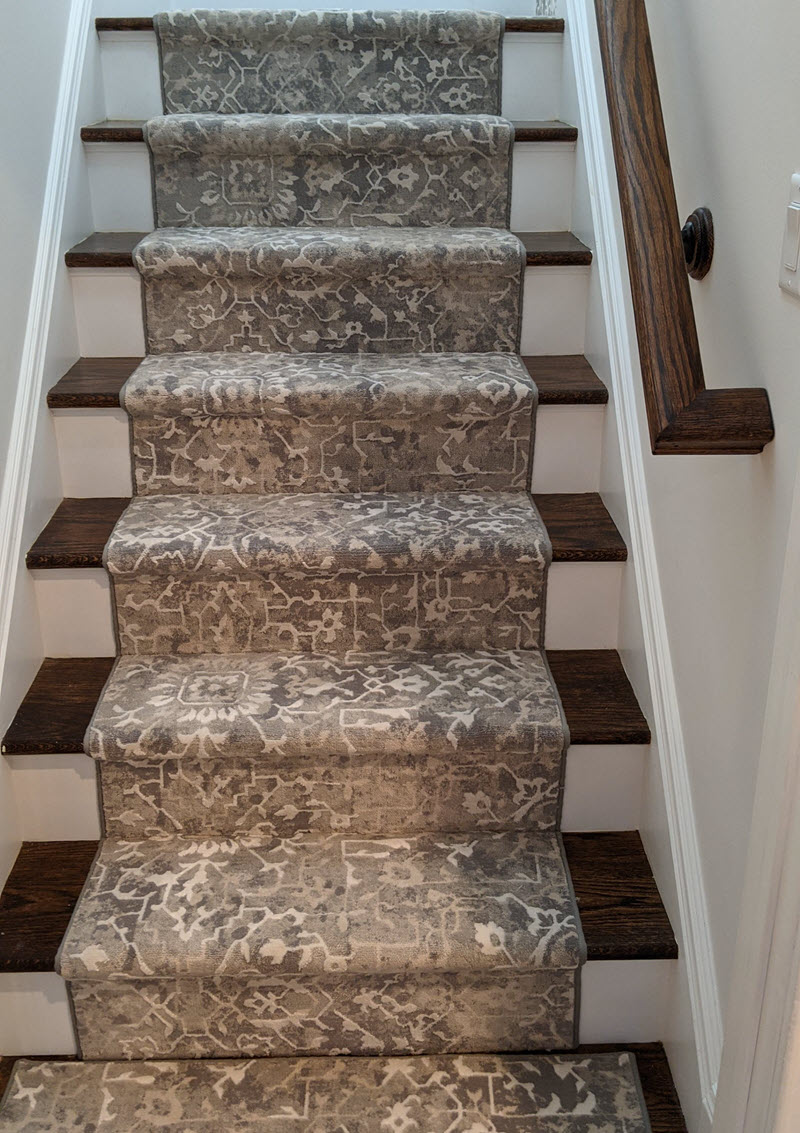 What About Installation for these Stair Runners?
This installation took the Floor Decor Design Center expert installation crew one day to complete. This quick video compilation gives you a feel for the overall project.
What Was the Homeowners' Reaction?
Here's what each one had to say about the project:
"Janine and Mike were great to work with. No problems at all. The work was very neat and clean from start to finish!"
Anna T.
And,
"Very professional, neat, and clean. It took about 2 weeks from start to finish and the final product looks great!"
Alex T.
Additional Stair Runner Resources
Here are additional resources about runners and custom rugs to help guide you.
>> Explore the Customer Area Rugs Guide on FloorDecorCT.com
>> WHAT IS THE BEST CARPET FOR STAIRS?
>> CARPET FIBERS 101: NYLON, POLYPROPYLENE, WOOL, POLYESTER, TRIEXTA
Wow just wow! Take a look at this gorgeous stair runner installation we just completed for this gorgeous home overlooking beautiful Long Island Sound.
WHat's Your Reaction to Persian Design Stair Runners?
Could you see a Persian-inspired runner in your gorgeous Connecticut home? Or, would you prefer a different type of pattern? With the array of styles offered at Floor Décor, you can just imagine the possibilities!
If you're ready to explore those possibilities, we hope you'll consider Floor Décor Design Center.
When you visit one of our two showroom locations in Middletown or Orange, you'll find a rich selection of carpet runners to pick from.
And, if you'd prefer to work with a designer, we can help you with that, too, via our Shop at Home Design service.
Let us know of any questions in the comments or contact us.
We look forward to helping you.
Thanks for reading,
Janine & Michael