Did you know that carpet used to be the flooring solution of choice for just about the entire house? Now, though, with so many other exciting options to choose from - wood, tile, luxury vinyl planks, cork to name a few - when you're buying carpet, you're doing so for bedrooms, a family room, the stairs and maybe the basement. Regardless, since you can find so many different flooring options at Floor Decor Design Center in Orange, Connecticut, and in Middletown, we are ready to help you.
We're also ready to share with you our top guidelines for buying carpet.
Michael's Top 5 Guidelines for Buying Carpet
Although we love carpet, we recognize that some customers come into our store preferring not to look at carpet. Why? Because they had a bad experience with carpet and don't want to repeat that mistake. Ultimately, they wound up with the wrong carpet for their lifestyle.
We rely on word-of-mouth for our business. That's why we treasure our reviews.
That's also why it's critically important that we match you up with the right carpet product so you remain delighted for years to come. We've found that the best approach is to ask shoppers tons of questions to better understand your flooring expectations.
>> See Realistic Expectations When Buying New Flooring
In anticipation of those questions, here are my five top carpet buying guidelines, so you select the product that not only performs to your expectations, but also looks beautiful for years to come.
By the way, the terms "carpet" and "rug" are sometimes used interchangeably.
Rug generally means a textile floor covering that is not fastened down and doesn't extend over the entire floor.

Carpet usually refers to a floor covering that is installed and fastened down from wall to wall.
You can find both at Floor Decor. And, although Floor Decor Design Center offers carpet binding services for transforming carpet into rugs, we'll focus on carpet in this article.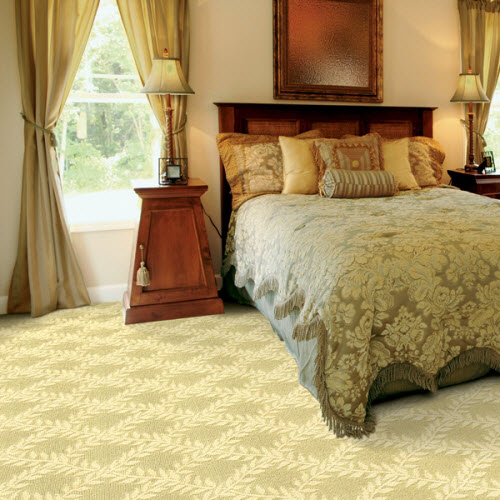 Guideline #1: Carpet Construction Affects Performance and Durability
Before you start to select a flooring for your home it would help to understand a little more about carpet and its advantages. The way that your carpet is constructed plays an important role in its performance and life expectancy.
Carpet performance and durability are influenced by:
Carpet fiber type

Carpet density or thickness

Carpet yarn twist

The pile height of the carpet

Carpet face weight
Depending on how these factors are combined, 30 ounces of carpet fiber can become an excellent carpet choice or a poor one.
If your salesperson is unsure or unable to provide you with the facts, go somewhere else.
Guideline #2: Understand Carpet Fiber Options
The starting point of carpet is the fiber, a fine thread-like unit that is converted into yarn then tufted or woven into carpet. To get the best performance and most enjoyment out of your carpet it's essential to select a carpet fiber that fits your needs. The majority of the carpet produced in the United States contains one of five primary pile fibers:
Nylon

Polyester

Polypropylene (olefin)

Triexta

Wool
>> See Carpet Fibers 101: Nylon, Polypropylene, Wool, Polyester, Triexta
Synthetic fibers represent the vast majority of the fiber used to manufacture carpet in the U.S. Each fiber type offers somewhat different attributes of durability, abrasion resistance, texture retention, stain and soil resistance, colorfastness, ease of cleaning and color clarity, and even softness.
>> See New Super Soft Carpet Styles from Shaw, Stanton Carpet, and Mohawk
Be sure to ask your retail sales associate questions to help you determine the most appropriate fiber and carpet construction for your needs.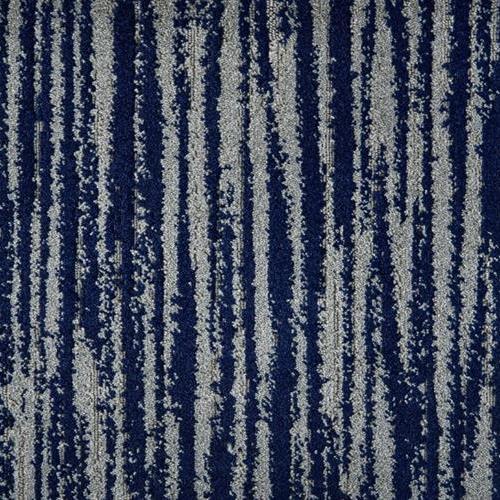 Guideline #3: Durability is more than one single construction factor
What makes selecting the right carpet confusing (and buying the wrong carpet really frustrating) is that you can't rely on just one factor. Depending on where you have that carpet installed (i.e., heavy traffic vs. light traffic area), you may have picked the wrong factor. For that reason, it's important to discuss your end-use and traffic requirements.
Above, we mentioned carpet density or thickness. That's how much carpet pile yarn there is in a given volume of carpet face. Generally, higher density and lower pile height deliver better performance, but yarn twist plays a role, too.
>> You can learn more from Determining Durability on the Carpet and Rug Institute site.
Although more of a design element, your choice of carpet color as well as style and even pattern can accentuate or disguise heavy use. A white carpet in a high-traffic area, for example, will most likely make you unhappy in a short period of time, whereas a darker one or one with Berber flecks might be just the solution.
A note about 'walk-off' systems
The best way to protect your carpet and other floors is with entry mats or walk-off systems. As the Carpet and Rug Institute explains,
"Manufacturers often recommend "walk-off" carpet systems for entryways. Walk-off carpet is designed to clean shoes of dirt and moisture and protect entrances from excess soiling. In addition, walk-off carpet systems increase foot safety and reduce slip and fall accidents. Eight feet of walk-off carpet is frequently considered to be optimal to protect interior carpet installations as well as enhance user safety and comfort."
Guideline #4: Explore the Different Types of Carpet Styles Available
This is the fun part of buying carpet: realizing that you have a variety of styles to choose from in addition to color options.
You'll find carpet available in one of two categories: cut pile and loop carpet, with variations within each.
1. Buying Cut Pile Carpet
Cut pile is perhaps what you recognize best when it comes to wall-to-wall carpet. It's versatile and, depending on the length and twist of the yarn, can look very different from one style to another.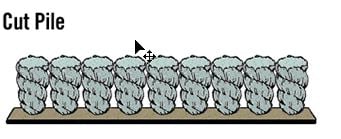 Sub categories include:
Plush or velvet carpet. This is a densely luxurious carpet that will show footprints and vacuum marks. Traditionally used in formal spaces and areas with low traffic.
Textured plush or textured carpet hides those prints and marks. It's more casual and works well throughout the house.
Saxony

is also a formal looking carpet and is ideal

for living and dining rooms.
Friesé

aka Shag features longer tightly twisted yarns and definitely minimizes footprints. It looks casual and comfortable.
2. Buying Loop Carpet
In the loop category, you'll find three sub-categories: loop, patterned loop, and cut loop carpet. These styles provide good durability and can create stunning visual effects.
One watch-out: pets with claws.
Loop Pile Carpet
As you can see in the image, loop pile consists of loops of yarn all of the same height.

Patterned Loop Carpet
Related is the patterned loop whereby you see loops of different heights combined into either a random pattern or a more recognizable one.

Cut and Loop Carpet
As you can see, this style combines the cut and loop looks into one. The design possibilities are fun!

>> See Types of Carpet on the Carpet and Rug Institute site.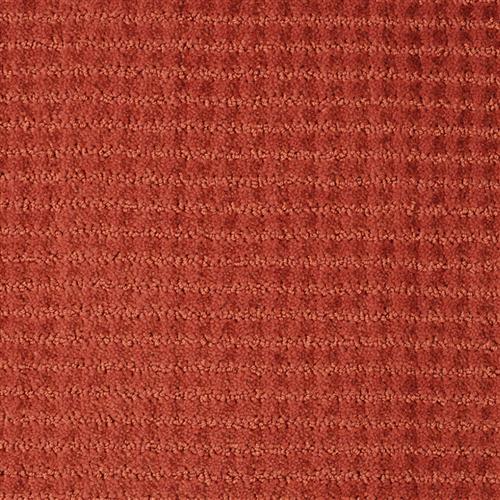 Guideline #5: Remember the Four Advantages of Carpet
No conversation about buying carpet can be complete without touching on the advantages associated with having carpet in your home.
1. Intense Sound Absorption
At the top of the list is that carpet provides you with intense sound absorption. That means a quieter space, more conducive to relaxation, concentration and fewer distractions.
2. Safety and Reduced Fall Impact
You can't take safety too seriously. That's where carpet shines - or rather cushions. Compared to many other flooring choices, carpet prevents falls by providing more traction.
And, if falls happen, carpet reduces the impact of a fall.
3. Low VOC Emissions
Compared to many construction and renovation products, carpet is one of the lowest in the emission of volatile organic compounds (VOC). And any that new carpet emits dissipate within 24 to 48 hours and faster with fresh air ventilation.
4. Carpet Traps Allergens From the Air
Carpet can play an important role in improving your indoor air quality. Why? Because it traps dust and allergens from the air until you remove them with a vacuum.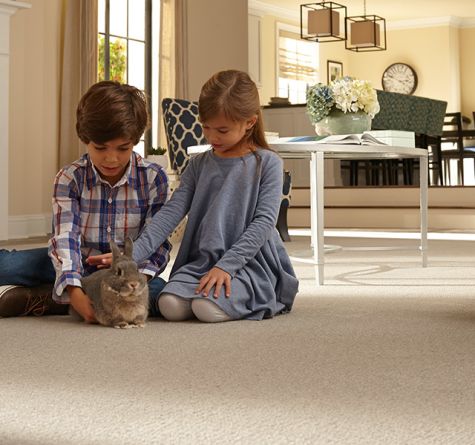 Are You Ready to Buy Carpet?
Yes, buying carpet can get a little confusing. However, with these five guidelines, you're in a better position to assess your requirements and evaluate your options. And, when you're ready, be sure to read about How Much New Carpet Costs.
At Floor Decor, we understand every customer has different needs. By asking some simple questions about your lifestyle and expectations we can help you through the process of selecting the best carpet or flooring for your needs.
Thanks for reading,
Michael
Note: We originally published this article on
May 23, 2018, and have updated it.