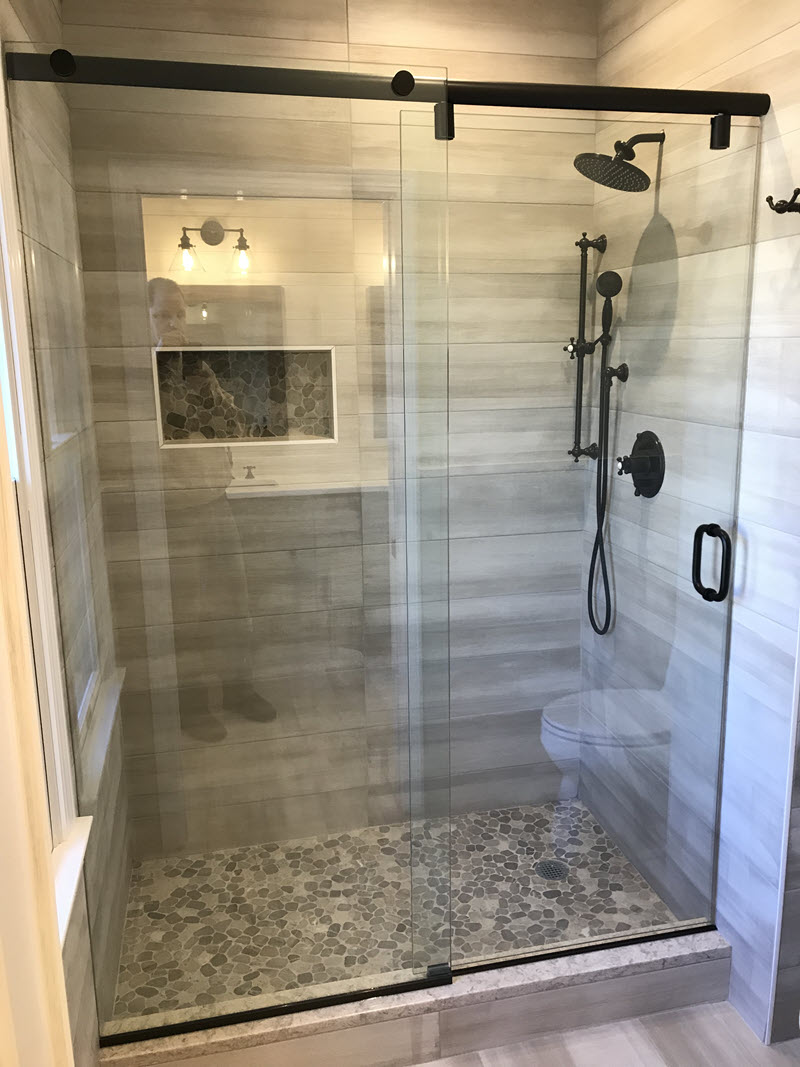 Sometimes, a house doesn't have enough bathrooms. That's when a remodel allows you to address what's missing, while transforming the overall style, design and feel of a home.
In this article, we'll show you the two new bathrooms added to this Connecticut home and provide you with tile product ideas you might use for your own home remodel.
Remodel Transforms Connecticut Home
In the case of this Connecticut remodel, the entire upstairs got reimagined. You'll love the resulting photos! They will surely inspire you to consider your own transformation.
For this project, Floor Décor Design Center partnered with J&J Complete Home. You can learn more about them by reading this article:
>> See Meet The J&J Complete Home Team: John and Jennifer Manzione
Wood Plank Tile Goes With Everything in a Remodel!
You'll notice one common product theme for both of these new bathrooms: wood plank tile.
Now, hardwood is consistently a no-no for bathrooms and similarly wet environments. The beauty of porcelain tile is that it's impervious to water, making it ideal for bathrooms. It's not only practical and easy to maintain, but it's stunning to look at.
In this remodel, you'll find wood plank tile on the floor as well as on the walls.
The image below of the children's bath combines a wood plank tile with a horizontal mosaic band and niche. For the wall tile, Plank Aurora, a 6"x36" porcelain tile with a textured surface that blends whites and creams, added just the right touch.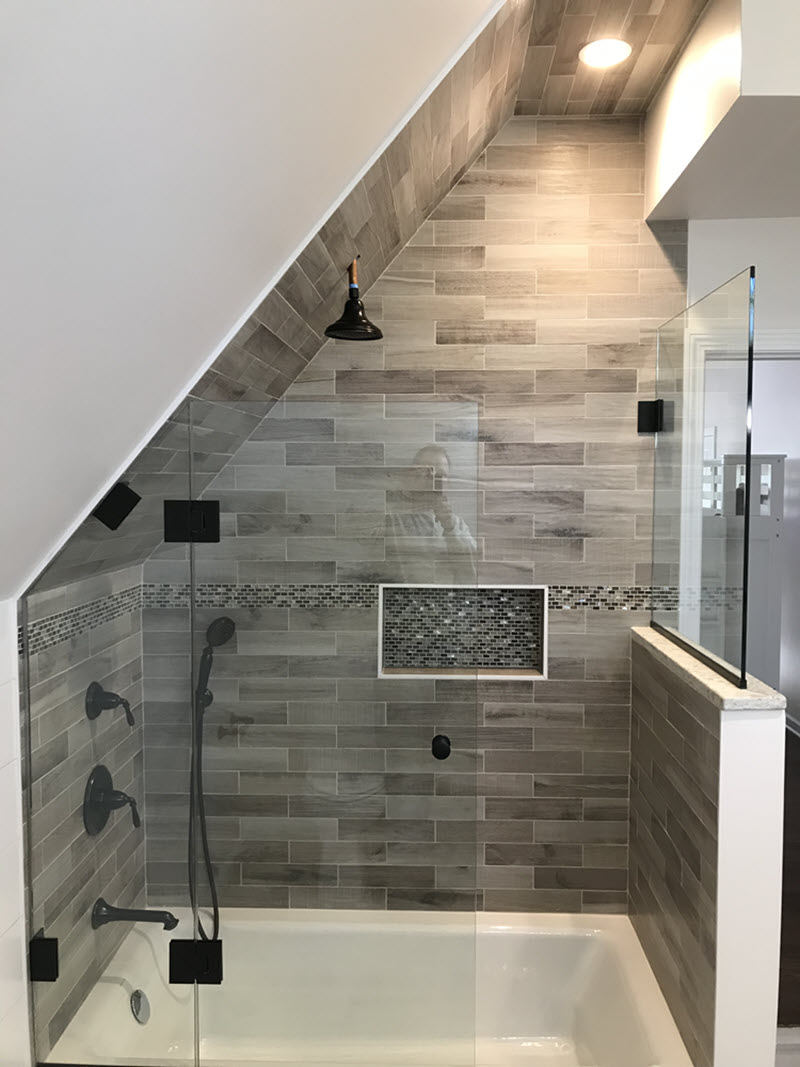 In the master bathroom, you'll notice a wood plank tile with less shade variation, the Boardwalk Collection in color Forest, an 8"x48" porcelain wood plank with a matte finish on the walls and floor.
In both cases, the end result is warm, cozy, and inviting - a perfect retreat.

Other Wood Plank Tile Products to Consider
To give you an idea of the rich possibilities with wood-look tile, here are several popular porcelain wood plank tile styles worth considering.
>> Crimson by Proximity Mills, an 8"x48" long plank tile
>> Pioneer by Proximity Mills, 9"x48"
>> Reserve by Proximity Mills, 9"x48"
>> Thames by Proximity Mills, 8"x48"
>> Resinosi by Proximity Mills, 8"x48"
For additional ideas, check out Designing with Wood Plank Tile.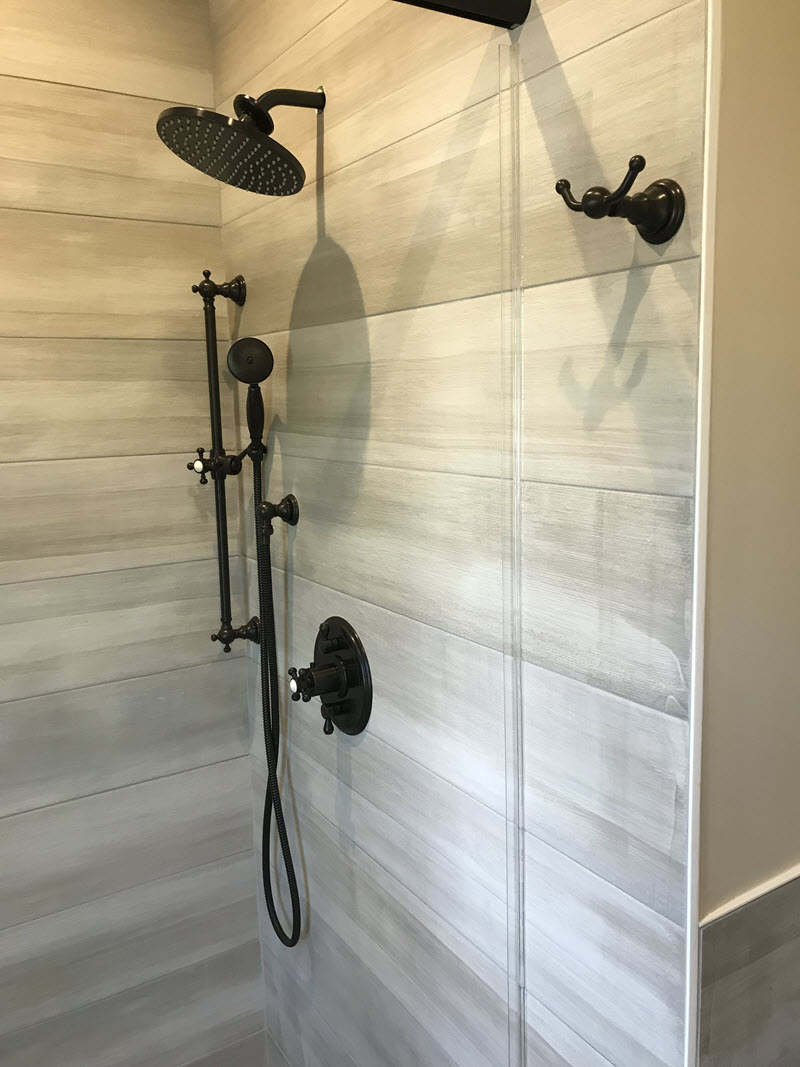 Mosaics Add the Perfect Touch of Bling to a Shower/Bath Enclosure
As beautiful as wood looks are translated into porcelain tile, they come alive when contrasted with other tile.
More specifically, consider a touch of mosaics to coordinate and contrast with the wood tones of the wall tile. In the children's bathroom, you see a horizontal band and niche done in mosaics.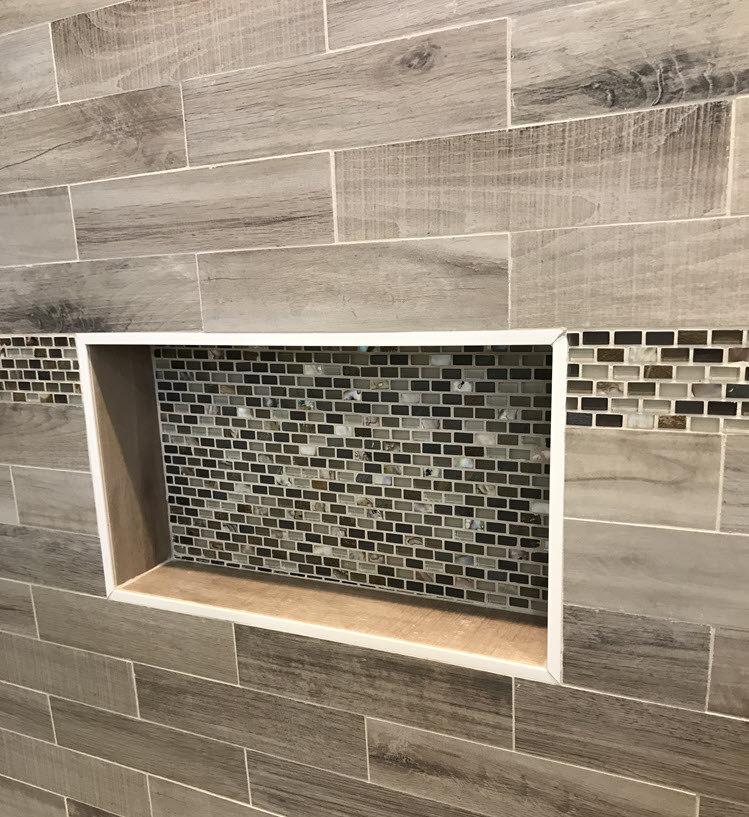 For example, one option is GLT Glass Mosaic Collection in color Seaside Sand Matte. It combines matte, cream beige, and brown glass brick mosaics.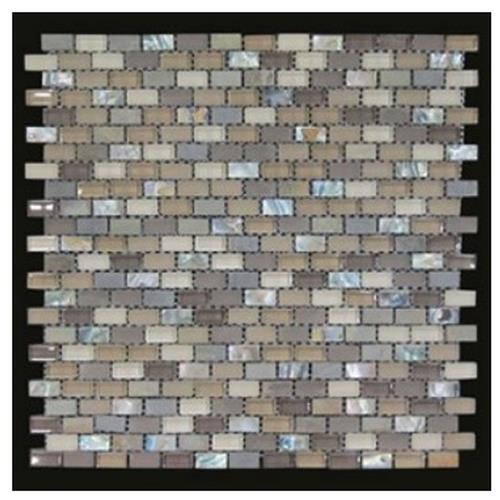 You could just as easily select a more linear-looking mosaic such as Orbit Metallic Weather pictured below. If the wood plank tile you select has more grey or white in it, this mosaic would make a delicious contrast.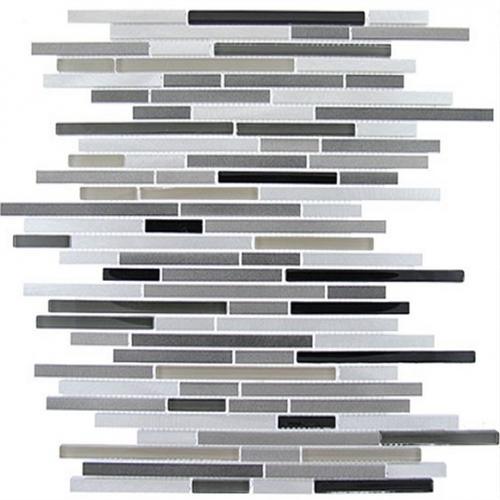 If you prefer more bling, try a mosaic-like Tranquil - Random Brick Series in color El Dorado pictured below. It would work beautifully with warmer wood tile tones.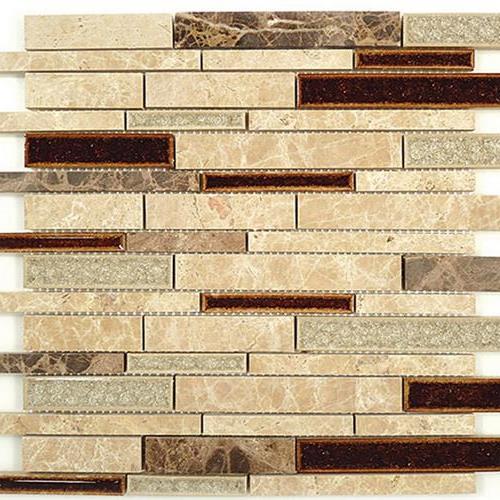 Don't forget classic mosaics such as the French Baroque mosaic series:
or the hexagonal Excalibur mosaic series.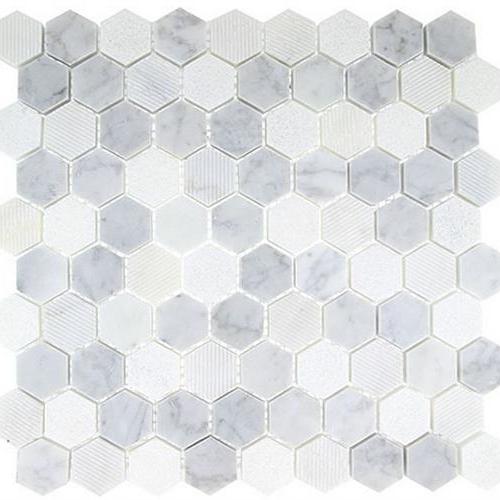 Either one would work well with white or grey wood tile tones.
Add a Touch of Pebbles to Your Shower Floor
In the master bath, rather than use traditional mosaics, the homeowners opted for pebble mosaics for the shower floor and the niche.
By the way, both bathrooms are finished with Schluter Jolly Edges.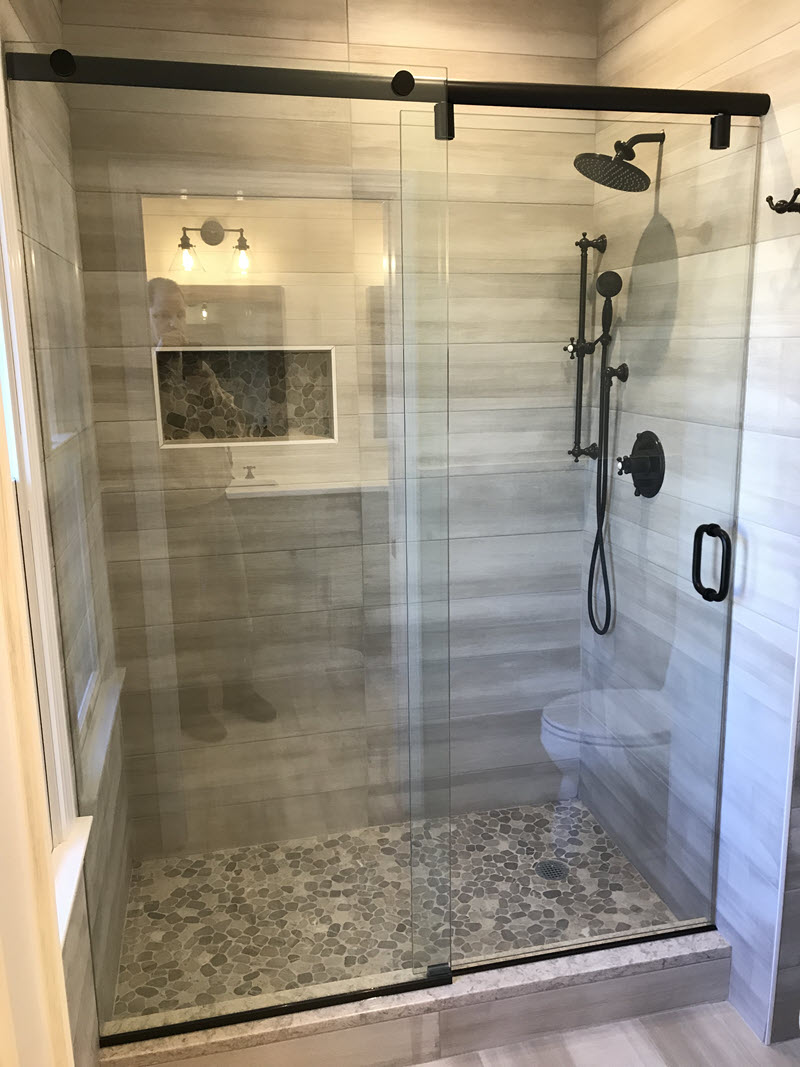 Pebbles add a strong sense of whimsy and playfulness underfoot and beautifully capture the wood tones from the wall and floor tile.
Below you see Pebbles in Light Grey Oval.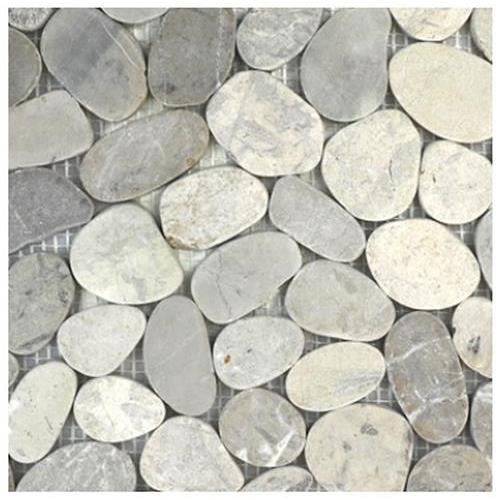 When you explore pebble options, you'll discover that they can be flat or rounded, as well as in different colors.
>> See DISCOVER DECORATIVE STONE PEBBLE TILE FOR YOUR HOME
Last Touches: The Sink Area in the Master Bath
The Master Bath features a Quartz Vanity Top in Chiara Beige with Double Undermount Porcelain bowl sinks with a Merillat Vanity.
Around the sink, you'll also notice wood planks although these aren't porcelain tile.

Are You Considering a Bathroom Remodel for Your Connecticut Home?
If you are, we invite you to explore the Floor Décor Design Center showroom in Orange, Connecticut so you can experience for yourself the many wood plank tile and mosaic tile options available.
Here are two helpful resources:
>> CERAMIC AND PORCELAIN TILE COST AND INSTALLATION PRICE
>> BACK SPLASH TILE COST GUIDE
Let us know of any questions in the comments or contact us. We look forward to helping you.
Thanks for reading,
Janine & Michael
Note: We originally published this article on 11/11/2020, and have updated it.