Might you be interested in a wood accent wall? Installing a wood accent wall or island surround can be a great way to update your space!
It's the kind of project you can do as a DIY project as well as work with Floor Décor Design Center to create it.
Here's how.
How to Add a Wood Accent Wall to Your Home
If you're interested in creating a wood-inspired wall statement, you'll want to keep these tips in mind for a smooth DIY installation! However, before you get started, you'll want to select what kind of wood look product to use for that accent wall.
Product Options for a Wood Accent Wall
For a project such as this, you have several options:
Wood veneer
LVP or Luxury Vinyl Plank
Wood-look porcelain or ceramic tile
Hardwood
>> See PORCELAIN WOOD LOOK TILE VS LUXURY VINYL PLANK, AN HONEST COMPARISON
>> See DESIGNING WITH WOOD PLANK TILE
>> See PARQUET FLOORING, BORDER INLAYS, FLOOR MEDALLIONS AND WOOD WALL PANELS FROM OSHKOSH DESIGNS
5 Tips for Adding a Wood Accent Wall
1. Do you have dry, stable, smooth walls?
First off, we suggest making sure you have dry, stable and smooth walls that do not have any moisture. You do not want to install on top of wallpaper or paneling so make sure those items have been removed and wall has been prepped and is ready to go.
Confirm your wall is 90° as angled walls will pose a challenge – keeping in mind gaps less than 3/16" are acceptable.
2. Do you have double-sided hardwood flooring tape or adhesive?
Make sure you also have a double-sided hardwood flooring tape or adhesive to adhere to walls.
Place the tape on walls vertically every 12" starting about 2" from the ground. This will ensure a secure installation. If using adhesive, skip this step as you will apply adhesive to every board as you go.
3. Measure your wall length + 10%
To start, measure the length of your wall by width and add 10% for cuts and waste.
4. Have a level handy!
Make sure you have a level handy to confirm it goes up straight. If you put a piece of 2x4 trim on floor to start the first row, that will help to ensure it is straight and level.
5. Be ready to make cuts
A hand saw or miter saw will most likely be required to make cuts especially when working with hardwood flooring. Always start with the left side and work your way to the right so as not to damage the tongue on the short side of vinyl floor planks.
We have found that a luxury vinyl, tongue and groove laminate or hardwood floor work the best.
Try to find an option where the end joints overlap and not interlock to make installation a little easier.
Be Inspired with these Wood Accent Walls Installations!
It's time now to show you what's possible with this concept.
Let's star with wrapping an island with wood. Talk about a strong visual accent in the space where you probably spend the most of your time.
Luxury Vinyl Plank Wall Inspiration
The image below shows you Armstrong Pryzm Salvaged Plank Rigid Core in White. Although traditionally a flooring product, look how stunning this plank looks on the walls of this island.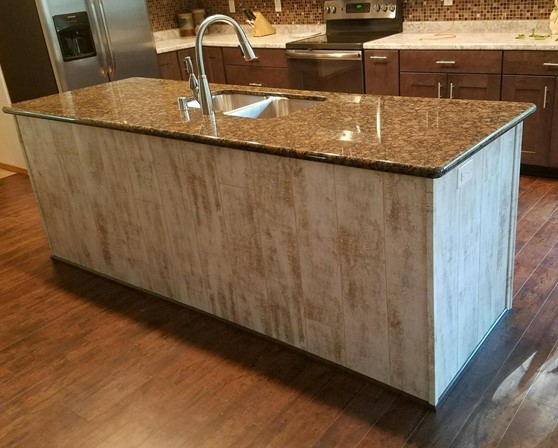 >> Explore the range of Armstrong Pryzm possibilities.
Here's another Luxury Vinyl Plank example from COREtec, this time on a full wall. Below you see COREtec LVP – Chesapeake Oak.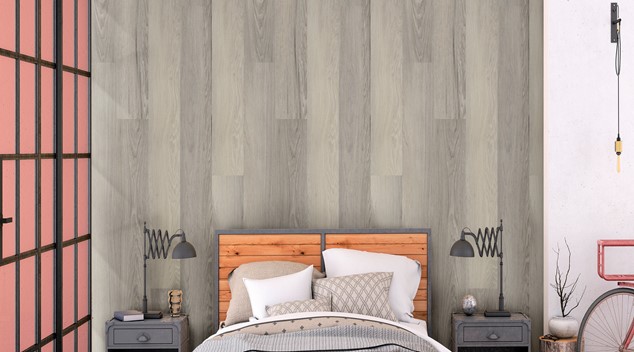 >> See INTRODUCING COREtec WOOD
Check Out Wood Veneer
Another option is wood veneer. You'll find seven examples below.
Here's a white wood accent wall.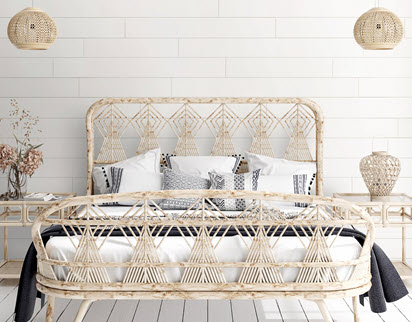 From the Forest: Alabaster – Wood Veneer
Perhaps you'd prefer darker wood tones, with a rustic variegated effect.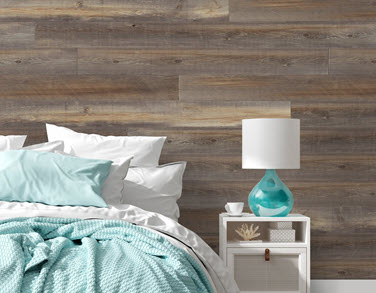 From the Forest – Backcountry – Wood Veneer
With wood looks, you can opt for high variation in tones. Below you seen an example with deep darks and lighter planks for strong contrast.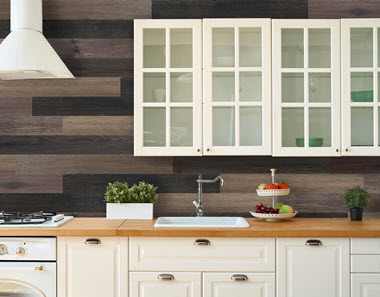 From The Forest – Cobalt – Wood Veneer
Perhaps weathered rustic looks are more to your taste. No problem as you can see in the example below.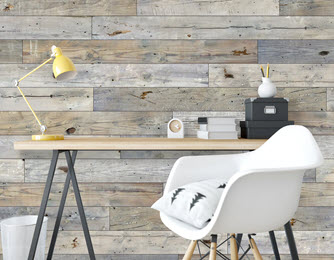 From the Forest – Grey Pine – Wood Veneer
If you prefer monochromatic mid-tones, those are possible too in wood tones as you see in the image below.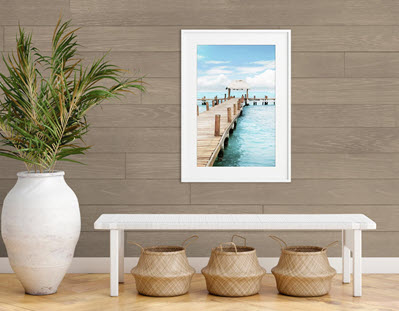 From the Forest – Pewter – Wood Veneer
Whites are endlessly popular. They add light and can either fade or make a strong visual statement depending on the grain and contrast inherent to the wood plank you choose.
Here's picket fence.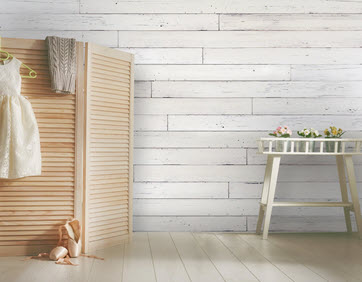 From the Forest – Picket Fence – Wood Veneer
Contrast that with plantation.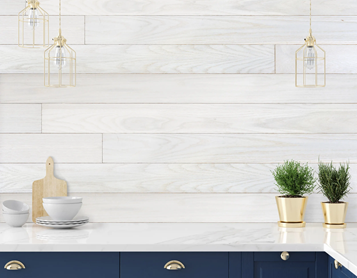 From the Forest – Plantation – Wood Veneer
Hardwood Flooring on the Walls
Finally, there's the real McCoy: wood on the walls.
Below you see Provenza, one of our three most popular hardwood flooring options.
Imagine contrasting wood planks on the walls with strong decorative tile patterns as you see below.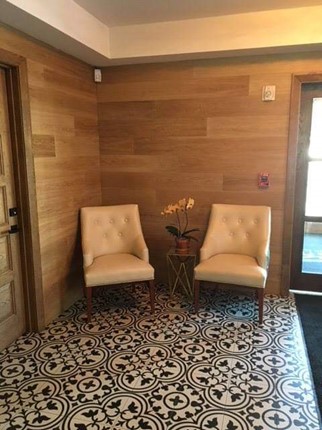 Provenza Old World – Aged Alabaster - Hardwood
Wood accent walls truly make a statement while, at the same time, infusing a room with comfort and warmth - kind of like that perfect bowl of mac and cheese.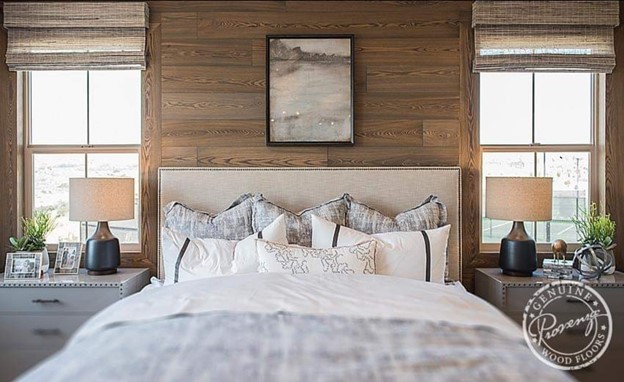 Provenza Old World in Cocoa Powder - Hardwood
>> See OUR 3 MOST POPULAR HARDWOOD FLOOR BRANDS: MIRAGE, PROVENZA, ANDERSON
Are You interEsted in a Wood Accent Wall FOR YOUR HOME?
If a wood accent wall is your dream, don't hesitate to let us know. We'll help you select the right product so you can do it yourself. Or, if you're not up for the challenge, simply hire us to have it professionally installed!
When you're ready to explore wood accent wall possibilities, we invite you to visit one of our two showroom locations in Middletown or Orange, Connecticut.
Don't hesitate to let us know of any questions in the comments or contact us.
We look forward to helping you.
Thanks for reading,
Janine & Michael